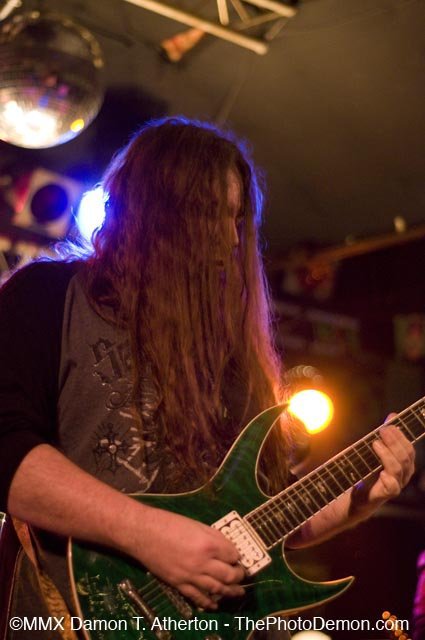 News From the Pit
Well here we are. Another year of kick-ass shows to look forward to in the Louisville music scene. Whether you are hardcore, metal, straightedge, hardrock, thrash, death or hip hop, we all have one thing in common: we love our Louisville original music!
So lets all put aside our petty differences, and grudges from the past, and let's have one helluva year!
The Metal Grapevine
Flaw Hits The Road Again
Louisville success story Flaw headed out on the road again on January 26 for a month-long tour, opening for Sevendust. Should be a great time. On another note, I saw the guys recently at Tekworld and I have to say that they haven't changed at all: no attitudes at all. Thanks, guys.
Abominant CD Release
Kentucky death-metallers Abominant will release CD number five, entitled Upon Black Horizons in mid-February. These guys play out-of-state gigs quite a bit, so I hardly ever see them booked here. I'd like to see them play Louisville more.
Voodoomachine Seeks Bassist
Calling all bassists! The hardrock/soul/funk band Voodoomachine is seeking a new bassist, so if you are into hardrock with a touch of heaviness, this might be for you.
The music is pretty damn good and the vocals of Louisville music veteran Steve Clark were always impressive to me. Contact Steve at 937-7027.
Nemesis Also Seeks Bassist
The brutal metal band Nemesis is also seeking a replacement bassist. I still haven't heard them yet, but I've heard good things about them. Interested parties contact jjkslacker@cs.com.
New Band Alert...Cast From Eden
The former drummer of Krosmember has a new band called Cast from Eden. I always admired his former band, but I 'm sure this one will be good, too. According to Andy, the new stuff is pure metal, no trendy doo doo. They have shows coming up, so go check them out.
Cool Venue Worth The Drive
I recently had the pleasure of playing a really cool out-of-town venue. The Emerson Theater in Indianapolis reminded me of a Bogart's but was a bit smaller. The crowd was basically the same as a Tekworld show, mostly young wild-looking kids, but I tell you what, they were a very appreciative audience and that in itself made the two-hour drive worthwhile.
Louisville bands should contact the venue or drive up and maybe try to trade some shows out with Indy bands. I don't think you would be disappointed.
Possible Local Music TV Show:
LMN editor Paul Moffett is interested in doing a local metal TV show, including videos and live band footage. I am gathering up videos but as of now I have none, so get busy, people. While there have been some local music TV shows in the past, this one would be done on a much more professional level, as the Editor has spent some time learning about television production and acquiring the necessary equipment to produce TV shows. So what I need from you is videos of your favorite local bands, whether recorded at Tekworld, the Crunch zone or the Phoenix Hill. Just make sure the tape is audible and, preferably, visible (dark, gloomy video doesn't look good on TV). Also, make sure the band(s) give their approval - in writing. Send to Eddy Metal, 4006 South 5th St Louisville, KY 40214.
If we don't get many responses, it won't happen, but I think this would be really cool for the scene, being able to watch concerts from the comforts of home.
Upcoming Shows
The Crunch Zone
Saturday, February 2 - Downside, Nemesis, Quarterbounce and Vinal.
Phoenix Hill Tavern
The Original Rock Showcase Series. (On the first Friday, of every month in the Roof Garden.)
Friday, February 1 - Factor 9, Element H, The Lost and Dent (from Indy).
Friday, March 1 - End Of Me (formerly the Brian Fox Band), The constant, Superface, The Pointy Kitties and Slo Annie. 8 p.m.
Friday, April 5 - Evil Engine # 9, Faceplant, Fubar, Plan Of Man and After The Fall. 8 p.m.
Tekworld
Shows generally start at 7:30 p.m.
Friday, February 1 - Incursion502, Delta 9 Theory, Asurah and Cast From Eden.
Saturday, February 2 - Execrate, 13th Level, Shuv and Rampant.
Friday, February 8 - The Cobalt, The Revenants, Brothers Of Conquest and The Slow Suicide.
Saturday, February 9 - My Own Victim, Incursion502, Tod (from Indy), V-Mob (from Cincy), Tornacade, One With Misery and Level 9.
Friday, February 15 - Downside, Kallus, Delta 9 Theory and Paradox 44.
Saturday, February 16 - Incursion502, One With Misery, Tornacade and Phrail.
Sunday, February 17 - Voices Of Aggression, Blyss and Harbinger. 6 p.m.
Friday, February 22 - The Revenants and No Where Fast.
Saturday, February 23 - Faceplant, False, Delta 9 Theory and Kallus.
Friday, March 1 - Quarterbounce CD Release, Phrail and Element 8 (from Nashville).
OUTTATOWNERZ
Friday, February 1 - Downside and Puc at the Village Inn (New Salisbury IN).
Friday, February 15 - My Own Victim and Rampant at the Village Inn (New Salisbury IN).
Saturday, February 16 - Assisting Sorrow, Unforsaken, In Pieces, Legion and Necrophagous at the Emerson Theater (Indianapolis).
Saturday, February 23 - Nemesis, Absence of Faith, Blyss and Downside at the Jungle (Marengo IN).
Props Of The Month
This months props go out to Chris Cassetta at Canyon Studios.
1. For being # 1 in Louisville for several years when it comes to recording heavy music.
2. For putting lots of time , effort and personal money into the Unsigned Xtreme compilation CD. The CD features some very good bands, including My Own Victim, Factor 9, Faceplant, Incursion502, Adrenalintake, Countermeasure, Sen, Evil Engine # 9, Krosmember and Tornacade. It's available at ear X-tacy, CD Warehouse, Better Days Records and Disc Go Round.
My band is going into the studio soon and there is no one else I'd even consider going to. Plus he's a real cool guy.
Ninety percent of the heavy bands in town go to Chris to record. That ratio should tell you something. So for all the years of slaving over a hot mixing board for local musicians, thanks, dude.
Contact Chris at http://www.canyonstudios.com/.
Send info, showdates or CDs to Eddymetal1@aol.com or 4006 South 5th St, Louisville KY 40214.