I've Got A Mind To Ramble
Joey Live at Joey's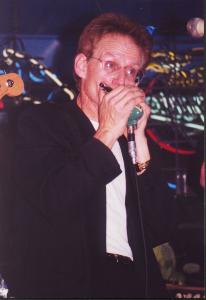 Lamont Gillispie at Churchill's
· `Joey' Lamont Gillispie is the most under-recorded Louisville bluesman, considered his long history with The Stray Cats, The Homewreckers and, most recently, 100 Proof Blues. Lamont had three cuts on the Live From the Slippery Noodle, Vol. 2 CD and some songs on Scott Mullins Santa Is A Bluesman series plus Heavy Harp. Not much recording time for thirty years of playing his uncompromised, straight-ahead style of Chicago blues.
That sorry situation will soon be rectified, with two CDs set for release by Gillispie this year. The first will be a live recording at Joey G's in Madison, IN. the taping will be done over two days on February 22 and 23 with a mobile sound unit brought in from Dayton, OH. Other musicians have recorded at this club, including Tim Krekel. You can be a part of Lamont's historic session on Saturday evening by riding up to Madison on a chartered bus to cheer the band on. The Kyana Blues Society is leasing a very classy bus (not a school bus), which will leave from the Mid-City Mall at 7 p.m. Food will be available at Joey G's, followed by three harp-drenched sets with Lamont and 100 Proof Blues from 9:30 p.m. to 1:30 a.m.
The round trip will cost $30 for KBS members, unless we get over thirty people at which time the price will drop to $20, with a bigger bus. If you are not a KBS member, you will have to pay an additional $7.50.
Gillispie's current band includes Mark Stein on lead guitar and occasion vocals. Stein is another blues trooper who has fronted the Steamrollers, the Rib Tip Kings and still plays with Sue O'Neil's Blueshounds. Byron Davies is on bass and Jan Clark is the new drummer. Clark, who was last with the Hesitation Blues Band, has been with the band for six month. Lamont has invited Mike Murphy and Mike Hood to sit in on sax and keyboards, respectively.
The band had a regular gig at Churchill's every weekend but now he is playing more regionally, including dates at Bear's in Bloomington, Joey G's and at least once a month at Stevie Ray's. Lamont said "Joey G's has nice atmosphere with a big mural of Robert Johnson and other blues legends on the wall." The bar is along one side and the bandstand is at the back with a good dance floor.
This is a great way to pay back Lamont for all the inspired shows he has done over the years, plus for bringing Lefty Dizz and Sam Myers to Louisville. You had beer act quickly to get on board, as reservations must be made by January 10, 2002. Contact Bob "The Mad Cruiser" Cox at 893-0173 for more details and to book passage on this memorable winter cruise.
Gillispie is also working with Scott Mullins on a studio CD, which is about half finished. Look for a double release party sometime in 200.
Paul Geremia at Harry's Place
Not everyone can stage a house concert, but Harry and Claire Lewman were gracious hosts for a very personal performance on December 18 by Paul Geremia in the back room of their spacious house. Geremia is one of those traveling troubadours who spreads the style and word of the folk-country blues to festivals, colleges and small clubs. He claimed he inherited his rambling ways from his Grandpa, who was an "Italian Hillbilly Hobo." He was completing a cross-country tour from his hometown of Providence, R. I. to Arizona and back. He has passed through Kentucky before but this was the first time he has been to Louisville. He travels around in his 1965 two-tone Chevy Nova, equipped with Kelly tires. He said he has closed to 400,000 miles on his "terraplane."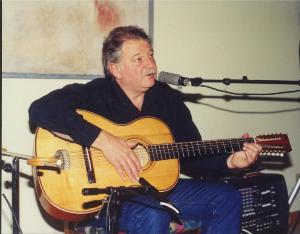 Paul Geremia. Photo by Keith Clements
He played several songs from his most his recent CD, The Devil's Music, on Red House Records, including "The Way To Get The Lowdown." Geremia recalled how he got the chance to play this song with Blind John Davis, who originally recorded it with Tampa Red in 1941. "Farewell Street Rag," also on the CD, is named for a street in Newport that runs to the cemetery, He followed with a melodic instrumental, "Holly," which included a lot of intricate chord changes.
We've all heard Howlin' Wolf's moody version of "Meet Me In the Bottom," but Geremia played the version he learned from Pink Anderson. Anderson worked medicine shows most of his life, but Geremia brought him to Newport in 1973, which brought him a brief second career playing coffeehouses and clubs. "The Same Old Wagon" was inspired by a sleazy torch singer Geremia once knew and has this mournful lyric: "Why don't you quit draggin' that same old wagon, the one that keeps draggin' you down."
He mixed several traditional songs by Sky James, Blind Willie McTell, Big Bill Broonzy and Bukka White with some originals like "How'd He Do It?" This catchy tune questions understanding a few Biblical miracles so he can his blues around. Between sets, Geremia talked about his guitars. He began with playing a vintage `30s Gibson, which was once covered with rhinestones. Later, he switched to a 12-string that originally was a 6-string Stella that he rebuilt, because he liked its long scale length and balanced tone.
He once had a National steel guitar that he loaned to Son House for a European tour. When House returned it, the resonators had been pushed in from his hard pounding. Geremia later sold it for only $250 when he was strapped for cash. He prefers the warm sound of the wooden guitar bodies, especially those made from red spruce.
The second set started with Geremia playing keyboards, but after a few songs he couldn't quite get into the "feel of it." It was an intimate evening for the thirty plus people who attended to hear a master interpreter of Piedmont, Delta and pre-war blues. Hats off to Harry and Claire for throwing such a good house party.
You can regularly find Harry and Dan Colon Wednesdays at the Air Devils Inn, where they host a weekly open stage/jam session. They took over this gig shortly after Linda Stone Cushing passed away last February.