Colin Grant-Adams at Rudyard Kipling
Do not miss this great Scots balladeer on Friday, January 11. The show starts at 7:30 and admission is $6 ... virtually Scot-free for such a great talent. A composer, arranger, educator and producer, Colin is a multi-talented performer. With his extraordinarily powerful voice, irrepressible good humor and mastery of the guitar, Colin captivates his audiences, performing traditional Scottish ballads of his homeland along with his dynamic, intriguing, original compositions. He weaves tales of Scotland's turbulent history and haunting beauty as well as delineating Scottish influences on the Scottish-American culture.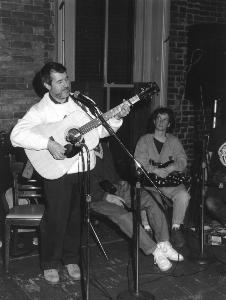 Colin Grant-Adams at the Rudyard Kipling
A fixture on the Highland Games circuit, Grant-Adams is noted in Celeste Ray's recently published "Highland Heritage-Scottish Americans in the American South" as one of the premiere performers for this cultural phenomenon. The Games are an admixture of solemn commemoration and celebration of real and imagined heritage. In fact, Kentucky boasts two fine Highland Games, one at General Butler State Park in May and the other at Barren River Resort Park in June.
Grant-Adams' extensive repertoire ranges from Scottish, Irish and Celtic material to Bluegrass.. Mixed with a little humor, sing-a-long and even some yodeling, he adapts his programs to suit the occasion. Having heard him on a number of occasions, Rock can tell you that he touches every emotion with his enthusiastic, high-energy, professional and artistic performance. Patrick Campbell in the "Irish Echo" describes him as "a balladeer in the tradition of Liam Clancey or Tommy Makem." Stephen Holden of the New York Times calls him a "spirited spokesman of a vigorous Scots folk tradition." High praise indeed. Rock recommends that you not miss this show. For reservations call 636-1311.
The Chieftains Are Coming!
The Louisville Palace will host Ireland's foremost traditional musical ambassadors in February. You will want to hear them. Rock has heard them many times but never tires of their artistry and mastery. This will likely be a sell-out, so do not tarry lest you be deprived of the "drop of the pure stuff."
New Year's Resolutions in No Particular Order
In case you need a New Year's Resolution to add to your otherwise short list, here are a few for your selection. No charge.
Attend Celtic jam sessions at Molly Malone's on Sunday afternoons and Kitty O'Kirwan's on Thursday nights. Take bagpipe lessons or pipe band drumming lessons from the Louisville Pipe Band. Attend the Highland Games in Carrollton and Glasgow. Have a pint of plain and fish `n' chips at The Irish Rover, Molly Malone's and Kitty O'Kirwan's and if there is no clear winner, start over again until you're dead sure and then double check.
Go to the Burn's Night Celebration. March in the St. Patrick's Day Parade in the Highlands. Join the Scottish Society of Louisville or the Sons & Daughters of Erin or the Ancient Order of Hibernians. Buy a kilt and wear it. Learn to say "Failte," "Slainte" or maybe "poig ma'thoin."
Jez Lowe in Concert
Northumbrian singer/songwriter Jez Lowe will be giving a benefit concert at Franklin College in Franklin, Indiana on February 12. Rock makes no secret about the fact that Mr. Lowe is his favorite singer. It is an easy ride up I-65. Stay tuned for more details.