Bluegrass Beat
Ozzy and Rob Zombie: Merry Mayhem Tour
It never fails that I arrive to a concert late. I totally missed OneSideZero and Mudvayne. I arrived in the nick of time to see the Master of Mayhem himself, Rob Zombie, take the stage. A fiery array of eye candy danced around as I approached for pictures. It was intense. But I do have to say that I was not nearly as impressed with his vocal performance. Ozzy was a wonder of the imagination ... "I wonder how much longer he can do this?!"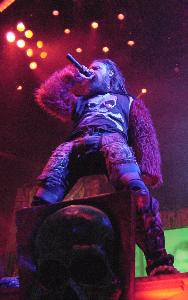 Rob Zombie
When I saw Zombie last, it was at Louisville Gardens with Korn. That was one hell of a show. I have said it before, a million times, floor seating ruins a heavy show. There is something that comes out in all the carnage of fighting to work your way to the front of a general admission concert: Musical Chairs meets Celebrity Deathmatch. Aside from the assigned seats (don't get me wrong, my floor seats were great, and I thank Andy Wilson for them!) the performance by Zombie seemed tired, with good reason: they have been touring all over, and Zombie puts more into his live show than anyone I have ever seen. I have seen performers who look like they just don't care, and he is not one of them. There were high pitched vocal parts that were weak or not hit at all, and he appeared to be strained from other shows. Zombie is active in many other roles as well, including directing. I was glad to see he didn't give up his touring for other ventures.
The band of Zombies played tracks from The Sinister Urge (his latest release) as well as older tunes from Hellbilly Deluxe and even "Thunder Kiss `65" from the White Zombie days.
The stage was adorned in black light- responsive painted scenery, including devils, pentagrams, skulls and the like. Fire, robots, monsters, go-go dancers... oh yeah, and great music can be found at hi shows. It was a real freak show, and the crowd ate it up like free cheese.
Osbourne's portion of the show began with a video introduction, featuring the Madman posing as the infamous phone line psychic Miss Cleo, inserting himself in the music video for Moulin Rouge, and many others, showing off the wit and sense of humor that have kept him going all these years. Then, from above the crowd's heads came Satan Ozzy - I mean Santa Ozzy - in a gigantic sleigh, armed with a machine gun. The license plate read 666. He threw out T-shirts and gifts to the crowd and made his way to the stage in style overhead.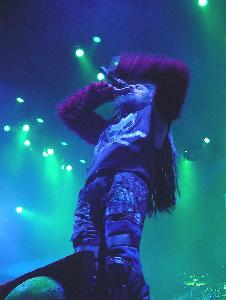 Rob Zombie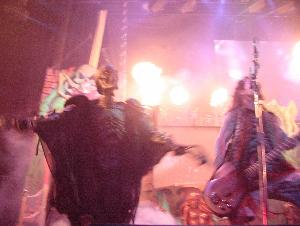 Some show! hoto By Jason Koerner
There was a difference in Ozbourne, however, as he didn't move around much. If you have ever seen Ozzy, you know this behavior is atypical. His stage show is like a workout video full of jumping jacks and leaps, pacing around the stage, and yelling at the audience at the top of his lungs. Doctor's orders prevented a lot of this. Ozzy is not in the best of health, according to the television. His vocal endurance was impressive though, as he sometimes loses power early on in a show. This did not keep his heart out of the music though, and he kicked as much rear without the workout.