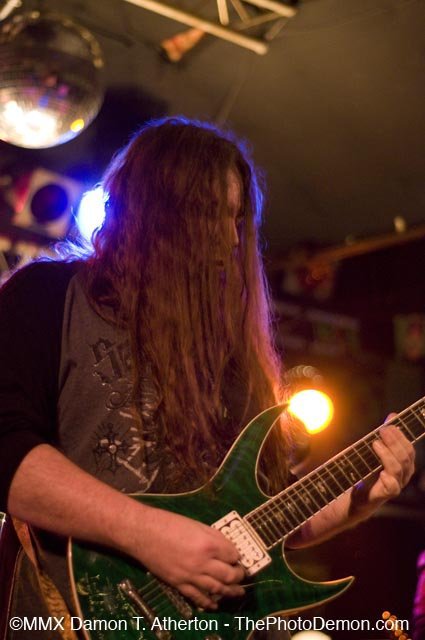 News From the Pit
What up, all you psycho music lovers out there?
I hope you all had a Merry Christmas and a hellacious partying New Year. Winter is here, and that means lots of shows all around town, so get off of your rumps, get out there and work off that turkey you scarfed down like there was no tomorrow.
I went to "Metalfest" last month and had a great time. thumbs up to Triple X Lex for carrying on with the Metalfest show. It was packed as predicted. And thumbs up to Colby Keeler, the guy who thought up "Metalfest," we can't forget him and his contribution to our scene. I didn't see him there last night though, which I thought was kinda odd.
There was a virtual sea of young kids there who were very into the music Louisville has to offer. Black lipstick, face paint and pants baggy enough to shelter homeless people were the order of the day. It was cool.
I turned thirty-two on Christmas day, and I tell you, I felt old as dirt last night.
I didn't get dissed or anything, but lately I have felt an isolation from the scene for a couple of the older musicians in various metal bands in town. These bands should be respected for their talent as well as all the shows these metal veterans have played in the past.
I'm sure a lot of the kids were too young to remember or know about these older metal musicians, so give them a chance. I'm sure you'll be happy with the quality of music.
The fact is you can NEVER be too old to play or like heavy metal/hardcore. I plan on being ninety years old, wearing Depends undergarments, slobbering on myself and listening to Fear Factory's thirtieth CD release.
So give these old rockers a chance, you may be blown away by the result.
THE METAL GRAPEVINE
Chuck Shuldiner Loses Battle With Cancer:
I regret to inform you that Chuck Shuldiner of the legendary death metal band Death has died of cancer. He passed away on December 13 after a long battle with the deadly disease. He is one of the founders of death metal. Rest in peace, Chuck.
New Band Alert: Fubar
Ok peeps, here is a band I like quite a bit. I'd heard a lot of good things about them, and it was all true. These guys kick booty! I predict these guys will do well.
Be sure to check them out if you love the heavy, non-trendy stuff!
New Band Alert: Cell 13
Cell 13 is a very young and talented new metal band. (These bands keep getting younger and better. It amazes me.) This band is definitely one of the better young bands out there. Look for their CD review in next month's issue.
Sen Breaks Up: The drummer for Sen has left the band. I like Sen, I hope they work out their problems.
Intak Records Live CD: Dammit, somebody took my idea! LOL. They recorded at Tekworld on Dec 14. The CD will be released in January.
Nemesis Looking for Bassist: If interested give Jason a holler at jjkslacker@cs.com.
New Band Alert: Dent (from Indianapolis)
This very talented three-piece is not a new band, but they are fairly new to the Louisville scene. Their style is similar to Tool, but I think these guys are a bit heavier. They have played two great shows in Louisville and will be returning on February 1 at the Phoenix Hill Tavern, opening for Factor 9 and Element H. Come out early to see one of Indy's best!
Top Venue Closes Its Doors To Metal
One of Louisville's top venues has disassociated itself from the metal scene, and will not book any more metal/hardcore acts. The bar is on Lexington Road, but I'm not mentioning a name.
The main complaints from the bands were these:
No guest list. When my band played there, my girlfriend had to pay to see the show!
No alcohol discount for the players. We musicians don't expect free beer, but a decent discount for band members only would have sufficed.
And last but not least, the deal with the bands didn't result in money for the bands. Gotta improve the deal-making all around.
I really don't know what else to say, other than I think this is really too bad.
UPCOMING SHOWS
BryccHouse: All shows at the BryccHouse start at 7 p.m.
Saturday, January 5: Abominant, Gaebelain, Convergence From Within and Abscise.
Friday, January 11: Absence Of Faith, Downside, Everydayafyer, Endicott, Lariat, 200 North and Three Nails For a False Prophet. 5 p.m.
Crunchzone: Shows at the Crunchzone start at 9 p.m.
Saturday, January 12: My Own Victim, Incursion502, Factor 9, MSD, Tornacade, False, Delta 9 Theory and Kallus. 6 p.m.
Saturday, February 2: Nemesis, Quarterbounce and Downside.
Extreme Scene Teen Club: Shows at Extreme Scene start at 7 p.m.
Friday, January 11: Cell 13 and T.B.A.
Saturday, January 12: Tornacade and T.B.A.
Friday, January 18: False, Kallus, Filthporn and T.B.A.
Saturday, January 19: Spent, Sadsack, Severed Soul and Execrate.
Friday, January 25: One With Misery, Shuv, Absence Of Faith, Intak and Scapegrace.
Friday, January 26: Leaves, Paradoxx 44 and Silent Station.
Phoenix Hill Tavern
"Original Rock Showcase Series" On the first Friday of every month in the Roof Garden.
Friday, January 4: Cooler, Screaming Through December, Vinal and Absence Of Faith. 9 p.m.
Friday, February 1: Factor 9, Element H, The Lost and Dent (from Indianapolis). 9 p.m.
Friday, March 1: End Of Me (formerly The Brian Fox band), Superface, The Constant, The Pointy Kitties and Slo Annie. 8 p.m.
Tekworld: Shows at Tekworld start at 7 p.m.
Friday, January 4: One Point Threes, Bodyhammer and Quarterbounce.
Saturday, January 5: My Own Victim and Nemesis.
Friday, January 11: Luther, Flatlyne, Tornacade and Blyss.
Saturday, January 12: Kallus, Evil Engine # 9, Rampant and Fubar.
Friday, January 18: 13th Level, Faceplant, Fubar and Maltese Cross (from Columbus IN).
Saturday, January 19: Abominant, Coronach, Fog and The Revenants.
Friday, January 25: False, Incursion502, Tod (from Indiana) and One With Misery.
Saturday, January 26: MSD, Incursion502, False and Execrate. Outtatownerz:
Saturday, January 19: Downside at The Jungle in Marengo Indiana.
Saturday, January 12: Dent and 13th Level at The Emerson Theatre in Indianapolis.
Props Of The Month This month's props goes out to the fans of Louisville music. All you people who come out to these shows and show support for our scenes original bands are the reason we, the bands, do this.
As many of you know, there is not a lot of money to be made by playing original music around town. so be sure to show some love for the scene: Keep coming out to the shows and bring all your friends.
That's it for me this month you freaks.
Remember, I can't print what I don't know, so get your show dates and info to me by the 13th of the month.
You can contact me at Eddymetal1@aol.com.