I've Got A Mind To Ramble
The 2002 Chicago Blues Festival celebrated its 19th year with a tribute to Muddy Waters, who passed away 19 years ago. I've had the good fortune and fortitude to attend seventeen of these festivals and have seen it evolve from a two-day event with just evening performances in the Petrillo Band Shell to a mature four-day marathon on five stages. Four days of good weather from May 30 to June 2 with all the activities spread around the north end of Grant Park is a lot to ask for, but we lucked out, with unseasonably warm days for most of the festival and a cool closer on Sunday.
You can't possibly see it all, but what I did see I enjoyed. The Route 66 Road House is a tent set up near the intersection of Jackson and Columbus, where there were discussions by musicians and scholars on various blues topics. My favorite was "All the Wives Club," which included Ann Young (Mighty Joe), Letha Jones (Johnny), Elizabeth Lay (Sam), Dorothy Lane Rogers (Jimmy), Barbara Campbell (Eddie), Marie Dixon (Willie), Madeline Branch (Billy) and Marva Morganfield (Muddy), plus KoKo Taylor.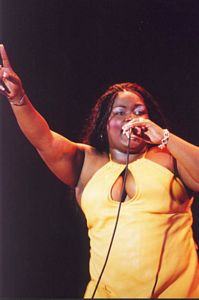 Shemekia Copeland at the Chicago Blues Festival 2002
Emcee Shirley Dixon, Willie's daughter, kept the discussions lively, trying to get the ladies to tell all about their famous husbands. Marva, who married Muddy in 1974 when she was only 25 and he was 66, is still very youthful. She said "Muddy was a very spontaneous person who opened the house to anyone. He loved to cook and enjoyed champagne. When he was at home he was a family man, and when he was on the road, a businessman."
Many of the wives met their spouses in the blues clubs where they were performing. Barbara met Eddie at the 100 Club in London. Dorothy met Jimmy at the 708 Club and Ann met Joe at the 1815 Club where he asked for her telephone number and when he called, talked for two hours. KoKo met "Pops" Taylor in Memphis. They came up to Chicago together on a Greyhound bus in 1953 with 35 cents and a box of Ritz crackers. KoKo recalled "Pop's ate up all the crackers on the bus."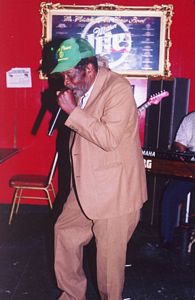 Fred Murphy performing at Goodloe's in May
When the ladies were asked to comment on the state of the art of blues today, Marie said, "lots of blues are used on TV commercials but there is not a show about the blues. The TV stations need to show more respect for the blues." Another presentation was by ex-Louisvillian Paul Garon, who talked about the myth, legend and history of Peetie Wheatstraw. Garon wrote the liner notes for the extensive Document Records CD release on Wheatstraw.
Bo Diddley at the Chicago Blues Festival 2002
There were some great stories traded back and forth between Philadelphia bluesman Jerry Ricks, and Memphis promoter Jim Dickinson, about several 60's revival bluesmen, including Son House, Mississippi John Hurt, Sleepy John Estes and Skip James. Ricks recalled one time when he and Furry Lewis were on the Jack Parr Show. To make some conversation, Parr asked Furry if he was married. Furry said "I don't need to be married, since my neighbor's got a wife." The program immediately went to a commercial break and when they came back, Furry was gone.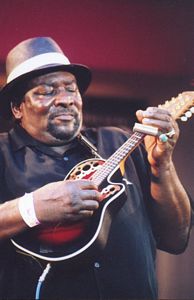 Big Jack Johnson at the Chicago Blues Festival 2002
I've done enough rambling about what was said, it's time to tell about the music. The Friday and Saturday night shows were the highlight of the Festival. The Muddy Waters Alumni Association gathered together on Friday. Eighty-nine-year-old Pinetop Perkins, Carey Bell, Luther Guitar Jr. Johnson, John Primer, Willie "Big Eyes" Smith, Calvin "Fuzzy" Jones and special guest James Cotton assembled onstage to pay homage to their former band leader. James Cotton and his 5 Star Band followed. Since Cotton can't sing anymore, Darrell Nulisch helped out on the vocals, doing "Rocket 88" and "Goodbye Baby." The other Stars included Michael Coleman and Ricco McFarland on guitars and David Maxwell at the piano. Cotton was pleasantly surprised to receive the Howling Wolf Award midway through his set. He played with Muddy from 1954 to 1966 and led his own bands during the Seventies and Eighties. He continued to amaze the crowd with his emotional mastery of his harmonica.
The evening concluded with Big Bad Bo Diddley reuniting with several of the musicians he started out playing with on the streets of Chicago and in the Chess studios. Billy Boy Arnold, Jody Williams and Clifton James were all there during those early days. Diddley's trademark square guitar was vibrating and distorting his rhythms. Unfortunately his voice was hoarse but when he was doing an extended version of "Bo Diddley," Shirley Dixon came out to do a brief duet with him to close the set.
Saturday night opened with Johnny B. Moore, who got the crowd grounded in rock-solid Chicago blues. There's not much flash to Johnny's stage persona, but its genuine and from the heart. The Jelly Roll Kings Revisited brought Big Jack Johnson and Sam Carr together with John Weston. Weston is a very expressive performer, always in motion while playing his harps and vocalizing. Johnson just plants his big feet on the stage and caresses his blue Fender with the ends of his strings curling out in all directions at the neck of his guitar. He did pull a new toy out of his bag of tricks, a beautiful little eight-string mandolin that he used to play "Sweet Home Chicago" with a slide.
The climax of the evening and the whole Festival was Shemekia Copeland. This was the first time for me to see this 23-year-old ball of fire live. Copeland was introduced by KoKo Taylor and I sensed the passing of the torch between two generations of blues singers. Copeland has the poise and voice of a blues diva twice her age, singing powerful original songs like "Wild Wild Woman," "Not Tonight" and "The Other Woman Was Me." Arthur Neilson, her lead guitarist, played his flying V, which seemed to reverberate off her energy. Copeland dedicated "Ghetto Child" to her father, the late Johnny Clyde Copeland, and sang the last part without a mike. Her great passion for singing is a calling that could make Shemekia the next Aretha Franklin.
Fred's House Party
House parties are an old tradition in poor, urban neighborhoods, held to raise money to help pay the rent or some other worthy cause. Someone would fry some fish or chicken, set up the liquor (usually home-brewed) and find a barrelhouse piano player or other blues musician or musicians to play. Then they would invite all their friends in the neighborhood in, make music, eat and pass the hat.
It's time to hold a House Party to honor and help veteran bluesman, Fred Murphy. Fred is having a series of cataract operations on his eyes and has been in and out of the hospital for high blood pressure. There are lots of prescriptions and utility bills to pay. But most important it's time to honor Louisville's oldest active bluesman at eighty-four years. Stevie Ray's will host the House Party on Sunday, July 14. The doors will open at 4 p.m. and the music will start at 5 p.m. with the 10th St. Blues Band, with whom Fred will perform. MR-2 Blue, Walnut St. Blues Band, da Mudcats and Lamont Gillispie and the 100 Proof Blues will fill out an evening of some great blues. Food will be available and the cover is $5. A special account has been set up for this event and income from a future CD of gospel and blues by Fred and Pen Bogert.