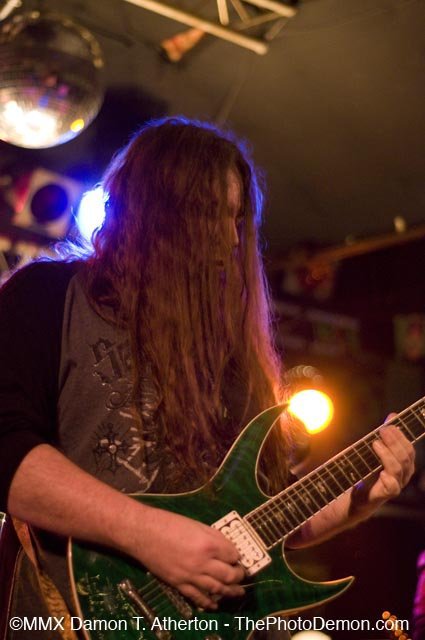 News From the Pit
Greetings, freaks and freakettes, summer is here! Time for swimming, beer-drinking and, hopefully, a few big local shows like in the past.
What happened to the days of outdoor bonfire parties with live local metal bands? I miss events like three hundred partiers in a field, consuming vast amounts of alcoholic beverages all the while rocking to some good local music. All you needed was a flatbed trailer, a field (no cow paddies, please), a generator and a decent PA. Anyone remember when Faceplant played a show at an outdoor party in Indiana and nine thousand police showed up? Or remember the Dawson Hill parties? Or the Borderline outdoor Metalfest five years back? Those were great outdoor shows.
Okay, who's got the field?
The Metal Grapevine
Underground Radio Anyone?
Local music 24 hours a day? No commercials? No more of the same cheesy radio songs you hear over and over? Sounds wild. And if you own a computer with a 56 k connection, you are already hooked up.
Undergroundlou.com owner/manager Jake Wheat started Undergroundlou.com in December, just for fun. He broadcasts from an extra bedroom in his south Louisville apartment, and it has definitely become popular.
Now Undergroundlou gets about 1,600 listeners a day, all wanting to hear the different varieties of music available in the Louisville music scene.
There are several message boards and live chatrooms on the site, and Jake plays the heavier stuff as well as the lighter music. So if you would like to hear something different, check it out.
Unhinged Ready to Play out: With their new lineup complete, the band formerly known as Tornacade, (now Unhinged) is ready to play out once again. I look forward to checking out the bands new drummer and bassist. They can both jam, so look for them soon.
Kallus CD Out: The new Kallus CD, Avarice, is out and should be available around town. This is some brutal stuff. Check them out.
New Band Alert: 1080 is a recently formed five-piece that features former members of Mindstorm and Rampant. They will be debuting in August.
New Band Alert: Phearus is a new group, featuring a few former members of Lifetap. They have a demo out that sounds pretty good. It's kind of hard rock, Alice In Chains-sounding, yet it's still pretty heavy.
Silent Q To Record In July: Look for a late July release.
Upcoming Shows
Headliners Music Hall
Friday, July 5 - Element H, the Constant, Unhinged, Month of Sundaze.
Phoenix Hill Tavern
The Original Rock Showcase Series. On the first Friday of every month.
Friday July 5 - MSD, Faceplant, The Lost and Execrate.
Friday, August 2 - Factor IX, After The Fall, Outrace and Phearus.
Tekworld
Shows at Tekworld .generally start at 7 p.m.
Friday, July 5 - Shuv, Silent Q, Exhaustion Method, Agent Of Evil and Starekase.
Saturday, July 6 - False , Doubting The Obvious, Hallowtide and Execrate.
Sunday, July 7 - Kallus, Nemesis, Caustic, Scatter The Ash (from Nashville) and Seed.
Friday, July 12 - BRUTALFEST with Incursion502, Faceplant, False, Fubar, Kallus and 13th level. This is a 5 p.m. show.
Saturday, July 13 - Abominant, Lividity, Gaebelein and Avulsion.
Friday, July 19 - Evil Engine #9, V-Mob, Small Town Drama and Static Divide.
Saturday, July 20 - Primer 55, Kidneythieves, Color Red, Incursion502 and Silent Q.
Friday, July 26 - False, Kallus, Caustic and Gasket.
Saturday, July 27 - The Constant, The Glasspack, Flatlyne, Puc and Cobalt.
Friday, August 2 - Hatebreed, Hopesfall, Not Waving But Drowning, False and Adrenalintak.
Saturday, August 3 - Factor IX, 13th level, and Outrace.
Outtatownerz
Saturday, July 27 at Hooligans in Richmond Ky. - Pownd, Outrace and 13th level. 9 p.m.
Tuesday, July 31 - Intak will perform on the Ernie Ball stage at the Vans Warped tour at Riverbend in Cincinnati.
Props Of The Month
This months props go to Jake from Undergroundlou.com for trying something different for our scene. I think its great. And from what I can tell, he sounds like a fair guy. He don't suck up to the more popular bands. He gives everyone a chance. I like that. We need more people like him in the scene.