I've Got A Mind To Ramble
Night Time Is the Right Time
The lady who lives behind the neat white picket fence on Hill Street has just released her second installment of Hill Street Blues. A Night with Robbie Bartlett contains the best from Robbie's long song list. These twelve songs are the ones her fans have most frequently requested to hear. Robbie covers a lot of ground, from Billie Holiday's gentle "God Bless the Child" to the romping opener "Something's Got a Hold On Me." All these songs will be familiar to you, as they are standard R&B classics with the exception of "Don't Do Me Wrong" and "Change is Coming." The latter is an original written by Robbie and Rusty Ends where Robbie triumphantly declares after a soured relationship "Look out, baby, my heart is sad, I got to go and be real bad." Robbie's showstopper, "At Last," which was on her first CD, One Girl's Opinion, is reworked with just guitar accompaniment. All of Robbie's vocals are strong and controlled with the assurance of confidence she has achieved over the years. The excellent band on this recording is her current group, which includes Don Pollard on guitar and Mark Richardson playing bass. Both of these musicians help out with background vocals on several cuts. David Marasco provides the steady beat on drums. The band will be going with Robbie later this summer when she does her second tour of England and Italy. A CD release party is planned for all of Robbie's fans at the Comedy Caravan on Wednesday, May 29, starting at 8 p.m. Someday Robbie will make the "Big Time" but for now she feels she has made it already with the support of her fans both here and abroad.
Blues Cruisin' #8
The Kentuckiana Blues Society was on a roll this year, with 62 people signed up for the Blues Cruise on Saturday, May 18. After our usual rendezvous at Mid-City Mall, we boarded two school buses provided by Kelley's Bus Service. We disembarked at Stevie Ray's just in time to see War Emblem win the second leg of the Triple Crown in the Preakness. After everyone got settled in, Associated Enterprise opened up the trunk of their car at the back gate in the Voodoo gardens to serve a delicious barbecue dinner. The King Bees were the early band. Actually they started extra early at 7 p.m. to accommodate us. The band has been playing together off and on for fifteen years and released a CD last year called Blues Contusion, which was recorded at Mom's Music. This was the same group of musicians as on the record except for their new drummer, Mike Alger. It was only Mike's fourth gig with the band, but he fit right in with the beat, using some handwritten charts along the way. Mike also is the regular drummer in Tim Krekel's band.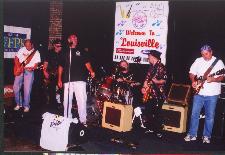 The King Bees at Stevie Ray's on May 18. L t r: Jim Haswell, guitar; Mike Taylor, bass; Rick Cain, vocals & harmonica; Mike Alger, drums; Pogie Decker, guitar; John Carby, guitar.
The King Bees are heavy on guitars with John Carby, Jim Haswell and Pogie Decker all stroking their Gibsons. Mike Taylor is on bass and did a few vocals including "Bad News" and "Tore Down." Rick Cain fronts the band, blowing harp and doing most of the vocals. These talented guys really enjoy their music taking turns on guitar solos and singing lots of originals. Two of my favorites were "Why Get Up (I'm going' to sleep forever)" and "Jelly Roll" with the great line "It must be jelly because jam doesn't look like that." Everyone helped out with some finger popping on "I'm a Working Man (and I don't know what I'm working for)." They did some lowdown, dirty slow blues like "Down to Mississippi" which got into a "Smoke Stack Lightning" groove, "Nine Below Zero," with nice vocals by Pogie and my favorite "I Believe (to my soul)." The King Bees is definitely a good time party band that soon had the dance floor filled after everyone had digested their food. Rick tried to persuade our crew to spend the whole evening at Stevie Ray's but it was time to move on to our next port-of-call, Goodloe's.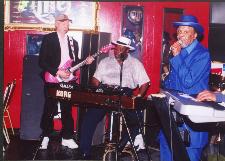 10th Street Blues Band. L to r, Smoketown Red, Fred Townsend, Joe Wells
As soon as I walked in and saw Fred Murphy, Smoketown Red, and Joe Wells I could tell we were in for a special treat with some true Louisville legends. The 10th St. Blues Band is a loose amalgamation of musicians, so you never know who will be asked to show up for a gig. The other members included L. G. McDonald on bass, Lay Lawford on drums, and dual keyboards with George Jones and Fred Townsend . The band was already warmed up when we arrived and quickly made ourselves at home. Goodloe's radiates a lot of warmth with its bright red walls and abundance of Bud signs. Joe was crooning several soul tunes like "You Send Me," "Drowning in My Own Tears" and a nice bluesy version of "Look Over Yonder Wall." When he started into "Mustang Sally" the crowd and the band quickly merged together in front of the bandstand. Joe still can use his characteristic falsetto to good advantage. He has been through several treatments for cancer and he said it is in remission. This was the first time in four months that Joe has been out singing. Joe Wells and the Original Rhythm and Blues Band will be back soon playing their regular weekend gigs again at Zena's.
It was Smoketown's (Junie Downs) 67th birthday that night and he responded to the occasion, playing some laid back licks on his red Fender. Smoketown has also been performing as a one-man band, playing keyboards with a drum machine at Tubby's in Jeffersonville. George showed us what he could do with his keyboard, making it talk and moan.
Fred Murphy waited patiently, being amused by the crowd until it was his turn. You don't get any more down home than when Fred takes his wireless microphone and starts to prowl. His signature song "Nights by Myself" and B.B's "Angel of Mercy" got the crowd's attention, but when he followed with "Freedom," he had everyone in the palm of his hand. Fred will be eighty-four years old on July 1 and when he sings the words "I want to do what I want to do" it has special meaning from someone who has experienced so much injustice. Fred doesn't climb up on chairs anymore but he still can roll around on the floor playing his harp. When we boarded the late bus, we knew we had seen a little history made that night.