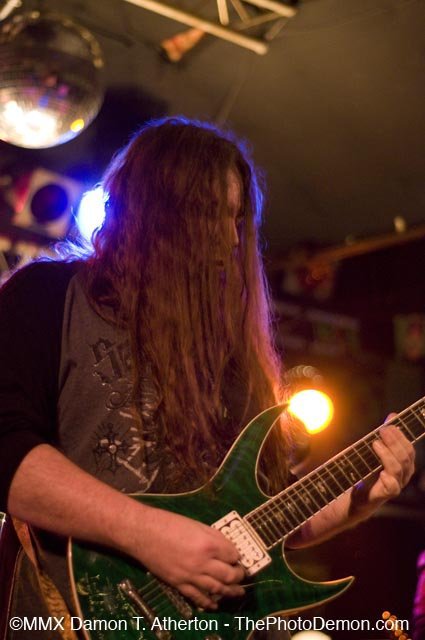 News From the Pit
What's up people? All kinds of stuff going down in the big "Ville" lately.
Lots of drama going down. New bands, violent bands, bands going on tour, drunken band members destroying tour buses, bands unhappy with DJs, bands breaking up, singers getting punched in the nose, lack of venues, females fighting like cats in the scene, band member changes, critics on messageboards, a singer losing a testicle, Pete getting stabbed, and about fifty other things not worth mentioning. Never a boring minute in the Louisville music scene huh? LOL
The Metal Grapevine
Flaw Fires Guitarist: That's right. More drama than you can shake a stick at. Flaw guitarist Jay Daunt has been dismissed because of unsatisfactory behavior. According to one reliable source, a fight between Chris Vols and Jay Daunt over being intoxicated at shows resulted in his dismissal. This is a big letdown to a lot of Flaw fans, but you really can't blame Flaw. Now is a very important time in their career. They can't allow inappropriate behavior to jeopardize everything in the future.
New Band Alert: Bobby Burns of Island/Defjam records recording artists Primer 55 has a new project called Beautiful in the works. The band features Bobby on vocals and guitar, Louisville music veteran Bobby O on bass, and Tommy Thomas on drums. See my interview in this month's issue!
Tornacade Acquires New Drummer: Terry Harper, formerly of Sen, has been selected as the new drummer of Tornacade. Be sure to see their first show June 15 at Tekworld.
13th Level CD Out: My band's five-song demo, Skunt, is now out. And we've gotten great response from it, so be sure to pick one up at our shows. We plan to have them at most of the local music stores by June.
Rampant Seeks Vocalist and Bassist: Interested? Contact Jude at 968-4368.
Abscise Breaks Up: Their final show will be on June 17 at BRYCC House.
Assisting Sorrow Loses Vocalist: The vocalist of the band has left the band to pursue other interests.
Intak Seeks Vocalist: Contact Tommy at www.intak.net.
Drummer Needed: The former vocalist of Seth is forming a band and they need a drummer. If you know of anyone, have them call Tony at 634-9362.
New All-Ages Venue Coming: Any of you remember Shockers, that place out on the western stretch of Outer Loop? The Louisville music scene had several great shows there a few years back. Anyone remember that outdoor show there with like 20-something bands? It was like 110 degrees outside! Anyway, an old friend of mine from the Toy Tiger is running it now, and he and I are currently working on trying to get some bands in there and having some killer shows. There are still a few minor details to work out but it's looking good. So, to all you bands out there that are pissed because there's hardly any place to play anymore, chill, because hopefully we'll be rocking the place soon.
Upcoming Shows
BRYCC House
Monday, June 17 - Abscise' Final Show and T.B.A.
Phoenix Hill Tavern
The Original Rock Showcase Series, on the first Friday of every month in the roof garden.
Friday, June 7 - Plan Of Man, The Constant, Element H and Puc. 9 p.m.
Friday, July 5 - MSD, Faceplant, Luther, The Lost and Execrate. 8 p.m.
Tekworld
(Shows usually start at 7:30 p.m.)
Saturday, June 1 - Fubar, Shuv, Static Divide and Severed Soul.
Friday, June 7 - Incursion502, False, Lollipop Lust Kill and Harbinger.
Saturday, June 8 - Element H, Factor 9, Jet Lawrence, After The Fall, Red Saturday, and Totem Soul.
Saturday, June 15 - "Summer Hell 2002" featuring My Own Victim, Abominant, Sen, Absence Of Faith and Downside. 6 p.m.
Saturday, June 22 - Cell 13, One With Misery and Phrail.
Outtatownerz
Saturday, June 1 at The Jungle in Marengo IN - Downside, Countermeasure and Delta 9 Theory.
Saturday, June 22 at The Jungle in Marengo IN - Caustic, Downside, Tornacade and Nemesis.
Friday, June 28 at The Jungle in Marengo IN - Incursion502, False, Kallus and Hollowpoint.
Props Of The Month
This month's props goes out to whoever put on the Williams family benefit on May 17 at Swiss Hall. I'm pretty sure Andrew McAllister of Factor 9 put things together. [Robert Williams was a guitar student of McAllister's - Ed.] Robert Williams, a young guitar student of Andrews, lost three members of his family in a horrible car accident earlier this year. While this will probably not make Robert feel much better, it shows that all our hearts and deepest sympathy is extended to Robert in this trying time of his life.
Props to all the bands/musicians that played on this bill. It was definitely a good cause. I wasn't able to make it out there, but I heard it was phat as a mofo.
Remember freaks, I cannot print what I don't know. Therefore, try to get info and showdates to me by the 13th of every month.
Peace out.