I've Got A Mind To Ramble
Sonny's Story
I enjoy doing interviews for this most of all, as the interaction during the interview and translating the spirit of the dialogue into print is always the challenge. So I was happy to sit down with Sonny Sitgraves for an interview, as I have wanted to do that for a long time.
Sitgraves lives in Taylorsville in a home that has been in his wife's family for years. We sat in his living room, which is filled with memorabilia and the constant bustle of activity of children and pets. Sonny's wife, Jo Ann, was around to fill in the details from her perspective.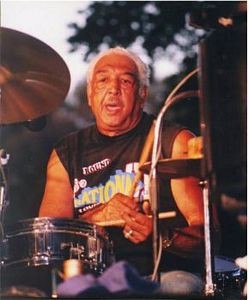 Sonny Sitgraves performing at the Kentucky Folklife Festival in Frankfort, Ky Sept.17, 1999. Photo by Keith Clements
Sitgraves life has three distinct chapters: the early Louisville years, the Chicago years and the recent years back in Louisville. He got his nickname from his mother at birth. He likes to say " she called me Sonny-Sonny, because I was so nice she named me twice." His full name is Booker Washington Sitgraves Jr., a moniker he hates.
He grew up at 34th & Hale in Louisville's West End, in the same neighborhood as Cassius Clay, now Muhammad Ali. In those days, Mayor Charley Farnsley would create "Play Streets" by closing off a street so the kids could roller skate and play games. Clay and his brother Rudy would bring their football and the neighborhood kids would take it away. He would get mad and say "As, gee," so the kids called him "gee." Later, Clay would go to the Grand Old Opry at 29th and Grand to dance, where Jo Ann Sitgraves recalls dancing with him.
Shortly after Sonny went to Chicago, he recognized Clay, then know as Ali, in front of the Carson Pirie Scott Department store where Jo Ann worked. Ali had drawn a large crowd around him to promote something. Sonny yelled out "Hey, Gee." Ali looked up and said "Hold it one minute, somebody's here from Louisville, Kentucky, where you at, boy?" Sonny went over and gave him a hug and later they had dinner together.
Sonny's first inspiration to play the drums came from watching Ernest Powell perform at the Starlight at 19th and Broadway and the Chickasaw Tavern near his neighborhood. After Sonny picked up his technique, he borrowed the delivery truck from his employer, Markhoff Meat Co., to delivery the set of drums he had bought at Durlauf's Music. When he drove up to his house next to Moore's Eat Shop at Hancock and Madison, all the guys hanging out figured he was delivering some meat. When he pulled out his new drum set, all the guys just fell out laughing.
Carey Bell and Sonny Sitgraves reminiscing at Stevie Ray's in Oct. 2000. Photo by Keith Clements
After a little more practice, Sitgraves sat in with John Clark on bass and Jr. Wells. Jr. was a heavyset construction worker who made his own guitar out of a 2X4 with an amp pickup. Sonny said Jr. was the "baddest" guitar player back in the `50s. Then came a long gig at Belgium's at 8th and St. Catherine. This band included Paige on drums, Fred Murphy on harp, Henry Woodruff, Willie Duke, a sergeant from Fort Knox who sang and played guitar and B. B. Bill (Eldridge) on lead guitar. They were known as the Barefoot Three, because Paige would always take his shoe off to play the bass drum. The owner, James, heard sonny tinkering around on the piano and hired him to play with the band for $5 a night.
When rock `n' roll was getting popular, there were several rival bands including the Moonlighters, Presidents and Democrates who got together to stage a battle of the bands at the Cotton Club. Sonny played drums with the Democrates. He said "The Presidents came first . . . if they gonna be the Presidents, then we're gonna be the Democrates."
Besides Sitgraves and B. B. Bill, the band included bassist James Warfield, Freddy Moore on guitar and Pete Frazier singing. Warfield's father, Booker T. Hamilton, was the manager and booked the band all over the state. He got them into the NCO Club at Fort Knox. The Democrates were the first rock `n' roll band to play at that club, as well as at the Diamond Horseshow at 12th and Zone, where jazz was the usual offering. After the Democrates disbanded, Sitgraves teamed up with his old friend Foree Wells. He had known Foree when Wells played guitar with Eggie Porter in the `50s. Wells was playing his B-3 organ at the time, gigging around town and in Madison, IN. Usually, it was just the two of them, with Sonny on drums and Foree on organ. They called themselves The Skullies, because they drove around in Wells' big blue hearse.
For bigger shows, they would pick up Ed Chestnut Sr. and Tommy Walker. They played for two years during the early `60s at the Tulip Lounge on 4th St, across from the Brown Hotel. The owner, Soloman, had a bunch of white go-go dancers who also performed at the club. The Blue Boar was nearby but the management had a "no colored people" policy. All the dancers went to the Blue Boar and protested. They said "if our band can't eat here, we won't eat here." So the manager let them sit in the back, where no white people could see them.
Sitgraves had another pre-civil rights story when he was working for Jefferson Dry Goods at 4th and Jefferson. He was a stock boy along with a country boy from Paintsville named Charlie. They went across the street to get some lunch at Walgreens. Charlie sat at the counter but Sonny knew he wouldn't get served, so he hung around the magazine rack. The waitress asked Charlie what Sonny's nationality was. Charlie didn't know what "nationality" meant, so he asked Sonny. Sitgraves, who has high cheekbones, said "I'm an American Indian. " So he sat down and at lunch. When he was done, he asked the waitress "Do you serve coloreds in here?" She said "No, but coloreds can get food to go." Sonny replied, "Well, you just served one, `cause I'm colored." She dropped his plate and ran back to tell the manager. The manager came over to Jefferson Dry Goods and told them "I don't want that boy in there no more."
After the gig at the Tulip Lounge, Sitgraves and Wells played several years at the Interlude at 18th and Broadway. It was there where Sonny and Jo Ann got married 38 years ago. Jo Ann claims Sonny still owes her a honeymoon.
More about Sonny's days in Chicago next month.