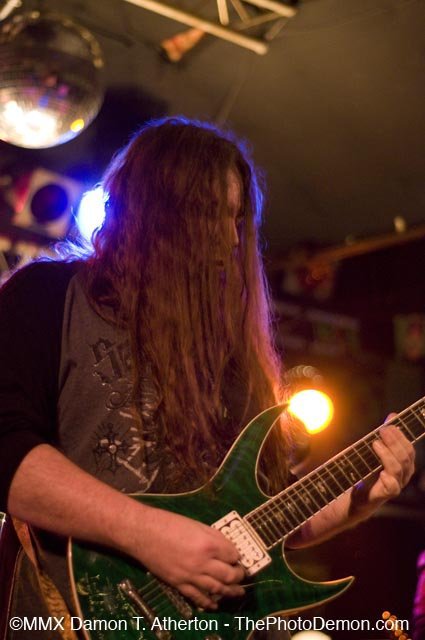 News From the Pit
Hello everybody, and welcome to the sick and demented world of the Louisville music scene. A place and music scene that is kinda like a big soap opera, except instead of cheesy romantic scenes, we got psychos elbowing each other in the mouth! Fun, fun.
Not a lot going on lately. Just the usual venues doing the best they can to make all the bands happy. Which isn't easy at all, I would imagine. So cut them some slack if they haven't hooked you up yet.
And what is up with certain bands hogging all the dates at certain venues? Helllllloooooo, there are other bands in town that would like to play a show too, ya know! Sheesh. So quit hogging all the dates! Give someone else a chance.
And another thing. Greg from the Crunchzone has been having problems with bands canceling shows at the last minute. Greg is a good dude and doesn't deserve to be treated in this fashion. If you book a show, play the damn thing! It doesn't matter what else is going on elsewhere. If you say you'll play, then you should keep your word! By not showing up, you are only hurting yourself and giving your band a bad reputation.
I know there are a few things about the Crunchzone that kind of PO's the bands, but not showing up will only make things worse. It may even cause the place to close down.
I like the Crunchzone. So lets try to help Greg out.
The Metal Grapevine
Factor 9 To Record Soon: Factor 9 fans should be happy to hear that the band plan on recording very soon in the future. These guys keep getting better and better.
Skinlab, Soil and Mushroomhead Coming: Be sure to check out these national touring bands coming to Headliners Music Hall. They are absolutely brutal! You may not have heard of them, but trust me, they stomp skull!
It's good to see national bands this heavy actually stopping in Louisville. Thumbs up to Spotlight Productions for having the cojones to actually book these guys. Check the dates below.
New Singer For False? The band False has parted ways with their vocalist and has been working on a few new songs with Incursion502 screamer Van Avery. We'll see what happens.
Flatlyne Finishes Recording: And I've heard great things about the results, so pick it up when it becomes available!
13th Level To Record In March : The band I play in will finally be heading into Canyon Studios in March to record a four-song demo with new singer Billy Burton. We think it should be worth the wait but then we might have a small bias...
Aquajones Bassist Forming Band: Jimmie Stallings, formerly of Aquajones, is forming a new band. He needs a drummer, bassist and a second guitarist. If interested give him a call at 500- 4784.
Upcoming Shows
BRYCCHouse
Saturday, March 9 - Church Of Body Modification Benefit Show with Absence Of Faith, Delta 9 Theory and Cast From Eden. 8 p.m.
Saturday, March 23 - Assisting Sorrow, Execrate, Harakiri (Indiana), Delta 9 Theory and Laceration.
The Crunch Zone
Saturday, March 9 - Incursion502, Hallowtide and Downside. 9 p.m.
Headliners Music Hall
Wednesday, March 27 - Skinlab, Soil, Headstrong and Flatlyne.
Tuesday April 2 - Mushroomhead, Lamb Of God, 18 Visions and Delta 9 Theory.
Phoenix Hill Tavern
The Original Rock Showcase Series. On the first Friday of every month in the Roof Garden.
Friday, March 1 - End Of Me (Frmrly Brian Fox Band), Cooler, The Constant, The Pointy Kitties and Slo Annie. 8 p.m.
Friday April 5 - "Spring Meltdown" with Evil Engine # 9, Faceplant, Fubar, Plan Of Man and After The Fall. 8 p.m.
Tekworld
Saturday, March 2 - Factor 9, Nemesis, False and Incursion502.
Saturday, March 9 - My Own Victim, After The Fall and Flatlyne.
Saturday, March 16 - False, Incursion502, Intak and Pulse.
Sunday, March 31 - Incursion502, The Revenants, Absence Of Faith and Second Skin (Arizona goth).
Friday and Saturday April 5 and 6. Battle Of The Bands. To enter, email www.tekworldshows.com for info.
Outtatownerz
Friday, March 15 at the Village Inn (New Salisbury). Rampant and two bands T.B.A.
Friday, March 21 at the Firehouse in Pekin, IN. D-fect, Sealing Of The Tribes, Incursion502 and Countermeasure.
Saturday, March 23 at the Jungle in Marengo IN. Rampant, Evil Engine # 9, Intak and Downside.
Saturday, March 30 at the Venue in Madison IN. Intak, 4fit and Inphobia.
Other
Friday, March 15 at the Sun Valley Community Center. Red Sun, My Life Denial, The Lost, Ayin and Three Nails For A False Prophet. 6 p.m. $5 All ages. For Directions email brandons@louisvillenoise.com.
Props Of The Month
This months props go out to the one and only Black Frank of 100.5 the Fox. Whether you love or hate him, you've got to admit that he's put in some time supporting us local bands. He's been playing local music and brutal metal on the radio for a long time, peeps. And he attends quite a few local shows, so give him his due credit.
Frank and I have had more than our share of differences in the past, but overall, I think he's a decent guy who has done a lot for the scene. So this one's to you, Frank, ole boy!
Be sure to check out his show, "The Attitude Network" on 100.5 the Fox Saturday nights at midnight.