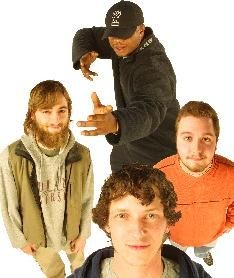 Sativa Gumbo
SATIVA GUMBO
A Groove of Solidarity
By David Lilly
Photos by James Moses
Most people like to get mail, including me. Like others, I also like surprises that come in the mail, especially when they turn out to be good ones. One day in early November 2001, I found one of those good surprises in my mailbox. Included in the few items was an envelope from Louisville Music News, addressed to me, containing yet another envelope. Inside, I found two free tickets to a concert.
Sativa Gumbo at the Longshot Tavern.
Two words stood out on the tickets: "Sativa" (pronounced suhTEEvuh), which I'd never seen before, and a second, "Gumbo," that I was more familiar with. "What in the world is Sativa Gumbo, and why do I now have these free tickets?" I wondered silently. I drove home, put the tickets back into the envelope and set it on my dresser. That evening (after I'd digested the scenario), I asked my wife if she wanted to go see a local band called Sativa Gumbo play at Mom's Music in Jeffersonville, to which she agreed. So, on the evening of the date designated on the tickets, I grabbed my pen and notebook and we went to experience a Sativa Gumbo concert.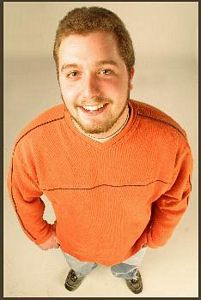 Ryan
We arrived at the Friday evening show pretty well worn out from working all week but left with a feeling of rejuvenation and drove home revitalized (at least for me at midnight on a Friday). I also left not only with a few pages of notes, but with a curiosity to know more about this band with the eye-catching, exotic name as well as the individuals who were in it: Jared Williamson on bass, Tommy Potts, Shawn Williams, percussion and Ryan Pickhardt, keyboards.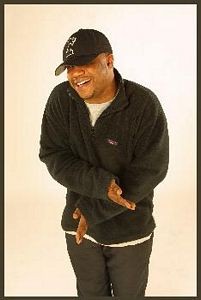 Shawn
When I finally met them, I am pretty sure my chin dropped when I found out that all the band members are in their early twenties (Shawn is the "old man" of the group, at 23). Not that they look old, but I just don't expect college-age guys to exhibit the kind of unity, professionalism and quality musicianship one sees when the Gumbo is onstage doing what they love the most. So how did they get to there so young?
Tom, Andy, and a botanist
The seed that would become Sativa Gumbo was fertilized when musician friends Potts and (original) drummer Andy Garbe first put their musical instruments and ideas together in the mid-1990s, but to tell the complete story, we have to go all the way back to the 18th century, to when the Swedish botanist Carolus Linnaeus, who developed the modern system of classifying plants and animals, coined the term "Sativa," (from the Latin word "Sativus" and the Latin term "sativ"), which means "cultivated" or "sown." The word "gumbo" is a name for soup with a thick texture, usually due to the variety of ingredients in it. Hence, Sativa Gumbo is a symbolic name, due to the fact that the music the guys create (that's right, this is not a cover band; the music this band plays is written by this band) is made of elements from a variety of genres. The musicians that have influenced them range from obscure to world-famous. Okay, now back to 1996 and a fast food restaurant.
Two More Add Up To Four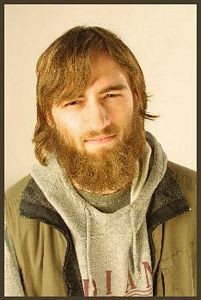 Jared
Potts and Garbe had recruited Williamson to play bass in their as-yet-unnamed musical ensemble. Soon after that, Williamson's friend John Stein was invited to play lead and rhythm guitar. Thus the seed planted earlier had developed into the original lineup of the band Louisville knows and loves (or will) as Sativa Gumbo. However, it was not until Williamson and another friend were engaged in conversation at a Wendy's restaurant in New Albany that the idea of the name "Sativa Gumbo" occurred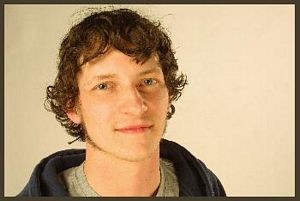 Tommy
This lineup played together for a couple of years, with their first paying gigs at venues as diverse as the infamous Toy Tiger and a Hemp Festival.
Affected by the Elements
The cold winds of change blew through them in the winter of 1998, when Stein steered himself onto an exit ramp to pursue other interests. Organist and keyboard hammerer Ryan Pickhardt assumed the spot and the band remained a quartet.
Warmer breezes of change in the summer of 2000 brought about the departure of original percussionist Andy Garbe. Before the drummer's seat could get cold, through the "in" door came Shawn Williams, who pounded away on skins in his first public performance with the Gumbo in March of 2001.
Surprisingly, from what I've seen of them onstage and talking face to face, there are no apparent conflicts due to swelled heads. So how do they function with neither a resident megalomaniac nor even an egotist amongst them? It seems they are aloft on the wings of a spiritual groove of solidarity. Each band member brings the same attitude, philosophy, and passion to the group, but in his own way.
Let Me Introduce To You...
Shawn Williams entered the world of drums not too long after entering public school. His family knew he had it in him when he improvised with pencils for drum sticks and books for drums. He went through several toy drum kits (and broke them) before acquiring a real one. His first steady gig was supplied by Mount Nebo Baptist Church, when the regular drummer was unable to be there. One pick-up gig obviously doesn't mean steady work, but it turned out to be steady because he is still their drummer. Shawn states his musical goals as working his "God-given talents to the max, to be proficient in all musical genres." As noted the Gumbo plays a variety of musical styles, and usually at least a few of those get improvised into each song. Being devoid of even a hint of pontification, Williams hopes to teach others in his generation, by example, that playing a musical instrument, creating art, and sharing the intrinsic spirit of it all is what matters most, rather than getting involved in music just for the sex, drugs and money. And talk about dedication - even though Williamson has been playing drums for most of his life, his musical education has not ended. With the guidance of fellow percussionist and Virginian Kenneth Mitchell, he continues to study percussion theory, dynamics and the uses of syncopation, as well as other tips to help him improve.
As for the keyboards, so far there have been no rumors or warning signs of crazed or violent behavior such stabbing, wrestling with or surfing on his instruments, but it seems that Ryan Pickhardt is the Keith Emerson of Sativa Gumbo. Before you dismiss this suggestion and say, "yeah, right," you need to be informed about the light in his eyes and the grin he wore as he regaled me about his habit of breaking keys on a regular basis during performances. It isn't that he plans it, but he maintains in a roundabout way that this happens inadvertently while he's deep into the music and a passion for his craft. Actually, it's hard to blame the guy for that wee bit of destruction when you consider that he works as a phlebotomist - a job few are able to do - at Floyd Hospital. At first it came as a surprise that a 21-year-old guy from New Albany would name as his prime musical influences Dr. John and Professor Longhair. However, it isn't so surprising when you realize that his major musical influence, his father, Kristopher Pickhardt, played in bands while Ryan was growing up, so Ryan's childhood was full of recorded music, from The Beatles to Dr. John and a lot of others.
Ryan noted with enthusiasm, "I thought it was really cool to have a musician for a father. Plus a lot of his friends were playing in bands or hanging out and jamming with him. That definitely was encouragement for me to play music with my friends." Indeed, regardless of what our parents tell us, we learn from their examples.
Ryan knew Tommy Potts from high school. One night in 1999, Tommy, Jared and original member Andy Garbe asked Ryan to sit in with them ... and he's been a member since. Not bad at all for a guy who only took up keyboard/organ in 1998. Before that, he played guitar for six years.
Speaking of artistic aptitude, 22-year-old co-founder Tommy Potts contributes to the mix his talents for playing guitar, singing and writing, as well as an ability and strong desire to constantly improve himself. Tom's biggest musical influences are a small and interesting number of guitarists; namely Duane Allman, Slash (the classic rock guitarist of his generation), Yngwie Malmstein (whose Baroque, gothic writing style and blindingly fast arpeggios had a big influence in the world of heavy metal guitar), and Carlos Santana (Tom loves the way Santana's emotions are released and become audible through his instrument). Tom stated that "In the Gumbo is where I release my pent-up musical energy." He also says that playing live music "feels right" to him, makes him "feel very alive and he can't imagine doing anything else for a living," nor getting the same kind and amount of satisfaction elsewhere that he finds working in music. He credits the entire Sativa Gumbo experience as being an informal and ongoing musical education for him, interjecting, "I learn something from the other guys in the band every time we play, practice, or even just talk about music."
Jared Wiiliamson grew up singing in church and school choirs, so singing is nothing new to him. With the Gumbo he plays bass guitar, sings, and has written/writes the majority of the songs in the their repertoire. He is a talented artist who has also played trumpet and piano. He began to learn the guitar around age 14 and soon began writing his own songs. His major influences are Victor Wooten, Berry Oakley and Mike Gordon. He defines the Gumbo's music onstage both metaphorically and literally as "an ongoing, ever-changing conversation that reflects our mood as well as the mood of the audience." Like the others, Jared emphasizes the term "improvisation" as of the utmost importance to the band's work, as he offers another description by including, "The songs are springboards for improv. They are set structures that open up and allow us lots of room to jam, only to return to those structures or segue into other songs." Listening to him talk and watching him, it is clear that he is very sensitive and responsive to the vibes of other people as well as the environment he's in.
Sativa Gumbo is and always has been a grassroots organization. Friends and family have supported the band, and a growing fanbase is chiming in. As you can tell by their ages, it hasn't been that long since they've been able to legally play in bars, so back in those "younger" days, their gigs included frat parties, friend's parties and hemp festivals. They are supportive of the community also, evidenced by the fact that on occasions when they have had no paying gig, they would rent a nearby available room, such as The Georgetown Conservation Club, The Floyds Knobs Community Club, or even the New Albany Riverfront Amphitheater, to play in. They make it clear that the early gigs were not simply to make a buck or two; they were opportunities to experiment and develop a sound of their own, as well as to build a faithful following. It's possible that with their continued development, they will go out to open for bands like Phish or perhaps any of the Grateful Dead spin-offs.
Independents They
Amazingly (to me), Sativa Gumbo never use a setlist when playing live. Jared further explains that they choose what songs to play onstage based on the band's chemistry and that of the venue on that particular date. He adds, "Another part of it is what songs we've played in recent shows. We prefer to play different songs than we did at the previous gig or two because varying the set helps keep it fresh and interesting for everybody. We don't want to get into what we consider a rut of playing the same material night after night." With that philosophy on the one hand, on the other hand is the idea that they seldom, if ever, play any song the same way they played it last time or the time before that. If that sounds impossible or difficult to do, "names" like Bob Dylan, the late Jerry Garcia and Robby Krieger have made it a successful way of life for many years.
Some people will complain about the music changing to the point where a familiar song is unrecognizable. Then again, there is a vast and hungry audience that thoroughly enjoys it. Of course, some of that crowd is here in Kentuckiana. According to the Gumbo, rather than dreading or griping about having to stay out late and play the same songs in the same manner as last time, each concert is a variant to all the others, according to the venue, the crowd, the energy in the room and how the band members themselves are feeling. In addition, they all get a charge out of not knowing what will happen during the show or even what songs will be played.
Jared explained, "We try to utilize the energy and the emotions of the crowd and channel that into whatever we're playing in order to build the energy throughout the show. When this gets accomplished it's like a musical climax between the band and the audience, and hopefully that satisfies everyone's musical needs and wants."
Anyone that's paying any attention knows, you can't please everybody. Some artists, like Sativa Gumbo, find it impossible to do things any other way. That kind of dedication to staying true to oneself is admirable, especially if they continue to embrace it as they get older.
Road Fever
When asked, each of the members of Sativa Gumbo will give pretty much the same answer regarding why they like playing together. It is very liberating to make and play music together in an atmosphere where just about everything flows and falls into place in a natural way. They use basic song structures when playing onstage, but they all love to improvise and they all have plenty of room to do that. Because they play various styles of music, no one is limited to remaining within any one style, again, even within the space of any individual song. At least two of them state matter-of-factly that they can't imagine doing anything else of a living and they are dedicated to pursuing it on their own terms. These four guys are reluctance-free when it comes to their music career. They have goals and have carefully laid plans for achieving those goals. They're not interested in going along Brian Eno's path, which means that one goal is to spend as little time in the studio as possible. Hence, expect little studio work from them. That does not, however, signify a lack of Gumbo CDs, but an abundance of recordings of their shows. Their official debut disc, We've Only Just Begun, a handful of songs from the Mom's gig I attended, is scheduled for release in March 2001.
Finally, if the point has somehow been lost in meandering words, the song, "Lonesome Country," co-written by Tom and Jared, does a concise and good job of summing up what Sativa Gumbo is about in these lines: "We always find ways to fly high/Singing our songs tonight/We can't stop now, you're feeling the groove/Cause time ain't nothing when were playing for you."
Feel free to visit their website at www.sativagumbo.com and to drop a line at vestsp@yahoo.com Learn more about Carolus Linnaeus at http://www.english.upenn.edu/~jlynch/Frank/People/linnaeus.html.