B. B. King at the Palace - The Thrill is Back
By Keith Clements
It's always a thrill to go to the Palace to attend a concert, especially when you are sitting high up in the stratosphere of the upper tier, above the birds and close to the twinkling stars. The soft, ultramarine glow of the sky is a stark contrast to the golden plaster gilding on the palazzo rococo architecture.
But the real thrill was experiencing the undisputed master of contemporary blues, B. B., King, on April 19. Through his endurance of performing for nearly 55 years and taking his message to 90 countries, King has become the official ambassador of the blues, just as Louis Armstrong was for jazz. After a few warm-up instrumentals, King slowly walked onstage, wearing an embroidered black tuxedo jacket and bow tie that matched his famous Gibson guitar, Lucille.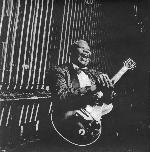 B.B. King. Photo By Michael Wilson
All those one-nighters must have taken a toll on B. B., as when he assumes his place front and center on the stage, he plays sitting down. A knew injury sustained when he was getting off an airplane has slowed him a little as well, but his authoritative voices still echoes the intensive spirit from those early songs he recorded. When he hit that first note on Lucille, the clarity of his distinctive deep tone permeated the soul of everyone in the house.
King's guitar style may be considered sparse by today's standards for blues guitarists, but each chord is measured to achieve its full effect. He opened with Louis Jordan's "Let the Good Times Roll" and paid homage to Jordan by playing several more of his hits, including "Caldonia," "Early in the Morning" and "Ain't That Just Like a Woman."
The band included eight versatile musicians, each of whom had several opportunities for long solos. Most of them have been with King for a long time, like his band leader and trumpeter, James Boldin, who has played in the band for twenty-three years. Guitar Tommy Henderson was standing in for veteran Leon Warren, who was in the hospital. Keyboards, organ, flute, cornet, drums, bass, tenor and baritone sax complimented each other to round out B. B.'s full band sound.
Halfway through the show, the band stripped down to just three musicians besides B.BG. to do a long medley of his early hits, including "Don't Answer the Door," "I've Been Downhearted," "How Blue Can You Get," "Rock Me Baby" and "Key to the Highway." The climax came when the band returned to the stage for "The Thrill is Gone," which brought the predominately young, white crowd to its feet for a standing ovation.
B. b. King is a very humble person and he brought his show to a close on a conciliatory note, talking about his rural Mississippi Delta roots, where blacks and whites helped each other as human beings. He compared how the attack on Pearl Harbor was similar to the September 11 attack, saying "When you hurt one person, you hurt all people." He ended the show graciously, singing "Someone Really Loves You" and tossed guitar picks to his admiring audience as he left the stage.