Chely Wright
By Rob Greenwell
I have seen Chely Wright perform a number of times and the improvement over that time has been dramatic. When she was really raw, she didn't know what to do on stage, but after several years on the road, her experience shows. The crowd at Coyote's wanted to party and have a good time, particularly since there was a convention in town. Many of the conventioneers had a crimson shade on the back of their necks, and these people like their country real. Wright is a new artist, and new artists have been stereotyped as "pop" country. Nevertheless, she grabbed the attention of the conventioneers as well as the regular Chely fans. Her recent change of image to a more risqué, sexier side , didn't hurt with the conventioneers and likely helps sell albums, but it became evident at her performance at Coyote's that it is just a natural progression of getting older and becoming more confident in herself, rather than a calculated career move.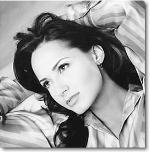 Chely Wright
Wright sang some of her older songs, including "Shut Up and Drive" but since she has a new album to promote, she did more songs from it, including "One Night in Vegas," "Wouldn't It Be Cool" and "Never Love You Enough." And "Jezebel," of course. She couldn't go without singing that one, as most of the women were there to hear that one, because as she put it, they want to say `keep your hands off my man' to someone. She also paid homage to the rich tradition of country music legends from Kentucky, putting special emphasis on her idol, the coal miner's daughter herself, Loretta Lynn.
Simply stated, you can say that Chely is now a seasoned veteran on stage. You can also say that she has learned to interact with a crowd, which goes a long way in helping any artist survive and prosper. Since she's got attitude, sexiness, drive and determination, plus stage skills to match, Chely Wright should be in the business for a good long while.