Kellie Coffey Live
By Rob Greenwell
I confess it: I have never been a real big fan of female artists in Country Music. Unless your name was Reba or Patsy or perhaps Martina, you really had no shot to impress me if you were a female country artist. Things started to change for me when the redheaded JoDee Messina came on the scene, with a new flare that was nothing but catching. I am here to tell you now that there has been another female artist that I have become a fan of: Kellie Coffey, a newly signed BNA recording artist.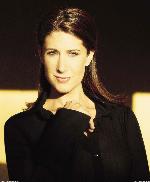 Why? I heard her sing during a short acoustic set at the Coyokee Saloon on April 11, 2002. When Kellie took the stage and the first words came out of her mouth, I instantly became a fan and I was not alone: people appeared out of the woodwork, transfixed by her soulful voice. They packed the bar to listen to a new artist with only one song to her credit: "When You Lie Next To Me," which she did early on, so that the crowd was immediately into this show.
Besides her voice, I really flipped over her demeanor: her attitude says she knows she's not the top dog. She is such a down-to-earth lady that she blushed on-stage when the crowd gave her a rousing ovation.
Today's country music business is hell-bent on (beautiful) image, and often that's the only thing about an artist that `works.' That is not the case with Kellie Coffey. She is an amazing new artist with an incredible voice; go see her live if you don't believe me, or go buy her album when it comes out on May 7.