Twiztid at Headliners

<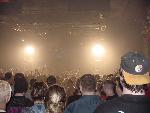 The Crowd
As in previous shows, I am sure the line outside Headliner's was from the door all the way down Lexington Avenue to the old brick buildings that line the area, but I wasn't there in the line to see it. So I must assume that the Headliner's crowd was the usual group of juggalos, with a few new ones here and there, tossing Faygo in the air and onto each other. All painted up as either ICP or Twiztid and ready to enjoy the opening acts of Blaze ya Dead Homie and Anybody Killa, the latest artists from Detroit's Psychopathic Records. As we all know, it will be a cold day in hell, or at least till the Sixth is upon us, `til Insane Clown Posse returns to the immediate Louisville area, but when Twiztid comes to town, it is all the same vibe for the juggalos.
When we arrived, Blaze and Anybody Killa had already taken the stage, and from the look of the crowd, had been on it like always. Now it was time for Twiztid. The loyal crowd of juggalos were chanting, "Twiztid, Twiztid" for the five minutes that I had been at the door, and suddenly the placed erupted in a roar. The opening sequence to the new EP/album from Twiztid, Mirror, Mirror began to play, a sound you would hear from a carousel hung over a baby's crib, while the Jamie Madrox, one half of the dynamic duo, talked about how he is hated for being him and can't stand his own image in the mirror. With a scream the curtains dropped, and there, standing alone, was Monoxide Child, the other half of the freak show know as Twiztid, staring blankly out into the sea of sweat-drenched juggalos.
Opening with a few songs from Mirror, Mirror they moved on to songs from their previous CD catalog, including Mostasteless, Cryptic Collections 1 & 2 and their last major release Freak Show. With a great remix of "Maniac Killa" and a great performance of "Rock the Dead" and "We Don't Die," the show got only better with the guest spots from the earlier artists of the night, Blaze and Anybody Killa.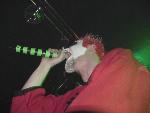 Monoxide Onstage
The show ended after just about an hour, with Twiztid calling for a chant of "family" amongst the juggalos, who in there own right, are a family. With more visits from Twiztid sure to come, this stop, and any other by any Psychopathic artist is sure to pull in a crowd of juggalos.