Twiztid at Sam Goody Records, Green Tree Mall
Text and Photos By Charles Mason and Jason Koerner
Twiztid began their day in Clarksville, IN with an autograph session at Sam Goody in Green Tree Mall. From Twiztid's point-of-view, these autograph sessions are a way to give back to the juggalos, and from my observations; it seems also a way for the juggalos to give back to Jamie Madrox and Monoxide Child.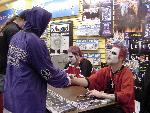 Twiztid Signing at Sam Goody, Greentree Mall
For the two hours during the autograph session, juggalos lined up out of Sam Goody to the entrance of the mall, waiting patiently and hanging out with their extended family of juggalos. Talking and just having a good time, they shuffled into the store to meet their heroes, known to the world as Twiztid. Juggalos had gifts ranging from pictures of themselves, stories of how Twiztid had helped them get through tough times and even Batman memorabilia, Madrox's favorite comic book hero. As the day went on, the juggalos were psyched for the show and their opportunity to meet Twiztid, taking pictures and getting everything imaginable signed. The autograph session ended a little after six o'clock with every juggalo leaving with a memory of that afternoon and definitely more to come from that night's show.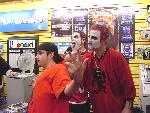 Mall Signing photo op
Twiztid hung around a bit to meet the staff and a group of juggalos that were selected to be on the Mirror, Mirror street-team from their website http://www.twiztid.com/ and the website every juggalo with a computer checks daily, http://www.insaneclownposse.com/. Next on Twiztid's agenda was to head back to the hotel and get ready for the show.
Twiztid Interview
By Charles Mason and Jason Koerner
Now, to my surprise, Jason and I were to going to get to interview Twiztid back at their hotel room, but first we had to wait in the lobby.
Jason Koerner & Twiztid
We got to talk to Alan, Twiztid's publicist for the tour. I also tried my hardest to get a conversation out of Billy Bill (you know, the guy who wasn't in Big Money Hustlas?) Oh, wait... you haven't seen it yet. Well go buy it or see it on the big screen like it will be on the Big Money Hustlas Tour at Headliner's on June 13). Billy Bill, I found out, is Twiztid's manager. We sat down for about twenty minutes and then Matt Nipps, easily described as Madrox and Monoxide's runner, showed up to take us upstairs to meet with Twiztid. We got on the elevator and on to the 17th floor for an interview
Louisville Music News (LMN):
How is Mirror, Mirror selling and the tour coming along?
Monoxide Child (MC): Mirror, Mirror flipped our wig because it came out 105 on Billboard's Top 200 albums and it had only been promoted through the Internet and a street team we just brought on. `Cause the tactic is going and putting it into magazines and all that s**t. We took Freak Show and went a completely different promotional route. We went completely magazine, you get ump-teen amount of dollars for radio and ump-teen amount of dollars for media, we took it all and [then] were like nobody plays us, so why spend money on the radio stations, so we took that and just poured it into all sorts of magazine you could think of. Targeted towards the juggalos, always targeted but it didn't sell one more album than Mostasteless. So we were kind of like that's not it. But now with this one (Mirror, Mirror), we didn't do anything, this is completely to tide you over because Twiztid isn't going to release an album for awhile, it is going to be a while. So we can with that. It's insane dude. We just keep learning.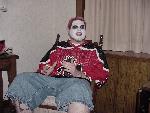 Madrox
Jamie Madrox (JM): I just think the freshest thing about it, was that unlike any other album, this has been the most secretive thing we have ever done. For the last month and a half, it has easily been `what is it? Is it an EP or an album? What exactly are you guys bringing out?' and we wouldn't tell anything about it. We kept everything about it secret, the track listings, the artwork, everything.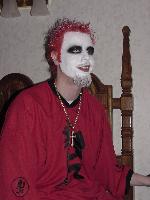 Monoxide
I mean even to this day, you look at the CD and there is no track listing on it, it is like a Christmas gift, you got to buy it, you got open it, you got look at it.
MC: We promoted it as any EP and usually there are only like five to six songs, this m-f has got eleven songs on it. We just don't want the confusion, it's the bomb don't get me wrong, but it is all for something greater.
LMN: Now what about the tour?
MC: Insane, dude, insane. We are going to place like Ashville, NC, like places we never heard of.
JM: Yeah, we have been to places I didn't even know existed.
MC: But there will be a few hundred juggalos there, and we are like where did they come from? I mean a city with a population of like 2,800, there are like 300 of them are juggalos. It's like wow!
JM: It's like really crazy. You'll go from a show where it is like crazy packed, and then the next day there will be like fifty, sixty kids. But we will still do the show because we are there to do the show no matter what. But some of the place, we are surprised, that many people showed up.
MC: We got a new booking agent, and he was just like, how long do you want to stay on the road, I mean our other tours were only like six weeks by ourselves. But we want to go everywhere; for the first time we are like we are going to come to your town. I mean a lot of places like Florida, we never went to, but this time out we are going everywhere. We booked up like eighty gigs, and we could have stayed out till like August, but we have the Gathering of the Juggalos (http://www.juggalogathering.com/) in July and then we want to hit the studios up in August. I mean we are doing like six shows a week a lot. We are going back to the old school, going back to the streets, underground, word-of-mouth. I mean f**k having to go pay this $4 for this mainstream ass promotion in a magazine. We rather have our street teams handing out fliers and samplers out at high schools. Something like a direct connection from us.
LMN: How did you guys get started with ICP and Psychopathic?
MC: When we got signed to Psychopathic Records, me and him (pointing to Jamie), ourselves, got a van, fliers, posters and samplers and went to as many states as possible. Every record store and ask to setup a display or poster, and some would...
JM: ...would look at us and say your nuts, there is no way in hell...
MC: Now we go in to these stores on like on-sale weeks and we are like wow. I mean we have come a long way but that's how we started it, in the street, not in magazine.
JM: At the beginning this is what we did, we were doing all this s**t.
MC: M-fs think we just threw on the makeup. We loaded the equipment and unloaded it, we were monsters in ICP's set, and we did laundry...
JM: ...I was too fat to be a monster, so I did the laundry
MC: ...and we did our set. That's how we got started.
LMN: I noticed Mirror, Mirror is completely Psychopathic Records. Are you guys going to be on another label anytime soon?
MC: What we are looking for is distribution. We say f**k whatever a record label has, we want our s**t everywhere. So if a juggalo is in Hawaii, he can walk into a record store and there it is.
JM: That is our biggest problem with what we got, the demand of the people going to a store and finding empty spaces. A stores says we got five copies we sold out of and them asking, can we special order it for. And the juggalos not wanting to wait two weeks are like `No!' They know that that they can get that s**t from the Psychopathic Web store (http://www.psychopathicrecords.ws/) within a few days, and cheaper at that.
MC: That's why we give so much love to the mom and pop stores. They show us love and order our stuff and put it up in their stores. We kept this off the Internet for like almost five days before it came out. That is because there is no major label that you had to give your s**t too. Then they give it Bob, and Bob gives it to Jenny and Jenny gives it to Frank. And Frank goes, oh s**t everybody wants this. I'll rip and put it on the net.
JM: There is no way to describe how bad that sucks.
LMN: What about your rock album you guys talked about making?
MC: That was something the turned into Mirror, Mirror. We started it, did about two tracks, and we weren't feeling it. I think maybe one song is on Mirror, Mirror.
JM: Another song was released as a special give away from Hallowicked. We threw out flyers, and it said sent it in and you get this 1 in 1000 Black Magic CD.
LMN: Thanks, you guys.
On a personal note, I would like to thank Jason for this opportunity, and also let all the Juggalos and all the non-juggalos reading this know one thing: Twiztid and everyone at Psychopathic have been nothing but normal, courteous human beings. For misunderstandings that have happened in the past, realize, don't assume you know people by the way they look.