I've Got A Mind To Ramble
Benefit for Paul Tkac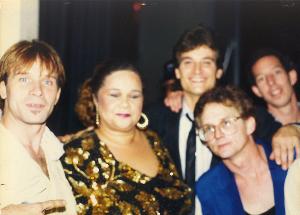 Lamont Gillispie and band with Etta James
It's time to rally around another local bluesman. This time it's Lamont Gillispie's longtime drummer, Paul Tkac. Paul recently had a large cancerous tumor removed and will require six weeks of intensive chemotherapy. Because he doesn't have any medical insurance, Lamont is organizing a fundraiser at Stevie Ray's on Sunday, November 3. Paul played with Lamont starting with the Bottom Line Band and the Saints during the 80s and then the Homewreckers into the 90s. Lamont refers to Paul as "The Mighty Max of Louisville" due to his hard driving devotion. He got his early influences from Charlie Watts and locally from Dicky Durlauf. Several local bands are coming out to help Paul's cause including the Mudcats, the Saints, the Predators with Jimmy V, El Roostars, Chuck Sharp Band, Bodeco and, of course, Lamont's 100 Proof Blues Band. Other musicians have been invited to sit in, including Ricky Mason, who used to play with Lamont, Tim Krekel and the "Louisville Horns," the backing section of Michael Murphy and Donn Adams. Other musicians have donated items to be auctioned off. South Side Johnny & the Jukes have offered some of their signed CD's plus Anson Funderburgh and Sam Myers will autograph a tee shirt. The music starts at 5 p.m. See you there for a good cause.
Magic Slim at Stevie Ray's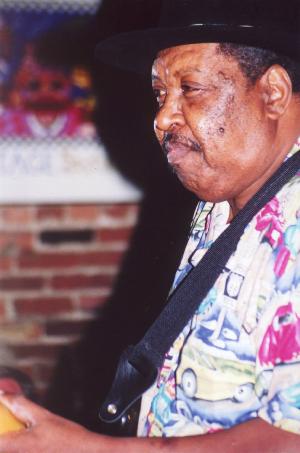 Magic Slim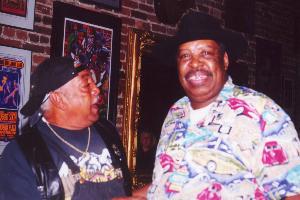 Sonny Sitgraves and Magic Slim
October was a vintage month for the blues at Stevie Ray's with Magic Slim, Mark Hummel, Mem Shannon, Johnny Rawls, Kenny Neal plus Anson and the Rockets with Sam Myers. Sounds like a bona fide blues festival spread out over four weeks. I couldn't see them all, so I picked Magic Slim on Monday, October 7. Magic Slim has been to Kentucky twice before, once when he played at the 1995 Garvin Gate Blues Festival and again four years ago when he performed at Carrollton's Blues to the Point Festival. This was his first time at Stevie Ray's, though probably not his last, since he really seemed to enjoy himself. Slim's band, the Teardrops, opened with some excellent guitar solos by Michael Dotson. Danny O'Connor has taken Nick Holt's (Slim's brother) place on bass and Ron Taylor provided the intensive beat on drums. Slim made his grand entrance walking through Stevie Ray's up to the bandstand playing "Shame, the Way You Treat Poor Me." His high-voltage presence electrified the place, thanks to his 6'4" stature and his muscular delta sound that was honed on Chicago's Southside. For his two long sets, Slim sat on a barstool when he was not doing vocals. He wraps his huge hands around the neck of his Fender Jazz master and shakes it to get his quivering vibrato sound. Slim wears picks on his thumb and forefinger, which sharpens his attack on the strings. When he broke a string early in the first set, Eric, the soundman, quickly restrung his guitar. Slim has a repertoire of hundreds of songs, so you never know what he's going to pull out of his big hat, from the traditional "Look on Yonder Wall" to the raunchy "A Real Mother Fuyer." Slim's voice is not pretty, as it has the deep, hoarse quality of countless late nights in smoky bars that nevertheless blends beautifully with his raw guitar. Occasionally, Slim growls in a Howlin' Wolf voice with comments to the crowd. Slim obliged his fans with an encore that concluded with the blues national anthem, "The Blues is Alright."
Secular Steel
Sacred steel music is getting national recognition, thanks to Arhoolie Records, which has issued nine CDs and a video documenting the originators and contemporary disciples of this emotionally charged gospel music. The use of the lap and pedal steel guitars started in the House of God Keith Dominion and the Church of the Living God Jewell Dominion worship services seventy years ago in Florida. This Pentecostal spirit has spread to a few northern cities but is still mainly centered in the African-American communities of central Florida, where two Sacred Steel Conventions were held in 2000 and 2001. The Campbell Brothers (Chuck, Phil and Carlton) have taken this musical tradition on the road playing concert and blues festivals across the country and recently around the world. The music is so powerful as it has no bounds and has now crossed over from the sacred to the secular. Robert Randolph, a 25-year-old pedal steel prodigy from New Jersey, has resurrected his praise music to popular music with the same intensity. Robert started playing ten years ago on a six-string lap guitar given to him by Chuck Campbell. Veteran Ted Beard taught Robert the techniques of playing using non-standard tunings and equipment, as used in the House of God. Robert now uses a custom-built 13-string guitar and has become the world's fastest steel guitarist. After being doing a cameo on the Sacred Steel Live and both of the convention recordings, Randolph is pursuing his music as a full-time profession with The Family Band. The family includes his two cousins, Marcus on drums and Danyel Morgan on bass. John Ginty adds the depth of his Hammond B-3 organ to the mix. Last year, Robert teamed up with the North Mississippi All-Stars to record "the Word," which rose to the top of the blues charts. Robert Randolph & The Family Band - Live at the Wetlands is his first solo venture on Dare Records. From the opening "Ted's Jam" to the closing "Tears of Joy," this seventy minutes of romping rhythms and riffs will set you free. The six tracks are all original jams except for Slim Harpo's "Shake Your Hips." My only complaint is that some of the riffs are over extended and it looses some of its tension. Robert's crossover to the secular has opened the door for this music to reach a wider, younger national audience.
Robert Randolph and the Family Band will be at Headliners Music Hall on November 19.