The Louisville music scene is a Mecca of musicians. The rock scene is dominant and has many talented and charismatic people in it, musicians who have played numerous shows in and around Kentucky, rockers who have paid their dues. Therefore we shall delve into the personality of such people. Demented and dysfunctional as they are.
Name: Frank Green
Age: 33
Instrument: Bass Guitar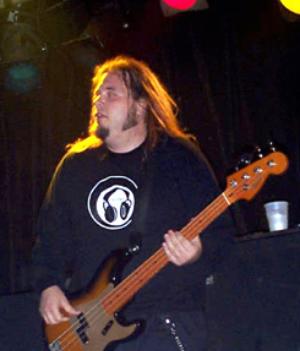 Frank Green
Band/Former Bands: Axtion(high school), Dodge City, Machine, Karmadogs, Whateverwill, Brian Fox Band and Outspoken.
How Long On Instrument: 17 years
Equipment: Fender Basses and Ampeg amplification only!
Influences: Gene Simmons, Cliff Burton, Geezer Butler, Tom Peterson(Cheap Trick), Allen Woody(Gov Mule), Jimi Hendrix, Kiss, Cheap Trick, OLD Metallica and Black Sabbath.
Hobbies: Long form writing, reading, conspiracy theories, Listening to the Art Bell Show and playing with my black Lab Sunshine.
Favorite Movies: Goodfellas, Raging Bull, American Psycho, Raising Arizona, Blazing Saddles and Hollywood Knights.
Favorite Food: Pretty much anything, from Ramsi's to the Come Back Inn.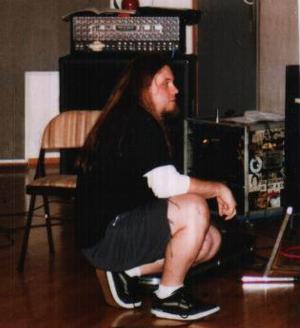 Frank Green
What I'm Listening to Nowadays: Pete Yorn, The Glasspack, Queens Of The Stoneage, Echobrain, Tool, Kyuss, Mike Ness, OLD Van Halen and Porcupine Tree.
Coolest Thing I've Done: It would have to be walking into my old boss' office and sitting down wearing a work uniform. Then telling him I wasn't going to be a computer monkey anymore because I was giving my two-week notice, so that I could go be a rock star!
LOL the rock star part was a joke.
Most Embarrassing Moment:
When I was playing the Phoenix Hill Tavern with Whateverwill when my ex-girlfriend went crazy throwing ash trays, beer bottles, glasses or anything she could throw at me. Seems there was a girl who got up onstage to dance and the ex didn't take too kindly to her. So she decided to maim me for it. She got thrown out twice.