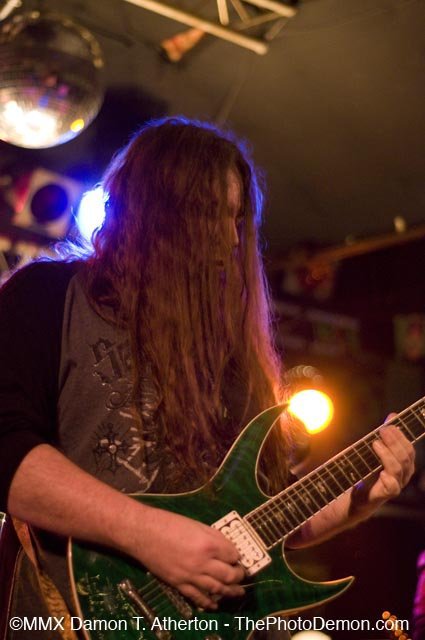 News From the Pit
Hello all, and welcome to the hideously wonderful world of the Louisville music scene, and of me running my mouth - all for the good of the Louisville music scene, of course.
Topics, topics, topics -
This month I'm going to yak about all the fighting going on around here. Je-sus! I have never seen a group of people who like to fight more than the people in this music scene. Except maybe the Taliban. I've been avoiding that kind of negativity lately, but I still hear a lot of fighting and trash talking in the scene. I shall attempt to solve one topic now, hopefully. This has happened once or twice before in the scene, some time back, so I reckon its time to address the issue. Okay, listen up and listen good. If a well-established venue OR radio station tells a band "if they play another rival club or promote another station, they can't play there or will never be played on the air ever again", then THAT, my friends, is wrong.
It does nothing but cause problems and creates unneeded negativity in the scene.
This year, I personally have had two or three shows that I promote at the Phoenix Hill not be nearly as crowded as usual because of other big shows going on that same night, but that's the way it goes. There's always a good chance that there will be something else going on the night of any show. There's nothing you can do about it but promote twice as much if you have the means. Threatening to hurt someone's chances at getting gigs or getting airplay is the greedy and unjust thing to do, yet some venues and disc jockeys have done just that. The way I see it is, we need all the venues we bands can get! And we definitely want to play as much shows and different venues as we can!
So be thankful of what you have (a successful establishment or access to a cool rock station) and please don't act that way when faced with a little competition: it only hurts you.
The Metal Grapevine:
My Own Victim's New Drummer:
My Own Victim has a new drummer named Geremy Mitchell. The guy has be really good if he is to match the drum skills of their old drummer, Danny Murphy, who I consider one of the best drummers in town. Anyways, welcome to the Louisville music scene, Geremy.
Outspoken CD Sounding Good:
I have received an advance copy of the unreleased Outspoken CD, Bitter Shovel. The production and musicianship on the CD is beyond excellent. I expect good things from these guys, So you may want to get out and see them before they depart on a long tour which I've been hearing rumors about. Check out the up close interview with bassist Frank Green below.
Black Sabbath Tribute From Louisville:
Okay freaks, get this. Pat Berris (former singer of Crazy Train) and Brian Omer of My Own Victim have a new tribute band out. A Black Sabbath tribute! Also in the lineup is former Luther drummer , the madman himself, Richard Bybee. I don't know the name of the group, but this is sure to be one killer show! I know I'll be there! Where are the tickets?!
Another Venue? Sweeeeeeeet!
According to a friend, there is a new club in Radcliff called The Dungeon. For Booking, contact Radcliffshows.da.ru. Now maybe some bands can actually get a show without waiting six months for an opening.
Voodoomachine Seeking Bassist:
Voodoomachine is still searching for a bassist, but in the meantime, they have added another guitarist, Jeff Grimm, and are almost done with their new CD. If interested in trying out, contact Jeff @ 420-7439.
Upcoming Shows
The Dungeon (Located in Radcliff KY)
Saturday November 9 - Odesa, 13th Level and T.B.A.
Saturday November 30 - Odesa, Faceplant and 13th LeveL.
Expo 5
Sorry , but I wasn't able to access Expo 5 showdates on their site, and no one would email the dates to me so, here's all you'll get!
Saturday November 9 - Execrate, Cell 13, Silent Q and Static Divide.
Headliners Music Hall
Sunday November 10 - Slackshop, Dead City Rejects and Serpent Wisdom. 8 p.m.
Phoenix Hill Tavern
The Original Rock Showcase series, on the first Friday of every month in the Roof Garden. Friday November 1 - My Own Victim, The Constant, Evil Engine # 9 and Month Of Sundaze. 8:30 p.m.
Friday December 6 - Tha Joint, Unhinged, Faceplant, 13th LeveL and Nemesis. 8 p.m.
Tekworld
Tekworld shows generally start at 7:30 p.m.
Friday November 1 - Incursion502, 1080, Flatlyne and Skard.
Friday November 8 - Shuv CD Release Show with Incursion502, Delta Nine Theory and 1080.
Saturday November 9 - Primer 55, Dope, Skinlab and I.4.N.I.
Saturday November 16 - Cannibal Corpse, Hate Eternal, Macabre, Cattle Decapitation and My Own Victim.
Wednesday November 20 - The Misfits, MSD, and False.
Saturday November 23 - Stereomud, Caustic, Severed Soul, Cell 13 and Versyte.
Saturday November 30 - David Brockie Experience (from GWAR), Urinal Mints, MSD, Kallus and Slow Suicide.
Props Of The Month:
This month's props go out to Mudd from LRS 105.1. Although relatively new to the scene, he seems to be a really cool guy and genuinely interested in the bands and what's going on in the scene.
He even offered me a place on his radio show, "The Kentucky Fried Radio Hour", which I may take him up on. He's laid back and easy to get along with, and he's not a psycho, which is a good thing.
Therefore the Muddster and I will have a little talk about possibly getting more Louisville metal on LRS. In the meantime, check out his show on Sundays at 11p.m. Call in and request your favorite local bands - I'm sure he'll hook you up.
And Jennifer from Tekworld gets another thumbs up for getting some nationals in this town! It seems for awhile that no good metal shows were coming around.
Now there're all kinds! Good job, Jennifer.