Duke Robillard
Rhonda Vincent and the Rage
Upcoming Live Music - November 2002
Acoustic / AAA
• What Are Records? Artists the Tony Furtado Band will try a little groove folk music at the Rudyard on November 5. The band will also be doing a "Live Lunch" on WFPK on November 1.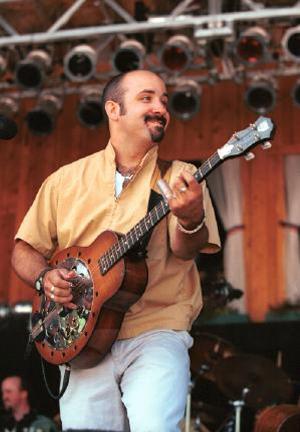 Tony Furtado
Furtado is a well-respected dobro/slide guitarist and banjo player, whose recording career spans the '90s, with projects that included Jerry Douglas, Alison Krauss, Stuart Duncan and David Grier. He tours with Sugarbeat, playing swing, jazz style, Celtic-folk and old-timey music, which has been favorably compared to Ry Cooder's early '70s recordings. You've got two opportunities to catch him- take advantage of one of them.
Tix and info: 636-1311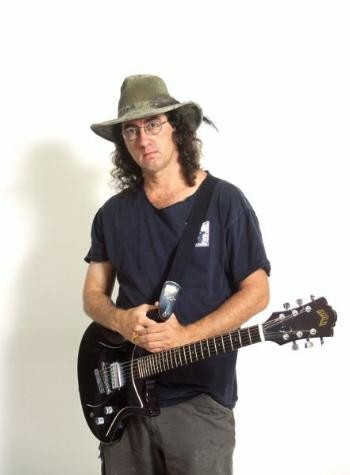 James McMurtry
• Texas singer/songwriter James McMurtry is known both for being the son of writer Larry McMurtry and for his own sharply drawn musical character sketches. John Mellencamp co-produced McMurtry's 1989 debut album, Too Long in the Wasteland. McMurtry has continued to record, releasing albums in 1992 and 1995. Walk Between the Raindrops followed in 1998. He's been through Louisville once or twice over the last couple of years. This trip, he'll be at Gerstle's in St. Matthews on November 9.
Tix and info: 899-3609
• Singer-songwriter Kenny Loggins early successes included four tunes on a Nitty Gritty Dirt Band album, including his near-signature "House at Pooh Corner." Shortly afterwards, he wound up in a duo with Jim Messina on the pretty-much-perfect Kenny Loggins with Jim Messina Sittin' In, which was condensed to Sittin' In. It hung on the charts for two years; most people from that era recall "House at Pooh Corner" and "Danny's Song," which Anne Murray took to the top of the charts.
After the breakup of Loggins & Messina, Loggins went on to a solo career that also included movie scores, ("I'm Alright" from Caddyshack, "Footloose" (from Footloose, "Danger Zone" from Top Gun and "Nobody's Fool" from Caddyshack II). He also continued to record and release increasingly infrequent CDs. He will be at the Palace Theater on November 10, in what is billed as an "intimate, front porch-style tour." Tickets are now on sale.
Tix and info: -583-4555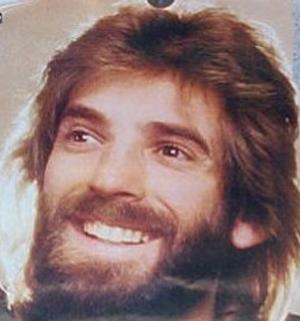 Kenny Loggins
• Michael Fracasso grew up among Italian, Polish and Irish immigrants working for a better life in the mills of Mingo Junction, OH. For 12 years, he refined his craft by participating in open-mike nights and songwriter groups. After a spending ten years or so in the New York folk scene, Fracasso felt a change was in order and moved to Austin. He released several projects, beginning in 1993 and generally blended in to the Austin scene. His most recent project, Back to Oklahoma: Live at the Blue Door, was released in 2001.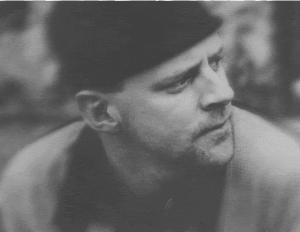 Willy Porter
Willy Porter started out as a cello player and wound up a folk-rock guitarist, as a result of listening to Leo Kottke. He began recording in 1995, finally winding up on Six Degrees Records, releasing Willy Porter in 2002. Both artists will be at the Rudyard Kipling on November 12.
Tix and info: 636-1311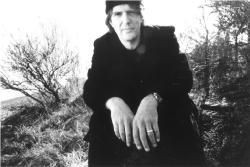 Peter Case
• The last few times Peter Case has been in town, he played at the Rudyard. He'll be back there on November 13. While Case began with the power/pop-rock group the Plimsouls, he has been AAA-ing it up for most of the 90s. The new century seems to have energized him: he has released a project a year, including 2000's Flying Saucer Blues, which got the most airplay on WFPK; 2001's Thank You St. Jude and 2002's new Beeline.
Tix and info: 636-1311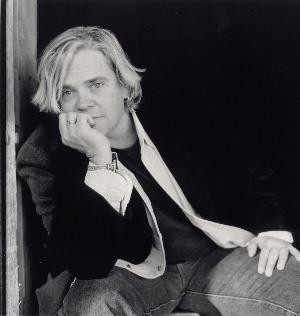 John Cowan
• The Kentucky Theater is offering up "An Intimate Evening with the John Cowan Acoustic Trio," which is part of Cowan's new acoustic tour that began in Nashville at the Blue Bird Café on October 26. Cowan has released a new project, Always Take Me Back, produced by Wendy Waldman, which returns him to the acoustic roots, which he has, admittedly, "run away from." In his case, the "acoustic roots" he has been trying to distance himself from was his sixteen-year stint with Newgrass Revival, the pioneering newgrass band which charted the route for many young acoustic bands in the '70s and '80s and which provided the launch pad for the careers of both Sam Bush and Bela Fleck. Cowan went in a different direction, trying to be a soul and blues artist with Johnny C Souled Out but found indifferent success. He got back together with Waldman, who had produced the last Newgrass album in 1989 and they set about bringing the Newgrass sound with Cowan's powerful vocals forward to the 21st century (without Bush, Fleck, et al, of course). You can hear for yourself if Waldman and Cowan succeeded on November 14 at the Kentucky Theater. With limited seating, the show pricing is a tad bit high, but you get an up close and personal look.
Tix and info: 589-6419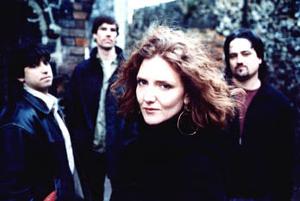 hem

• The New York AAA band Hem will be at the Phoenix Hill Tavern on November 17. Hem has been touring behind Rabbit Songs since it's 2001 release. The project, as well as the band, began as an effort to perform traditional American music with contemporary musical stylings. The final result is close to comfort music; it evokes Sandy Denny and Fairport Convention as well as Beth Orten and Patti Griffin. Of course, these folks also yielded to the usual musician's temptations: they used an eighteen-piece orchestra on part of the project.

• Freakwater's Catherine Irwin is now calling herself 'Cathy' and is touring as a solo act, promoting her first solo project, Cut Yourself a Switch. Irwin's writing and vocals are from a couple of more houses up the holler from the Carter Family. Rather than tone down the twang, Irwin emphasizes it so much, both as a member of Freakwater and on her solo project, that she makes Gillian Welch sound positively Californian. She'll be at Gerstle's Tavern on November 21 with Jim White opening for her.

Tix and info: 899-3609

• Dan Bern returns to the Rudyard on November 24. Bern's shtick is "Howard Stern meets Bob Dylan and pisses on his boots." On his first appearance at the Rudyard Kipling, Bern insulted WFPK from the stage for not playing a song that featured repetitions of a vulgar Anglo-Saxon term for sex. That got him bumped from FPK's rotation list, though individual jocks were permitted to play selections from the disc. Since then, he's released several more records. For more on Bern, log onto

http://www.danbern.com/

Benefits

• World beat fans and fans of the Tibetan monks can get a two-fer on November 10, when Headliners will present Monkapalooza - Benefit for the Tibetan Monks, featuring (at the moment) Dr. Hemiola & the Blues Activators, Sativa Gumbo and Serpent Wisdom. The event starts at 1:30 p.m., so you have a large window of opportunity to catch several acts. • Wanna find out more about the monks? Log onto

www.gomanginstitute.org.

Tix and info: 584-8088

Bluegrass

• Steve Kaufman, the only three time winner of the prestigious National Flatpicking Championships, held in Winfield, Kansas, will present a workshop at First Quality Music on November 1 and 2. His music covers a broad range of styles including bluegrass favorites, popular swing standards, Irish and Appalachian fiddle tunes, folk and country classics and novelty tunes. Improve your picking, call FQMS and get all the details. (Seating is very limited.)

Tix and info: 800.635.2021

• If you somehow missed the mass of hot bluegrass during last month's IBMA week, here's your chance to hear one of the best in the business. Rhonda Vincent and The Rage have racked up a stack of IBMA awards, including last year's Entertainer of the Year. Vincent has been a working professional since childhood; the experience aided her in assembling a crackerjack band, The Rage. Together, they have been ripping it up on the bluegrass circuit, playing hot, hard-driving, contemporary bluegrass. They'll be at the Brown Theater on November 15 as part of the Bank One Lonesome Pine Special series.

Tix and info: 584-7777

Blues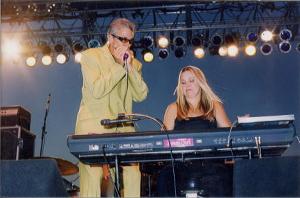 Rod Piazza and Honey
• The blues show kicking off the month will be Rod Piazza and the Mighty Flyers at Stevie Ray's on November 4. Piazza and company have, for the third time in the last four years, won the W.C. Handy Award for Band of the Year. Piazza gets tapped for instrumentalist awards because of his fiery harmonica work. Should warm you up right well for a November Monday.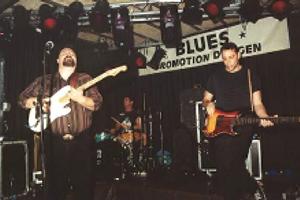 Omar & the Howlers in Amsterdam

• The European blues fans certainly adore Austin, Texas-based guitarist and singer/songwriter Kent "Omar" Dykes, because he looks and sounds like a Texas blues musician. Besides that, as a teenager, Omar played music in the actual Courts Motel in Beartown, Mississippi. After a brief stint with Columbia in the 80s, Omar moved to Round/Bullseye and recorded three discs for Rounder/Bullseye Blues: "Live at Paradiso" (1991), followed by "Blues Bag" and "Courts of Lulu" (both in 1992). Since then, he and the Howlers have released records on Discovery ("Monkey Land") (1997) Black Top ("Swing Land") (1999), and Blind Pig ("Big Delta") in 2002. Omar & the Howlers will be at Stevie Ray's on November 11.

• Blues guitar wizard Duke Robillard comes back to town as a performer on November 18 at Stevie Ray's. He's fronting his own band (the Duke Robillard Band) these days, but the press will also be about his years as a co-founder of Roomful of Blues and as the guitarist who replaced Jimmie Vaughan in the Fabulous Thunderbirds. His discography is lengthy; the most recent addition is 2002's Living With the Blues. For more on a man well on his way to earning the label "legendary," log onto to

http://www.dukerobillard.com/.

Tix and info: 582-9945

Celtic
Seven Nations

• Certain to-be-unnamed sources in the Celtic music scene in Louisville have, in times past, made disparaging remarks about Seven Nations, the band set to appear at Headliners Music Hall on November 20. Exactly what the gripe was wasn't clear, except that Seven Nations is not "really" a Celtic band but more like a rock band that dresses and plays in Scottish styles. (The unnamed source was a Celtic player, of course.) Regardless of the purity of the band's origins, the group certainly has been successful, drawing large crowds and becoming a favorite for bookers of Highland Games-type festivals throughout the country. They were most recently at the Glasgow Highland Games in Southern Kentucky. If you are not familiar with the group, check them out at

www.sevennations.com.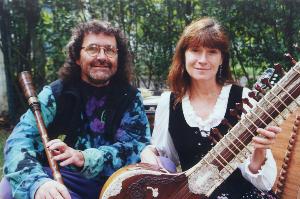 4 Shillings Short
• Sitars aren't usually found in Celtic music groups, but Four Shillings Short isn't exactly a usual Celtic group, though they do play Celtic material. Aodh Og O Tuama is from a Gaelic-speaking family and came to America by way of Germany and a medieval punk and, The Driveling Druids. Christy Martin began with an interest in Indian music and studied sitar with Ravi Shankar's protégé, Tony Karasek. Once she discovered Celtic music, she joined Aodh Og in Four Shillings Short and the rest, as they say, turned into a journey into the musical hinterlands. Martin has family in Louisville, which is why they've been here several times. This will be their only show in Louisville until 2004, as they are off to Europe for a while. They'll be at Kitty O'Kirwan's on November 24.
Tix and info: 894-8030
Chamber Music
• The Chamber Music Society of Louisville has dedicated its 2002-2003 season to the memory of Gerhard Herz, the musicologist who co-founded the society in 1938. Herz had particular affection for lieder recitals; the program planned for November 24 features Jeffrey Peterson, piano, with Kurt Ollmann, baritone, in the presentation of Mahler's complete songs for voice and piano, including a version of "Das Knaben Wunderhorn." The program will be held in the Margaret Comstock Recital Hall at the University of Louisville School of Music on November 24.
Tix and info: 852-6907
Choral
• Is choral music your thing? Then how about this for a major shout-out, chorally speaking: at St. Francis in the Fields on Monday, November 4, you can hear the Choral Arts Society, The U of L Collegiate Chorale, The Junior Choir of St. Francis and The SBTS Seminary Choir, all in one night, in a presentation of Britten's "War Requiem."
Tix and info: 502-228-1176
Country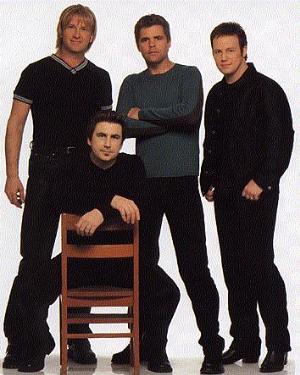 Lonestar
• Once upon a time, Lonestar was called Texassee, but that was before they got Nashville's attention. The members of the band are all Texans, but the band was put together in Tennessee, hence the name. Be that as it may, Lonestar took off with a bang and three number one hits and have not looked back. Their last CD is I'm Already There and they are continuing to promote it while touring. You can catch them at Broadbent arena on November 1.
Tix and info: 361-3100
• Oklahoma native Blake Shelton got his big hit from a song called "Austin," which, if you know anything about Oklahoma and Texas, must have chapped his cheeks in those quiet, dark moments. Of course, cash is a great antidote to chapping, so he's probably okay now. Anyway, this most recent in the string of handsome hat acts to come out of Nashville will be at Coyote's on November 7.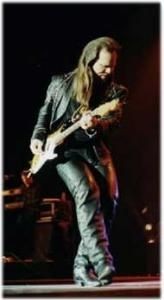 Travis Tritt
• Travis Tritt claims he's Strong Enough on his most recent album, which is probably a good thing, given the difficulty he's had getting accepted by Nashville's country music scene, despite having had what might be the genre's signature hit, "Country Club." It's probably the long hair, as Tritt shares the same kind of attitude toward hair as does that other rowdy outlaw performer, David Allen Coe.
Tritt has been doing better of late, getting on CMT's "Most Wanted" and will be on the Grand Ole Opry the day after the November 15 show at the Palace Theater.
Tix and info: 583-4555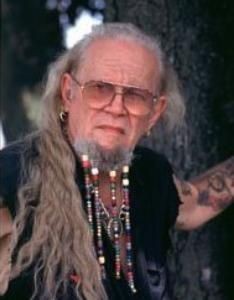 David Allen Coe
• About this time every year, Coyote's books David Allen Coe in for a show. I guess they figure they need to replace the fixtures here and there and might as well let the patrons dispose of them first. (Only kidding, there, Sean). Coe attracts a crowd of folks you wouldn't want to cross, though, and from all I hear, he riles them up pretty good. Coe's behavior notwithstanding, he has had some pretty good hits, particularly with Steve Goodman's "You Never Even Called Me by My Name," and has written some good tunes for others as well, notably "Take This Job and Shove It," which was a big hit for Johnny Paycheck, another rowdy fellow. Coe's string of albums is long, with his most recent being 2002's Live at the Iron Horse Saloon. On that album, Coe has a couple of tunes co-written with Kid Rock, just to show you that he's not stuck in the past. You know if you're a fan. He'll be at Coyote's on November 21, so get your tickets now.
Tix and info: 589-3866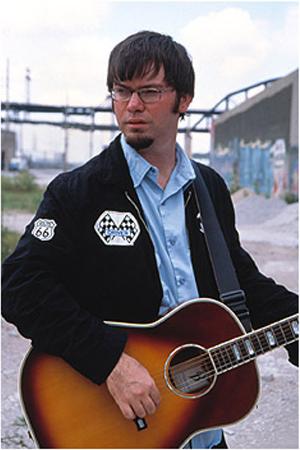 Jay Farrar

• The November 23 show at Headliner's should be a real kick for alt.country fans: Jay Farrar and Brian Henneman. Jay Farrar has been through town of late, last making a stop at the Phoenix Hill Tavern. Henneman hasn't done that as a touring solo act, though he has been here with his regular band, The Bottle Rockets (Yep, that Missouri group). Farrar is better know as a co-founder of Son Volt and Uncle Tupelo, the two foundation acts of alt.country. His most recent CD is Sebastopol For more on Farrar, log onto

www.jayfarrar.net. For info about Henneman, click to http://www.bottle-rockets.net/.

Classical

• For the November Hilliard Lyons MasterWorks Concert, the Louisville Orchestra will present soloists Markus Groh, piano and tenor Steven Paul Spears performing in the Louisville premiere of Britten's "Suite from Gloriana," as well as Liszt's " Piano Concerto No. 2" and Brahms " Symphony No. 2, Op. 73." German pianist Groh was the winner of the 1995 Queen Elisabeth Competition. The MasterWorks concert will be on November 8 at 8 p.m. in Whitney Hall. The USBank Coffee Concert will be in Whitney Hall on November 7 at 10:30 p.m.

Tix and info: 584-7777

• Voces Novae will present "In This Hallowed House" at Christ Church Episcopal on November 24 at 3 p.m. Voces Novae is a 65-member semi-professional chorus founded in 1993, dedicated to the presentation of works from the entire range of choral literature. Major works they have performed include John Rutter's "Gloria," Vincent Persichetti's "Celebrations," Randall Thompson's "The Peaceable Kingdom," Howard Hanson's "A Song of Democracy" and Leonard Bernstein's "Chichester Psalms," among others. Voces Novae has twice served as lead chorus for the Louisville Ballet's production of Carl Orff's" Carmina Burana." In short, the group has taken on very difficult works and performed admirably, so if choral music is in your interest grouping, be sure to be at Christ Church Episcopal for this concert.

For more information about Voces Novae, log onto

www.voces-novae.org.

Tix and info: 587-1354

Gospel

• For gospel fans, the early November show of choice has to be The Hoppers, plus The Lighthouse Quartet at the Junction Jamboree (formerly Labo's) in Lebanon Junction on November 10. The Hoppers have been on the Southern Gospel scene but didn't have great success until the `90s, when they recorded and released the old Gospel standard "Shoutin' Time," which put them on the map. They dominated the Southern Gospel Music Awards for several years afterwards. They are also now regulars on the Gaither Homecoming Tour. It's a 2 p.m. show.

Tix and info: 502-231-5547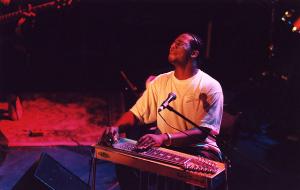 Robert Randolph

• Chances are you haven't heard of Robert Randolph and the Family Band, unless you are familiar with "Sacred Steel," the music of pedal and lap steel mixed into black gospel music. As a teenager, Randolph learned the Sacred Steel and became an integral part of his New Jersey congregation's ceremonies. At age 24, he formed his own band, mixing bits of his idol Stevie Ray Vaughn's music, together with funk, R&B, blues, and even hip hop, while leaving the preaching for church and the inspiration to the music on its own. The whole shebang should make for a considerable shoutin' and dancin' night at Headliners on November 19.

Tix and info: 584-8088

Jamband

• Four clubs in St. Matthews - Bluegrass Brewing Co., Dutch's, Maier's and Gerstle's - have joined forces to stage the St. Matthews Peak Summit Groove and Dance Festival, which is in the running for the longest and most redundant title of an event this year. Seriously, this is an event on the style of the MERF events of the late `80s, when $5 would get you into all the clubs. Same price, closer clubs - all in walking distance of each other - this time. The bands are mostly jam bands and the announced list is: Sabrosa Red, Chitara Rhythm Section, Bloomstreet, The Big Diggity, Sativa Gumbo, Peace in the Jones, Trustees of Modern Chemistry, Gladstone and the Merry Pranksters. (The last two acts are straight-up rock acts, though.) The times won't be announced until the day of the event, which is an irritant more than anything. Check the event website

http://peaksummit.cjb.net for changes.

Jazz

• If you're not a regular at Jack Fry's, you, probably not familiar with jazz pianist Ray Johnson, who plays regularly there. For the November Jazz Cabaret series, you can slide down to the KCA for a more formally staged concert, featuring the Ray Johnson Quartet. It's an early show, too - 6 p.m.

Tix and info: 584-7777

• Jazz pianist Aaron Parks is a Seattle native now living and working in New York City. He hit the scene in Seattle as a very young man, impressing everybody by entering the University of Washington in 1998 at age fourteen to study piano. Two years later, he moved to New York, where he quickly was snapped up by Keynote Records. Earshot Jazz voted Parks' Trio "Emerging Group of the Year" during its 2000 awards ceremony. In January 2002, at age 18, Parks joined the Terence Blanchard Quintet. It should be plain that this young man is a comer and worth checking out. He will be in concert at the Bird Recital Hall at the U of L School of Music on November 4

Tix and info: 852-6907

Musical

• The musical who-done-it "Clue" continues at the Derby Dinner Playhouse through November 10. As a member of the audience, you might even get to choose the potential murderer, weapon, and room, which means the ending changes every night. Um, Colonel Mustard, in the kitchen, with a knife. Keep score and see how you did. Never played the game? Get filled in on the musical "Clue" at

http://www.cluethemusical.com/.

Tix and info: 812-288-8281

• The PNC Broadway Series presentation of "South Pacific" at the Kentucky Center for the Arts through November 3. This is the classic version of South Pacific, the Broadway musical of wartime and romance in an island paradise, which won nine Tony Awards, including Best Musical, Book and Score, and nearly became only the second musical to win a Pulitzer Prize for Drama. The score includes "There's Nothing Like a Dame," "I'm Gonna Wash That Man Right Out of My Hair," "Bali Ha'I" and "Some Enchanted Evening."

Tix and info: 584-7777

Pop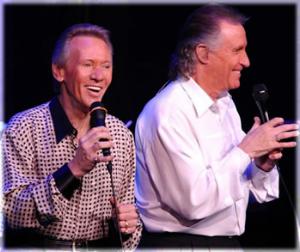 Righteous Brothers
• Now here's the show for all boomers - the Righteous Brothers in the Whitney at KCA on November 18. Just ask any boomer who thinks he can sing to do a couple of choruses of "You've Lost That Lovin' Feelin'" (cover your ears, of course) and he'll be certain to oblige. Bill Medley and Bobby Hatfield weren't brothers, of course, and they certainly weren't black but they most assuredly could sing soul music. When backed by Phil Spector's "Wall of Sound" arrangements, they hit the big time with "Lovin' Feelin'," as well as "Just Once in My Life," "Unchained Melody" and "Ebb Tide"). After the Sixties, though, they didn't have much success. They've toured off and on since then on the Oldies circuit.
Jewel

• Jewel Kilcher is the Rodney Daingerfield of contemporary folk/rock/pop - she gets no respect for her work, even though she is all about hard work and stick-to-itiveness, with a personal history in the business that goes back to age six or so. In short, she is not a Jewel-come-lately, riding on her looks and crystal-clear voice. Well, maybe a little. But she writes and has a rabid following, particularly on the West Coast. Her record label believed as well, as Pieces of You took fourteen months and steady, repetitive promotion before it hit big, so there must be something there. She'll be in Whitney Hall at the KCA on November 22. Her third album, This Way was released in 2001 and that's the one she's still promoting. If you want to know more, log onto to

www.jeweljk.com.

Tix and info: 584-7777

R&B

• Mention the name of the O'Jays and you have very nearly defined the Philly soul sound of the `70s. They formed in 1957 but it was only with the release of Back Stabbers in 1972,which became a classic landmark of Philly soul, that the group reached stardom. The paranoid title track hit the pop Top Five, and "Love Train" went all the way to number one (both singles topped the R&B charts). It was the beginning of a string of releases that produced nearly thirty chart singles over the course of the '70s, plus a number of best-selling albums and number-one hits on the R&B charts.

They'll be at the KCA on November 10 for a Midnite Ramble Series show. Opening will be the Toni Cole Band.

Tix and info: 584-7777

Rock

• This month's Original Rock Showcase Series happens on the first, which also is the first Friday of November. Shake off the Hallowe'en sugar overload and scoot on down to the Phoenix Hill Tavern for some Louisville Heavy Metal/hardcore, featuring Month of Sundaze, Evil Engine #9, The Constant and My Own Victim. Think of it as a pre-fame touring show, with several acts currently chasing the Big Brass Ring out there in the national scene.

Tix and info: -589-4957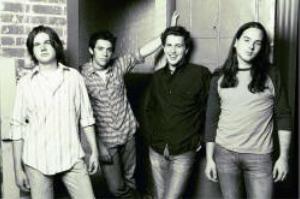 Ingram Hill
It'll be a modern rock 'n' roll night at Headliner on November 2 when the Dave Matthews Cover Band and newcomers Ingram Hill get together for a concert. Ingram Hill is a Memphis-based band that's been climbing the ladder by gigging a whole bunch, establishing a solid fan base for their first, just-released project, Until Now.
The Dave Matthews Cover Band is what its name suggests: a band that covers Dave Matthews' material. It started as a dorm room novelty but turned into a workable shtick after Matthews-sound alike singer Dave Koon rounded up some other musicians with a liking for the Matthews sound and songs. Now they've taken that act on the road, working as a budget-minded version of the more famous group.
Tix and info: 584-8088
• There's a trance rock show of some note at the Rudyard Kipling on November 4, displacing the usual open stage. The Japanese instrumental group Mono gets the nod as the headlining act; Louisville-acts Strike City and Seluah are the openers. Seluah has a brand new EP to sell, too. Note that this is not easily slotted, easy-to-digest music here - these guys are trying to ride the bow wave of the cutting edge, so only daring listeners need drop in.
Tix and info: 636-1311
• Lo-fi alt-pop songwriter Lou Barlow's history includes turns with Sebadoh and collaboration with J Mascis in Dinosaur Jr. Lately, he's been working under the title of Sentridoh, releasing Lou Barlow & His Sentridoh in 1995 and Lou Barlow and Friends in 1996. Subsonic 6 came along in 2000. He released Free Sentridoh Songs From Loobiecore in 2002. Barlow will bring his lo-fi techniques to the Rudyard Kipling on November 9. Note - This show is for those with special tastes in music - not recommended for pop lovers.
Tix and info: 636-1311
• .Joe Cocker hasn't had a hit in forever, but that doesn't mean that he has no audience; no doubt he does and he'll demonstrate it at the Palace Theater on November 20, when he will be in concert. Take some extra cash; he has an album or two you don't have, including his most recent, Standing Here. Opening will be Tony Joe White, who also hasn't had any hits of late. He has a new project, too, called One Hot July , his first release in 17 years.
Tix and info: 583-4555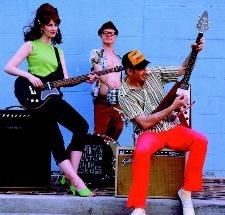 Southern Culture on the Skids

• Get ready, all you camel-walk fans, those paragons of Southern trailer park trash are coming back to town. Yes, it's Southern Culture on the Skids, kiddies, back after too long an absence from the Derby City. While it might seem hard to believe that Dirt Track Date was released in 1996, it's true. During the interim, SCOTS has been busy touring, touring, touring. They did find time to record and release Plastic Seat Sweat with the unforgettable "Banana Pudding" tune, which you might have heard at either of their last two shows here. They follow "Eight Piece Box" with it and hand out those little tubs of creamy yellow gel.

Whatever. Get out those overalls and John Deere ball caps, put on the clunky work boots and head on over to Headliners on November 22 for a twin bill featuring SCOTS and BR 549, Nashville's real answer to Music Row country product.

Tix and info: 584-8088

• After spending over a decade playing drums in various rock bands, singer/songwriter John Howie eventually exchanged his kit for a six-string acoustic guitar and a handful of broken-hearted, whisky-drinking country ballads to form Two Dollar Pistol. Guitarist Scott McCall, bassist Neal Spaulding and drummer Mark Weaver joined the band and they hit the road to promote their Hep-Cat records album On the Down Time, released in 1997. Their latest project is You Ruined Everything and they'll be at the Rudyard Kipling on November 23. They'll be joined by Madcat Records' Lucero.

Tix and info: 636-1311

• The head-bangers show of the month is the MSD/The Dave Brockie Experience/Kallus/Urinal Mints/Slow Suicide show at Tek World on November 30. MSD has changed their stage apparel and gone in a somewhat new direction, but they still pull really large numbers of kids into the show. The Dave Brockie Experience is, in many respects, GWAR without the brand name. GWAR (God What an Awful Racket) specialized, like MSD, in performing in extremely messy costumes involving blood and bodily fluids. This show marks the kick-off of a tour for DBX, which could mean they'll be rough as a cob or it could mean that they'll try harder. Or neither. Whatever.

For more on the Dave Brockie Experience, click to

www.orderus.com. For MSD, go to www.entermsd.com. For Kallus, look at www.kallus.da.ru.

Tix and info: 962-5440

Rap/Hip-Hop/Urban

• Bold tour scheduling moves have helped create Atmosphere's avid cult following, of which at least half are females - a virtually impossible percentage in the indie hip-hop scene. No hip-hop acts have been able to attract an atypical audience of indie rockers, hipsters, and intellectuals, while remaining true to hip-hop culture and it¹s more obvious fans. Emcee Slug's latest, "God Loves Ugly," debuted at #139 on the Billboard Top 200 chart and was the #1 heat seeker....the 12-inch, "Modern Man's Hustle," landed amongst jiggy major label singles at #13 on Billboards rap singles chart. They'll be at Headliners on November 7, along with The Opus, Illogic, Brother Ali & DJ BK One and DeeJayBird.

Swing

• The Lighthouse's Bob Stack is a fan of singer Melissa Combs. so he's put her together with the Roger Dane Band for a series of dance shows at the Lighthouse, which has a good dance floor. Dane no doubt is glad to have another room to play and fans of big band dance music should also be happy, particularly since the Comedy Caravan, which is a splendid listening room, has no dance floor at all, and lots of big band fans are perfectly capable and willing to dance. The show also starts at 6 p.m., so you can go listen and dance and still get home in time to get a solid night's sleep before the week starts.

Tix and info: 583-0390