Louisville Rock Lowdown
"Hallowtide"
"You'll get to beat the $h!t out of each other all night; take a break from moshing and have some fun for a minute." - Chris Haberman, Hallowtide
That's right Kiddies, if you want to have a little fun and be entertained at a show by some good music, you need to go check out Hallowtide at your earliest convenience. These guys have a sound that will impress damn near anyone, and the beauty of it all is that they do not sound like a Matchbox 20 wannabe.
The band is made up of Nick Sexton on drums, Chris Haberman on lead vocals/guitar, Brian Milby on guitar, and Josh Bernstein on bass and backup vocals. You may know them best from their first place finish in the Tek World "Battle of the Bands" this past April of 2002, despite the fact that the band has had a history of some sort for the past two years, playing their first gig in March of 2001. However, they disappeared from the scene completely for ten months to regroup and develop themselves as musicians, and as an original band. When I say this, I do not just mean that they write their own stuff. I mean it is original. And quite good, I might add.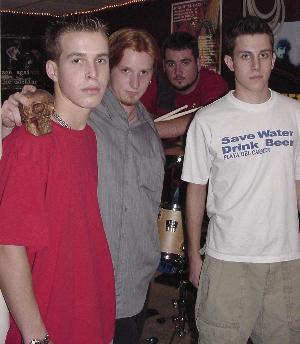 Hallowtide
After the group changed its sound a little bit and lost some of the metal edge they had before, they found themselves enjoying a little fan appreciation, starting about a year ago. The band has since played with the likes of 502 greats My Own Victim just a few weeks ago, as well as a plethora of others too numerous to name. They band comments that at the MOV show, they were a bit out of genre, and joked that they were the "rave band" there, since some of the audience members there were dancing and twirling glow sticks to their performance.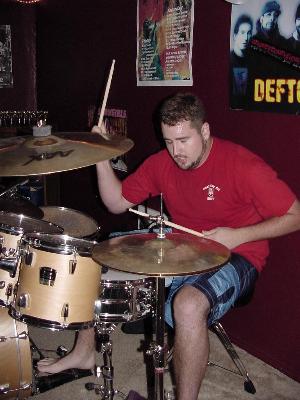 Nick Sexton
Needless to say, if they can hang with the heavy bands here in Louisville, they must have some sort of edge to them. This is definitely a true statement. Don't come to a Hallowtide show expecting a boy band that is all about image ... instead you will find four guys who can rock the walls down of any venue. They are one of the most versatile bands I have seen, which is good for them, and the audience.
I caught up with the band at their practice spot and had an interesting conversation with them. We traded funny stories about shows, the scene and its members, and music. Here are a few things I learned about these guys:
LMN - Where does the name "Hallowtide" come from?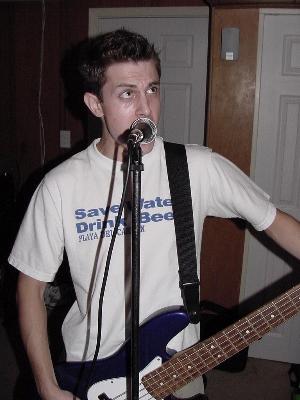 Josh Bernstein
HT - It comes from the original term for Halloween, "All Hallows Tide." I (Chris) just kind of put the words together. The idea of Halloween is such a cultural phenomenon. I thought of parents letting their kids go around and get candy from strangers' houses is unbelievable - in this day and age. It's really a beautiful thing. Little kids in makeup, dressed up like ghouls. Doing this is a great blend of dark humor... it really makes me proud to be in America.
LMN - What did you guys get out of winning the Battle of the Bands at Tek World earlier this year?
HT - We got $500 and a big trophy...
LMN - What was your best show moment?
HT - (After a little disagreement between the members, a few selections were chosen as the best ...) Even though it sounds cliche, every time we stop after a song is done and people clap ... that is what it is all about. Also, at the Flaw Fan Gathering, we said that it was going to be our last song up next, and the crowd was saying "No!" Another good moment was when Chris sprayed everyone with silly string on stage, and no one knew it was coming. Chris always brings the surprises ...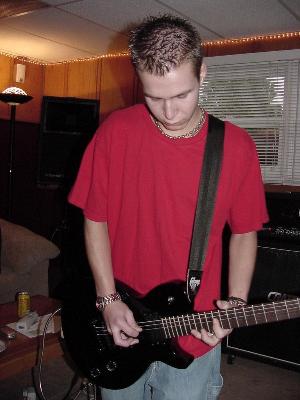 Brian Milby
LMN - OK, what about your worst moments you ever had? Has there ever been a time that you guys wanted to quit?
HT - Never. We have had some rough times on stage, one of which was a show at Tek World where we couldn't hear anything through the monitors. After asking the sound guy a few times to help the situation and getting nothing, we went on. (Chris notes that the only way he knew when he was singing on key was by his vocal chords vibrating and being within earshot of his own voice.) After the set, it was discovered by the soundman that the monitors were unplugged the whole time.
LMN - What are your influences?
HT - The Melvins, the Deftones, Mudvayne, Ordinary Love, the Beatles, Elvis and Sade.
LMN - Your equipment is really nice, what kind of drugs do you sell?
HT - Heroin, Opium, and adrenochrome.
LMN - What shows do you have coming up in the next few months?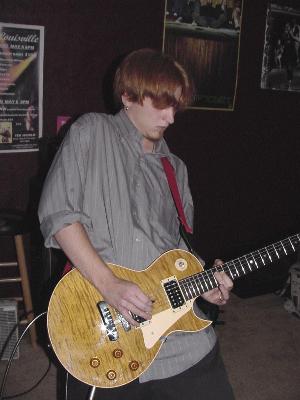 Chris Haberman
HT - We are playing Shock Fest (Expo Five's month-long Halloween event) on October 4, and we are doing a show at Tek World on November 30 with Doubting the Obvious and the Revenants.
LMN - What do you have coming up as far as projects are concerned?
HT - We have a 6-song CD coming out sometime before the end of the year called Hell of Time that will be cheap to buy. We are also working on getting a web site up and running soon.
LMN - What do you want people to know about you the most?
HT - We want people to know they can talk to us! When we get off stage, if we are loading equipment, doesn't matter ... we love meeting people and talking to them, even if we are busy. We're very friendly, and we want people to know that we are not some arrogant rock stars. Communication is good whether it is constructive criticism, just shooting the $h!t, whatever. We all have something in common already if we are in the same building. People can email us at hallowtide@yahoo.com as well.
LMN - Thanks for your time guys, and good luck!
Check out Hallowtide, you will not be sorry. Take the family!
Send me your press kits to the LMN office (attn: Jason Koerner) and e-mail me your comments or ideas to JJKSLACKER@cs.com... Rock on Louisville!