I've Got A Mind To Ramble
Huddie's Buddies
The Kentuckiana Blues Society receives a multitude of newsletters from other blues societies throughout the country. Since I'm the unofficial archivist for the KBS, my duty is to sort and store all of these mailings in our official archives, which actually consist of six cardboard boxes in my basement. Usually I try to browse through these newsletters before they are filed away to get a feel of what's happening at the (blue)grass roots level. Looking through the July issue of Bluesletter, the newsletter of the Washington Blues Society in Seattle, I noticed Harry Lewman and Tiny Robinson listed as performing at the Blues & Heritage Festival in Port Townsend on August 2 and 3. That's not exactly your regular regional festival for a local musician, so I gave Harry a call to get the story.
Harry is an excellent interpreter of Huddie Ledbetter's (Leadbelly's) music and has published a book transcribing Leadbelly's songs note by note. Through his research Harry has gotten to know Tiny Robinson who is the niece of Leadbelly's wife, Martha. During the last five years of Leadbelly's life, she lived with her uncle and aunt and managed his business affairs. Leadbelly's home in New York City was a meeting ground for musicians, and Tiny got to know many of these musicians, like Rev. Gary Davis, Lightning Hopkins and John Lee Hooker, when they were in town. Harry said the Port Townsend festival was a teaching event with classes and workshops along with the performances. What a unusual combination: Harry performing Leadbelly's songs on his 12-string and Tiny telling stories about her uncle's exploits and the musicians she knew during the early Forties. In Port Townsend, Harry stayed at a house he shared with Tiny, her husband and Jerry Ricks. The highlight for Harry was swapping stories and jamming in the kitchen with Jerry and Corey Harris, who also performed at the festival.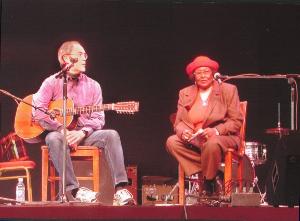 Harry Lewman and Tiny Robinson at Port Townsend Festival
The Port Townsend Festival is held at the Fort Warden State Park, which was originally a military installation. The performances were held in a refurbished aircraft hanger, which held about 4000 people. Before the festival, Harry got to play on the local public radio affiliate, KEXP in Seattle, during a weekly blues show, "Preachin' the Blues," hosted by Marlee Walker. After performing two songs, Harry wound up doing an extended instrumental as background to Marlee reading the festival calendar for the Northwest region. It became extemporaneous as Marlee kept losing her place and notes, so Harry had to create new verses to fill in her blank time.
Blues to the Point - 2002
This will make the eighth year for the Two Rivers Blues Festival in Carrollton, Ky. Some festivals grow and some festivals wither while Two Rivers just keeps holding its own. It has maintained its small town ambiance with manageable crowds gathering each year at Point Park, where the Kentucky River flows into the Ohio. The schedule for Saturday, September 7, was an extraordinary lineup I couldn't miss. Coupe de Ville, a five piece local band, was finishing their set when I arrived early in the afternoon.
Greg Schaber has become one of the most respected guitarists and singers on the Cincinnati blues scene, winning several Cammys (Cincinnati Area Pop Music Awards) with his band High Street. This tight trio includes Ron Esposito on bass and Jeff Dobine on drums. Greg frequently conjured up that deep distorted reverb sound of Lonnie Mack and Robert Ward, who started out with the Ohio Untouchables, as in "My Heart Stands Still." Greg did a little slide on Elmore James' obscure "Strange Angel." Most of their set was original material that concluded with their theme song "Jim Beam Blues."
Rhode Island's Room Full of Blues arrived in their big bus, holding eight musicians and their instruments. This multi-talented group has had a lot of personnel changes, including stints by such stellar guitarists as Duke Robillard and Ronnie Earl, over their thirty-five career. Chris Vachon has been their axe man for several years and cut into a stinging solo on "Driving Wheel" with his Telecaster. I heard a lot of New Orleans influence this time with "Shame Shame Shame" and "Down the Mississippi to N.O." Roomful added to their mix a T-Bone Walker song, "Know Your Wick is Gone," and the topical "Money Talks" about the financial news of the day.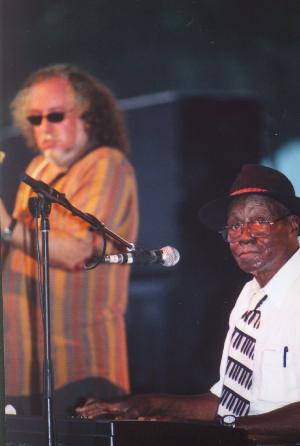 Bob Margolin and Pinetop Perkins
It was back to the basics with Bob Margolin and Pinetop Perkins. They both played with Muddy Waters during the Seventies and have frequently teamed up since. Bob brought a rhythm section from the Carolinas, which provided a solid backup to their Chicago-based blues. Bob's consummate guitar work and Pinetop's boogies on the ivories provided a special moment of blues history. At 89, Pinetop shows no signs of letting up.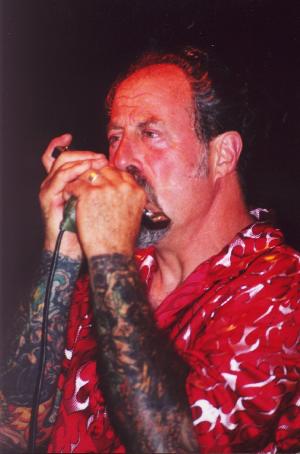 Mark Wenner
The Nighthawks have been around almost as long as Roomful of Blues and were one of the first bands to tour across the country, getting the reputation as "The World's Greatest Bar Band." Mark Wenner, the harp man with the illustrated arms, is the last remaining founding member from when the group formed in 1972 with guitarist Jimmy Thackery. Mark blew and sang his way from the opening number "Two Trains Running" to the closer "That's The Way Love Is." Bob Margolin came out midway in the set to trade licks with guitarist Danny Morris on "She's 19 Years Old." If all this wasn't enough music, Ronnie Baker Brooks brought the day to a grand finale with his hard-edged contemporary Chicago blues. He started playing guitar with his dad, Lonnie, at the tender age of nine at Pepper's Lounge. Ronnie went solo in early 1999, thus keeping the family legacy alive. His blistering style on "Time Will Tell" contrasts nicely with his slow blues "I Think I'm Stuck on Stupid." Ronnie closed down the festival with "Take Me With You" getting out into the crowd and playing slide with a beer bottle while standing on a chair. I drove back to Louisville late that night with my ears ringing with one of the most memorable days at Carrollton.