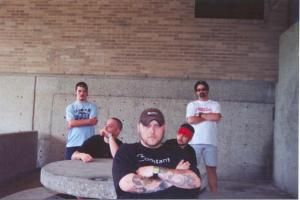 Vic Hillerich
Louisville Rock Upclose By Eddy Metal
This month's featured personality is a true Louisville metal veteran. He's been out of the public eye for a few years, but now he's back again to pummel you. So to all you young'uns out there fairly new to the scene, this guy was rockin' the scene when you were still in your fathers scrotum.
Name: Victor Hillerich AKA "Vic"
Age: 36, going on 27
Instrument: Vocals
Band/Former Bands: Currently singing for Odesa. Former bands include My Own Victim, Crawlspace, Human Remains & Justin Sane (old, old Louisville metal!)
How Long On Instrument: A long time.
Equipment: Anything he can get his hands on!
Influences: Black Sabbath, Clutch, Kinghorse, Kyuss, Pink Floyd and Alice Cooper.
Hobbies: Imported beer, searching on Ebay, painting sci-fi, horror models, collecting bills and entertaining my two beautiful children Chris and Reagan.
Favorite Movies: The Star Wars trilogy, Creech and Chong's Up in Smoke, Fear and Loathing in Las Vegas, Blow and The Doors.
Most Embarrassing Moment:  Vic went to work one day with a pair of red panties and a sock stuck inside his pants by electrostatic cling, which then fell out onto the floor in front of everyone he worked with.
Coolest Thing He's Done: When on tour in Europe with My Own Victim, he got to visit Abbey road studios where two of his all-time records were recorded: Wish You Were Here by Pink Floyd, and the Beatles' White album.