Upcoming Live Music in October
Acoustic / AAA
• Bloomington's Carrie Newcomer, who was a regular performer in Louisville until the last couple of years, landed on Rounder Records subsidiary Philo Records and has been doing the recording artist thing ever since. She has a new studio album set for release on October 10 and she will be at the Guitar Emporium on October 5 for a CD release show, where you will be able to hear her new tunes, no doubt, thus whetting your appetite for the CD. In addition to her own gorgeous vocals, Alison Krauss added harmony vocals to the CD, making it a real singer's album.
Tix and info: 459-4153
• Oh Boy Records artist Todd Snider will celebrate his birthday at the Phoenix Hill Tavern on October 11. Snider is touring in support of his new CD, New Connection. Snider got his first attention for the satirical "Talkin' Seattle Grunge Rock Blues," a folk-rock send-up of the angst-ridden grunge movement. Since then, he's released five well-received CDs, including 1994's Songs for the Daily Planet and Happy To Be Here, both of which garnered airplay on our local AAA station, WFPK. New Connection also featured Jason Wilbur, John Prine's guitarist, who has been to town several times as a solo act over the last couple of years. Nashville singer-songwriter Garrison Starr will open.
Tix and info: 589-4957
• Heidi Howe has managed a score a familiar singer-songwriter to join her for her Tuesday night "Heidi Howe's One Night Stand" on October 15 at Clifton's Pizza. Philadelphia anti-folkie Adam Brodsky will be there, offering up some of his peculiar material ("Ballad of a Skank Ho" and "Jesus Owes Me $50" are a couple of sample titles). Brodsky has serious attitude issues and works them out in his material, so think of this show as "Dale Evans Meets Dan Bern." It's free, all-ages and you can blow your diet on one of Clifton's fabulous pizzas or calzones.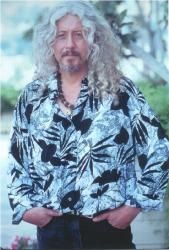 Arlo Guthrie
• The Bank Of Louisville Big Apple Special show for October will be Arlo Guthrie, who will be at the Brown Theater on October 18. Guthrie last show in Louisville is widely recalled as genuinely warm and fuzzy folk show, though that might be a more accurate description of the state of the audience. In any case, he's been to town a number of times and has a following certain to turn out. In the event you are too young or don't remember the Sixties, Arlo's big hit was the lengthy "Alice's Restaurant," a send-up of oblivious officialdom. He spends a lot of time on environmental issues these days; his website at http://www.arlo.net will get you up to speed on his doin's.
Tix and info: 584-7777
• Gordon Lightfoot's performance scheduled for October 20 at the Palace has been cancelled, according to a message posted on the venue's website. Lightfoot underwent emergency abdominal surgery on September for a condition which was described as "a weakened blood vessel," the failure of which might well have killed him. Watch the Palace website for notice of the rescheduled show.
Ballet
• The Kentucky Center for the Arts World Rhythms Series offers up a bit of Latin culture in the form of Ballet Hispanico at the Brown Theater on October 11. Ballet Hispanico is a dance company and school combined in one, mixing ballet, modern and Spanish dance forms. The goal of the company is to present Hispanic culture (at least the dance variety) to audiences around the world. It promises to be a feast of dance for dance lovers, regardless of their preference.
Tix and info: 584-7777
Bluegrass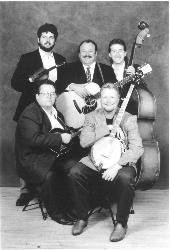 James King Band
• Bob Stack moved his Lighthouse Tavern from Frankfort down to Story Ave., into the old Do Drop Inn space but it's still the Lighthouse. To demonstrate, Stack is bringing back the James King Band on October 2, displacing the usual bluegrass jam session. King is a noted bluegrass vocalist who earned his credentials performing with Ralph Stanley's Clinch Mountain Boys, before launching his own career as a bandleader in 1985. After signing with Rounder, he released These Old Pictures, which pushed him into the national spotlight. Lonesome and Then Some followed in 1995, followed by Bed By the Window, which further defined his somewhat mournful style. He has just released 30 Years of Farming, so expect to hear some new tunes. Everyone hopes that King won't be as late this time as he was for the last show; keep your fingers crossed that are no more traffic tie-ups.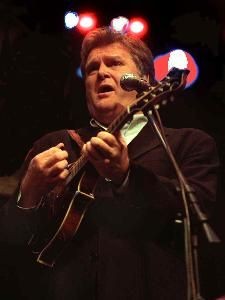 Ricky Skaggs
• The IBMA Fan Fest kicks off at the Galt House on Friday, October 18, at 11:30 a.m., when Netherlands bluegrass act 4 Wheel Drive kicks things off. After that, it's Katy, bar the door, as one after another national bluegrass act takes the Main Stage: Karl Shiflett & Big Country Show; The Larry Stephenson Band; Dale Ann Bradley & Coon Creek; Baucom, Bibey & BlueRidge; The Gibson Brothers; Lonesome River Band; IIIrd Tyme Out; Old Crow Medicine Show; The Del McCoury Band; Mike Snider; Doyle Lawson & Quicksilver; Mountain Heart; Ricky Skaggs & Kentucky Thunder.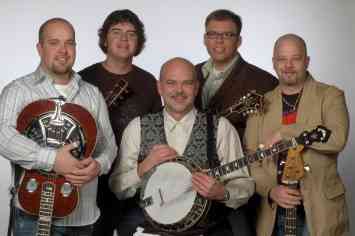 Lonesome River Band
The Saturday Main Stage lineup looks like this: Foxtail (Canada); Jim Hurst & Missy Raines; Wildfire; David Parmley & Continental Divide; Ronnie Reno & The Reno Tradition; David Peterson & 1946; The Harley Allen Band;. The Lynn Morris Band; 5:30 p.m. (intermission); Mark Schatz & Friends; Ronnie Bowman; J.D. Crowe & The New South; Tim O'Brien; and Yonder Mountain String Band.
On Sunday, the Main Stage will offer up these acts: New Road;. Tommy Brown & County Line Grass; Reeltime Travelers; Fragment (Czech Republic);. Paul Williams & Victory Trio; Special Consensus and Dry Branch Fire Squad .
Then there's the Roots and Branches stage, with its own lineup. Plus, of course, all the pickers in the halls and rooms. But the Fan Fest is the main course, so if like bluegrass, that's the ticket.
Log onto www.ibma.org for current information and tickets.
Blues
Kelly Richey
• It's Kelly time on October 3 at Stevie Ray's, boys and girls. That's Kelly Richey, guitar-slinger extraordinaire, to those of you who just aren't hip to the scene. Kelly works very steadily these days, traveling quite a bit and continuing to seek out that elusive record deals, while making and selling her own CDs. She moved from Lexington to Cincinnati a while back, but still has a presence in her home town and in Louisville, where she has a solid fan base.
Tix: 582-9945
• Blind Pig Records artist Magic Slim & the Teardrops will be at Stevie Ray's on October 7 for a night of "Mississippi-To-Chicago" electric blues - a style that is often credited with spawning modern electric blues. Slim has been at it with the Teardrops since 1967, so he's no "Magic-come-lately." Slim and Magic Sam used to jam together in Mississippi, where Sam told him to get his own sound, which he did, relying heavily on vibrato. He made his way to Chicago and began to record, launching a career that has spawned a dozen records, on labels ranging from Alligator to Evidence to Blind Pig, where he seems to have found a home. Dress up in your favorite house-rockin' outfit and get on down.
• Blues harp lovers have a good 'hump day' choice in October - Mark Hummel, described by Blues Review as "one of the top 3 to 5 living harp blowers." Hummel will be at Stevie Ray's on October 9 for a concert. His jazz-influenced West Coast style, developed during constant touring, has earned him an ever-larger fan base. He also has a stack of recordings to his credit, which, like most blues musicians, have been issued by a variety of labels. His most recent, 2002's Golden State Blues, is on Electro-Fi.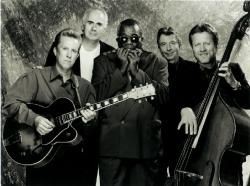 Anson Funderburgh & The Rockets Featuring Sam Myers
• Anson Funderburgh and the Rockets featuring Sam Myers will zoom in from Plano, Texas for a show at Stevie Ray's on October 28. Funderburgh and crew have both fans and friends: Myers aided Lamont Gillispie on the first album a couple of years back and Funderburgh has been coming here so long, he's seen kids born and grow up. No matter, they'll draw a crowd and then some to Stevie Ray's. You might want to pick up some advanced tickets.
Tix and info: 582-9945
Brass Band
• The North American Premiere of Beethoven's Fifth Symphony, arranged for brass band, will be presented at the Ogle Center at IUS on October 20 by the Commonwealth Brass Band. Brass bands tend to get slotted into performers of marches, either military or Sousa, but the instruments are perfectly capable of doing any kind of music. The Fifth Symphony should be most remarkable, therefore.
Tix and info: 812-941-2526
Chamber Music
• The Chamber Music Society is bringing in the Emerson String Quartet on October 27 to the Comstock Recital Hall at the U of L School of Music. the Emerson String Quartet is considered one of the world's foremost chamber ensembles, having amassed an impressive list of achievements: an exclusive Universal Classics/Deutsche Gramophone recording contract, four Grammy Awards, regular appearances with virtually every chamber music series and festival worldwide, and an international reputation. For chamber music fans, this should be the show of choice.
Tix and info: 852-6907
Christian
• Bebo Norman will present a concert at the St. Matthews Baptist Church on October 24. Norman built up a grass-roots following through several years of touring in the mid-'90s, which helped promote sales of his self-released album The Fabric of Verse. Norman was eventually signed to the Watershed subsidiary of Essential Records, where he released his official debut album, Ten Thousand Days, in 1999. His most recent CD is Myself When I Am Real.
Tix and info: 896-8882
Country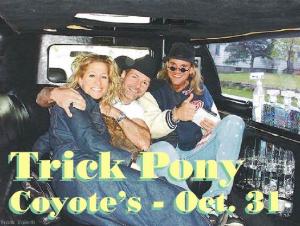 Trick Pony
• The last time Trick Pony was at Coyote's, they packed the house and offered up a very high-energy, sweaty show that left everybody dancing. There's no reason at all to suppose they won't do it again when they return to the big room on Jefferson on Halloween. Their new CD, On A Mission, should be out by then, and, hopefully, they'll have a new single to drive sales as well. Of course, they're not likely to have another singable smash like "Pour Me," but then again, they might. In any case, it'll be a fun show.
Tix and info: 589-3866
• It's a tough choice on Halloween for country music fans: Brad Paisley at Broadbent Arena or Trick Pony at Coyote's. It'll be a fan's choice, no doubt, and for Brad Paisley, that means women fans - he was named ion People magazine's Sexiest People in November of last year. He's still working his Part II project, so if it's a favorite album of yours, go and enjoy.
Tix and info: 361-3100
Classical
• How about going a little baroque? The Venice Baroque Orchestra, described as "the only Venetian orchestra specializing in the performance of early music with original instruments," so you get to hear not only baroque but authentic baroque. The VBO is the resident orchestra of the Scuola Grande di San Rocco in Venice, so their authenticity is unquestionable and their musical chops are sufficient to have landed them a recording deal with Sony Classical, which is no small thing these days. They just released their second Sony disc, Vivaldi: Late Concertos, so you know what to expect at their concert. Their appearance is part of the Hattie Bishop Speed Endowed Concert Series and they will be at the Margaret Comstock Recital Hall at the U of L School of Music on October 10.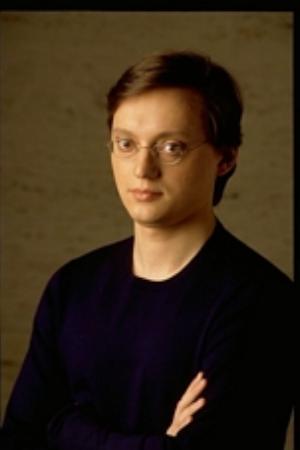 Stanislav Ioudenitch
• Stanislav Ioudenitch won the Nancy Lee and Perry R. Bass Gold Medal at the Eleventh Van Cliburn International Piano Competition in June 2001. He was also the recipient of a Steven De Groote Memorial Award for the Best Performance of Chamber Music for his semifinal round collaboration with the renowned Takács Quartet. He will appear in concert at the Comstock Recital Hall at U of L on October 28.
Tix and info" 852-6907
Gospel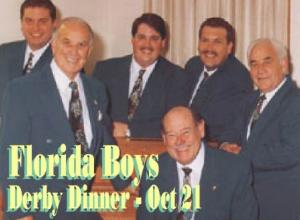 The Florida Boys
• The Florida Boys have had a career spanning over fifty years, beginning in 1947 as the Gospel Melody Quartet. They were the first gospel group to have a syndicated TV show, "The Gospel Singing Jubilee," which was broadcast nationwide and earned them several Dove Awards. The group has recorded many, many albums and has been elected to the Gospel Music Association Hall of Fame. In short, they are nearly as legendary as the Goodmans. You can see and hear them in concert at the Derby Dinner Playhouse on October 21.
Tix and info: 288-8281
Jazz
• Jazz fans have reason to be excited this month: on Sunday, October 13, the Highlands-Douglass Neighborhood Association will bring in Jazz Hall of Famer James Moody as the headliner for their 3rd Annual Big Rock Jazz Fest, scheduled to run from 2-5 p.m. Best of all, it's free. Moody, who has been a figure on the jazz scene since the late '40s, played with Dizzy Gillispie in several of his ensembles, as well as with the late Lionel Hampton's Golden Men of Jazz. His discography and credits run too long for this plug, so check him out at http://www.jamesmoody.com .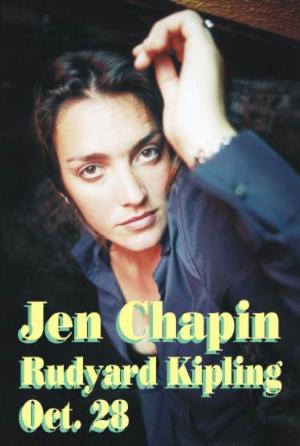 Jen Chapin
• Jen Chapin, daughter of Harry Chapin, and her husband, Stephan Crump will be at the Rudyard Kipling on October 28. Unlike her famous father, Chapin and Crump play something that falls between genres, specifically jazz and folk, in a double-bass-and-vocal format. Her voice gets raves, so it should certainly be interesting. They have a CD, Open Wide, which will be available for sale, of course.
Tix and info: 636-1311
Musical
• Another Midnite Ramble show in October is "The Jackie Wilson Story: My Heart Is Crying, Crying." Wilson's history was nearly archetypical of black singer's in the Fifties: poverty, struggle, fame, women, the Mob, and an early death. What set Wilson apart was his incredible voice and the songs he took to the top of the charts. Though he never got the crossover success that Sam Cooke, Ray Charles and James Brown found, his reputation among artists remains high.
Chicago's Black Ensemble Theater will present the show with Chester Gregory II in the lead role. On October 19 and 20 at the Brown Theatre.
Tix and info: 584-7777
• The PNC Bank Broadway In Louisville presentation for late October is South Pacific, the Broadway musical of wartime and romance in an island paradise, which won nine Tony Awards including Best Musical, Book and Score, and nearly became the second musical to win a Pulitzer Prize for drama. The musical splashes into the Kentucky Center for the Acts on October 29 for a six-day stand. The score is full of Broadway tunes that are nearly blended into America's DNA: "There's Nothing Like a Dame," "I'm Gonna Wash That Man Right Out of My Hair," "Bali Ha'I" and " Some Enchanted Evening." If you've never seen it, you should make a point of going - it's a genuine classic.
Tix and info: 584-7777
• Opera
• Kentucky Opera fans know that the KO will stage "La Traviata" every year or two and this year is one of those. The Verdi classic is grand music wrapped around a plot that would be recognized immediately by any soap fan: in Act I, the consumptive courtesan Violetta falls for Alfredo. In Act II, Alfredo's father convinces Violetta that she must leave him for the honor of the family and Alfredo publicly insults Violetta at a party. End the last act, Violetta dies at Alfredo's feet. Two performers from the New York City Opera will be featured: Alexandrina Pendatchanska will make her KO debut as Violetta, and Raul Hernandez will portray Alfredo. Linda Brovski will direct. In the Whitney Hall on October 11 and 13.
Tix and info: 584-7777
Orchestral
• The Louisville Orchestra's October Hilliard Lyons MasterWorks concert for October will be held in Whitney Hall on October 19, when the featured soloist will be 18-year-old violinist Augustin Hadelich, Europe's hottest prodigy. He will join the Orchestra in performing Beethoven's dazzling violin concerto. The program also includes the world premiere of Dan Locklair's Symphony No. 1 and one of Wagner's most shimmering and haunting preludes. Uriel Segal will conduct.
Tix and info: 584-7777
Pop
• The Midnite Ramble show for October is on the first. Titled "A Night to Remember," it will challenge those little grey cells, as The Ink Spots, The Mills Brothers and the Four Lads will reprise all of those hits from yesteryear and we do mean yesteryear...
The Ink Spots' big run began in 1939 with "If I Didn't Care" and continued through the Forties and into the Fifties. The original members are mostly long gone, as what you get here is a copy of that Ink Spot sound. The Mills Brothers began as an actual quartet of brothers from Ohio, who early in their career began to use their voices to mimic instruments, so that they sounded like their were backed by a band, even though only a guitar was used by the group. Their hits included covers of favorite tunes like "Tiger Ray" and "Dinah" (a collaboration with Bing Crosby) but in 1943, their career really took offer with "Paper Doll." In 1944, they had perhaps their biggest hit with "You Only Hurt The One You Love." They continued their career well into the Fifties, Sixties and Seventies, with members being replaced as their passed away. The last surviving original member died in 1999. The Four Lads began as choir boys and had hits in the Fifties, including "Moments To Remember" and "Standing On the Corner," which was their biggest hit. Their worked until the Seventies, retired, then the group was recomposed by original member Bernie Toorish in the Nineties.
Tix and info: 584-7777
• The Louisville Orchestra teams up with David Clayton Thomas, former lead singer of Blood, Sweat and Tears, for a Bank One Louisville Pops at the Palace on October 5. Bob Bernhardt will conduct the Orchestra as it backs Thomas singing "Spinning Wheel," "You've Made Me So Very Happy," "Smiling Phases" and the rest of the hits from that first monster album. BS&T blew itself to pieces shortly thereafter, due to internal conflicts, and the members went their separate ways, reuniting briefly as Blood, Sweat & Tears Featuring David Clayton Thomas in the '80s. They never achieved the fame of the first two albums, but boomers will remember those fondly as a couple of the finest albums of era. Hope you got your tickets early.
Tix and info: 583-4555
R&B
• The Bank One Lonesome Pine Special presentation for October is none other than Dr. John, who, along with the Neville Brothers and Professor Longhair, has virtually defined a certain style of New Orleans music. Mixing boogie-woogie, Mardi Gras, Cajun, Creole, rock `n' roll, blues, and soul together with the theatrical aspects of Mardi Gras, Mac Rebennack created the voodoo music and persona of Dr. John, The Night Tripper. Often copied, Dr. John recorded album after album for his cult base, but only had one chart hit, "In the Right Place," in 1973. His session work has included stints with artists as varied as Hoyt Axton and Christina Aguilera and artists like Eric Clapton, Mick Jagger, Mike Bloomfield and Jimmy Witherspoon have done sessions with the Doctor.
Dr. John will be at the Bomhard in the KCA on October 25.
Tix and info: 584-7777
Rock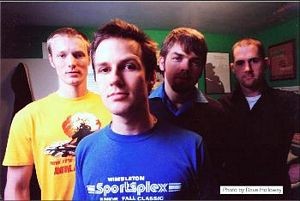 Dismemberment Plan
• "Bill Gates Must Die" writer and performer John Vanderslice will bring his irreverent indie rock to Headliners on October 2, along with Querili, Baltimore's The Oxes and the emo act Dismemberment Plan. The whole show is likely to be one surprise after another, as the various acts are dedicated to pushing the proverbial envelope past the point of tearing. Vanderslice's Gates tune, which was accompanied by wild tales of lawsuits and other legal threats, was a cleverly done hoax. He's actually the proprietor the Tiny Telephone, a minute recording studio in San Francisco.
The Oxes are part of the Baltimore Rowdy Collective, intent upon giving the audience what they didn't quite expect, while Dismemberment Plan is somewhat more focused on their emo nu-core sound. They all have more-or-less new recordings, so take a little extra cash, because, in spite of their anti-rule attitude, they still want to sell you records.
Tix and info: 584-8088
• For those of you who think that the only rock scene in Louisville is nu-metal core, please take note of The Shipping News, one of the several Louisville bands which have found a home (and success) at the Chicago punk label Quarterstick Records. The Shipping News began as a Jason Noble (Rachel's, Rodan) project to write music for NPR's "This American Life," then came together as a trio, recording Save Everything in 1997. They did a split EP with Metroshifter in 1998, then took two-and-a-half years to write and record Very Soon, And In Pleasant Company, released in 2001. The group tours occasionally, which means that they'll be at Headliners on October 4 for a show with trance-rock act Seluah, which will be introducing their debut CD at the show. Seluah is headquartered on South Floyd Street; their name only appears in web searches in mentions on other acts' pages. However, you can find out more at www.seluah.com but not much.
Tix and info: 584-8088
• As noted about, Louisville has been home to a number of very cool music scenes, particularly in the late '80s/early '90s, when Rodan, Drinking Woman, Slint and King Kong (among others) were still working in town. Those bands spun off an entire sub-genre of acts, many of which wound up on Quarterstick/Touch 'N' Go Records in Chicago, where they are still making a large impact on the national music scene. All of which is to say that one of the alumni of Rodan, Tara Jane O'Neil, who is so cool she needs no A/C, will be in town at the Rudyard On October 8. O'Neil, who also fronted Retsin and The Sonora Pine, launched a solo career in 2000 and now has three CDs to her credit, including 2002's Music for a Meteor Shower. Try Googling Tara Jane O'Neil for a quick tour of her musical tracks.
Opening for Tara Jane will be singer/songwriter Laura Minor, who has not yet done as much as Tara Jane, but has her own CD, Saleman's Girl, to promote. All in all, this is a show to take some extra cash to, because you'll want to buy some records.
Tix and info: 636-1311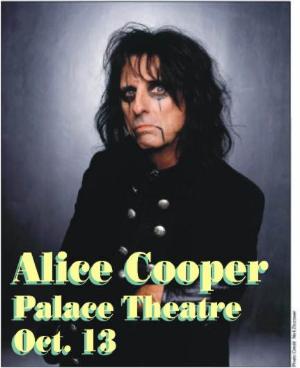 Alice Cooper
• It's entirely appropriate that the King(?) of theatrical heavy metal, Alice Cooper, should appear at the art deco Palace Theatre. Cooper, whose career began in 1968 and took off in 1971, has, like Ozzie Osbourne, managed to make himself a staple of American rock for the past thirty-plus years, partly by continuing to tour and record and partly by appearing in horror films, a natural fit. Like all good theatrical types, he invents and reinvents his show, so that is always both familiar and new, indicating he'll be with us well into the future. He'll be at the Palace on October 13 (perfect, eh?). Clockwise opens.
Tix and info: 583-4555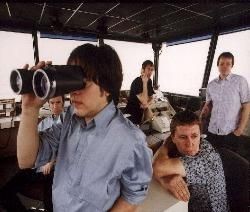 Guided By Voices
• Guided By Voices has been the leading light in the lo-fi music scene for close to twenty years. Formed in the early '80s, they released six albums of prog rock, recorded on home-quality four-track (which they still use) before garnering a national audience. They finally wound up on Matador Records and commenced a more-or-less professional career, touring and promoting their recordings. For a band with virtually no radio hits, they have an impressive discography, not to mention a fair-sized cadre of rabid fans. Check them out at www.gbv.com. They'll bring all this to Headliners on October 18, along with Knoxville's SuperDrag, fresh off an appearance on the Conan O'Brien show. Superdrag also has a stack of recordings, the covers of which routinely "borrow" from old album art.
Tix and info: 584-8088
• Bob Mould got his first exposure to musical fame as a member of Hüsker Dü, the Eighties post hardcore punk band. He recorded albums for Virgin that yielded rock hits in the Nineties. He formed Sugar in the middle of the decade and released a couple of projects before folding the band. He went solo in 1995 and has released several albums on his own. He'll be at the Phoenix Hill Tavern on October 19; Louisville's Peter Searcy will open.
Tix and info: 589-4957
Trey Anastasio

upcomingoct2002.php

• Phish co-founder Trey Anastasio will appear at the Palace Theater on October 29. After Phish decided to take a hiatus in 2000, Anastasio kept on working, arranging some of his material for the Youth Vermont Orchestra, gigging with the power trio Oysterhead, consisting of Anastasio plus Primus bassist Les Claypool and former Police drummer Stewart Copeland. Meanwhile, he was working on his self-titled solo project for Elektra, which was released in April of this year. He's been touring behind it since. Expect lots and lots of Phish fans for this show and there is a 6-ticket limit per person. Call soon.

Tix and info: 583-4555