Bluegrass Beat
Bluegrass Beat September 2002
Is anyone looking forward to Autumn, aka Fall, aka End of Summer? It has been a pretty warm summer, and dry. I for one am NOT looking forward to the possibility (don't know the probability) that winter may try to make up for it with very cold days, colder nights, snow, ice and all of those other wintry things. Just a thought, and we can't do a doggone thing about it anyhow, sooo, let's just enjoy what we can, while we can, and make the best of it.
Milan Bluegrass
Really enjoyable trip to Milan, Mich., festival last month. Jim & Jesse were there and the attendees were of one accord in their welcome. A lot of folks were unsure if they would make it, considering their recent health problems. Both appear to be doing as well as could be expected. Jim sang a little, not too much yet, and at the end of the show, at the bus, he said the last show had made him a little tired. Keep both of them in your prayers.
Osborne Brothers, Lewis Family, Karl Shiflett, Larry Sparks, Dale Ann Bradley with Michael Cleveland, and Dave Evans were all going strong.
The Larkin Family did a fine show. Those two youngsters, now teenagers, are turning into a couple of beautiful young models. You may want to make a note of their annual festival, Dec. 12-14, Grand Hotel and Convention Center, Pigeon Forge, Tenn.
Also contributing much to the overall show were Bob Paisley, Northwest Territory, Blue Velvet, R&L Express, S&S Express, and Jericho Road.
Tommy Brown and County Line Grass made their first appearance in that area. Crowd response and promoter response got them an invite to return next year, possibly to both Charlotte and Milan. Good show, ALL!
Old Homestead Visit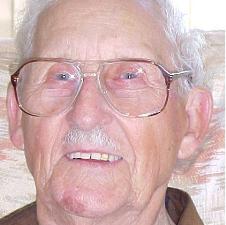 I visited a couple of days with my good friend John Morris in Brighton after the Milan festival. It's always a pleasure to visit John, his lovely wife Norma and Old Homestead Records. The Monday I was there, John and I went to Flint to see Wade Mainer. What a treat. I hadn't seen Wade and Julia for about two years. Wade is 95 years young, making a pretty fair size garden, still playing and entertaining, and possibly going to make another appearance on the Grand Ole Opry in October. WOW! When details are worked out and set, I will let you know. Go to it, Wade.
Good News
Some good news and congratulations to Cyndi. Many of you know her as Cyndi Ruff, part of the family band The Sunnysiders. Well, it seems Cyndi Ruff Mahler did herself proud a few weeks ago at Galax, Va. Here, I'll let Bob tell it: "Cyndi and I just got back from the Old Fidder's Convention, Galax, Va., where Cyndi placed 2nd in the Folk Song category. There were over 300 competitors and she placed 2nd!!! She sang "Heaven's Brite Shore" and blew away the competition. Way to go, Cyndi. She is currently a member of the New Girls Night Out.
September and Beyond Music
· Music Ranch USA, West Point: Sept. 6, Gospel. Sept. 7, beginning of sixth-year cook-out and show with Adam Davis, Johnny Polinski, Dean Weddle and Alisa Burgos. Sept. 14, Christiana Lawrence and Grant Bennett. Sept. 20, Gospel. Sept. 21, Down Memory Lane, Peggy Jo and Sonny Mays. Sept. 28, Dana Puckett and Kendal Mabe.
· Gary Brewer's Strictly Bluegrass Festival, New Albany Riverfront Amphitheater (FREE): Sept. 13-14. Friday (the 13th!!), Dr. Ralph Stanley, The Sullivan Family, Gary Brewer, The Fritts Family, Dean Osborne, Robert White, Wendy Smith, Inquire Within Band, and Jim, Wayne & Mason Brewer. Sat., the 14th, Melvin Goins, James Monroe, Gary Brewer, David Parmley, Robert White, Wendy Smith, Inquire Within, Sullivan Family, Melanie and Maci Belfiore (Champion Cloggers) and Jim, Wayne & Mason Brewer.
· Farnsley-Moreman Landing (FREE): Sept. 14-15, Kentucky Blue, Riverboat Ramblers, Storefront Congregation and LEROY TROY. All both days, 1-8 p.m.
· Poppy Mountain, Morehead, Ky.: Sept. 17-21. Acts too numerous to list.
· Next month, October, The Museum of Appalachia Tennessee Fall Homecoming, Norris, Tenn., and International Bluegrass Music Association (IBMA) World of Bluegrass.
Doyle Lawson Recovering
I suppose most have heard that Doyle Lawson had a quadruple bypass August 12. Last report is, he is recovering and doing well. Best and Blessings, Doyle.
That's All, Folks
Well, I think this is about enough for this time, and this is about all I can think of for this time. Will encourage you again to tune in to Sunday Bluegrass every Sunday night, 8-11 for bluegrass, traditional country and old-time country. You will find it on WFPK 91.9 FM. We are streaming, WFPK.org. Click on, listen now, and go from there. Share this information with all of your e-mail list.
Time to go get a doughnut!