I've Got A Mind To Ramble
Lil' Ed's Double Whammy
It took a performance by Lil' Ed and The Blues Imperials to get me to Barretones for the first time. I was long overdue. When I descended the stairs behind Barret's Bar on August 1, the sound of Lil' Ed's slide slinging greeted me before I got through the door. Barretones is small with no frills. The bar is at the back and the bandstand is near the entrance. The carpeted walls are embellished with a few pictures and musical instruments with exposed steel joists above. Ed and the band had already heated up the basement, which was packed. Usually when I try to photograph most blues musicians during a show, I have to patiently wait for that brief moment when their eyes are open and not wincing. Not so with Ed, his eyes are always open, wide open, sometimes about ready to pop out. His face is so expressive. One moment he wears a feigned scowl, the next moment he breaks out in a wide-open grin, revealing his new set of teeth. Ed usually wears a colorful fez which enhances his short stature. When he gets to jumping, his vertical leap rivals Darrell Griffith's and the top of his fez narrowly missed the ceiling. It must have been his red-hot shoes that set his feet on fire. When Ed does "The Alligator," a song that will be released on his next CD, he is off the stage and out in the crowd, creeping on the tip of his toes.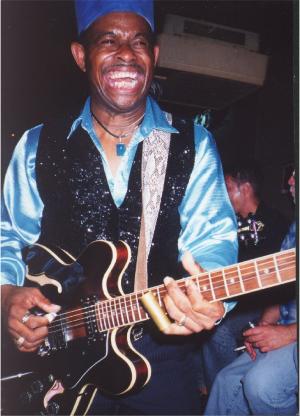 Lil' Ed flashes his new teeth
He opened the second set playing the drums, heavy on the bass, for the first few songs. He is best known for his upbeat roughhousing style of blues, but it's his slow blues like "Four Leaf Clover," "I Still Love You" and the classic "Black Night," where he really bares his soul. Ed's little wiry frame becomes electrified with bolts of energy when he hits those deep notes. It was closing in on midnight when I left. Barretones was still charged with Ed's raw energy.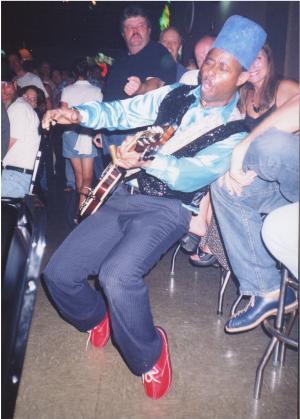 Lil' Ed struts
The second whammy was the following day at the studio of the WFPK Public Radio Station. Scott Mullins is celebrating 16 years of the "Saturday Night Blues Party" with several special events, including this live lunch concert with Lil' Ed. Coincidentally, Ed's first recording on Alligator, Roughhousin', was also released 16 years ago. The band had survived the previous night at Barretones and was ready to go for a live broadcast, with the studio full of "Ed Heads." Brenda Major, the president of the KBS, was front and center, waving a picture of Lil' Ed's head on a stick. This powerful one-hour set went by much too fast, with most of the songs coming from his latest and best CD, Heads Up.
There was a little dialogue between Scott and Ed and one of the questions was the influence of Ed's uncle, J.B. Hutto, on him. Ed recalled when J.B. would come over to their house to play his guitar, he noticed J.B.'s shiny chrome slide. Ed has always been attracted to shiny things, as evidenced by the sparkling black vest and matching fez he was wearing at the concert. When his uncle did a tour of Europe, he left his amp and slide at Ed's family's house. Ed and his half-brother, Pookie, practiced hard for those three weeks on their lead and bass parts. When J.B. returned he was amazed how well they sounded and offered them to back him up at his next gig.
Besides Pookie, who has played bass with Ed since the formation of the Blues Imperials, there is Mike Garrett on guitar and Kelly Littleton on drums. They have been recording and touring with Ed for 15 years. Paul Buschbacker is the newest member, creating a three-guitar lineup. When Ed introduces his band, he starts with his brother Pookie and then affectionately refers to all the others as "little brothers." This double dose of Lil' Ed made an "Ed Head" out of me.
KBS Unsigned Blues Competition
Thousand-two marks the tenth year the Kentuckiana Blues Society has held its blues competition, which started in 1993. That year, MR2 Blue won. This year there were seven contestants, until a last minute scratch by El Roostars reduced the lineup to six. Following the blind draw to set the order of play, Bearly Blue opened the competition. This duo of Cole Stevens on resonator guitar and Steven Borroughs on harp got us into an easy, laid-back groove of acoustical blues, like "Highway 99," which recalled Cole's days of traveling up and down California.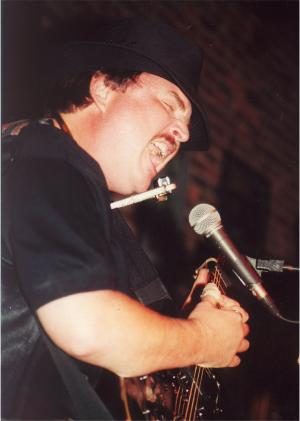 Blind Dog Gatewood
Blind Dog Gatewood was back for his third try. Gatewood is a one-man band who uses a beautiful polished chrome resonator guitar, chrome slide and chrome picks. He also blows a harmonica on a rack and keeps the beat with a tambourine attached to a percussion foot pedal that's chained to his stool so it doesn't walk away. Gatewood's baritone voice is reminiscent of early Elvis, with a rough growl. Midway through his set, he brought out his "diddley bow," which was your basic can on a stick with a few strings wired to it, to do "I Hear the Blues Calling."
Blues Cruisers were next. They are a four piece band with Bob O'Neil fronting on vocals. The band's set included renditions of blues standards like "Rock Me Baby" and "Hoochie Coochie Man." Cole Stevens and Steve Borroughs were back again as Blues Train, which included a rhythm section. They did all originals including "What You Goin' A Do."
One Card Shy was a repeat from last year with their young guitarist now of age, so he could play with the band on stage instead of outside on the sidewalk. At the bottom of their play list was the message "Smile damn it, we're having fun."
The Flaming Rhinos, heavy on the rock and reverb side of the blues, closed the competition. When the votes were tallied, Blind Dog Gatewood was announced as the winner. A brief jam followed, with Gatewood playing his red Gibson Epiphone, complete with a built-in amp, and three musicians from the other bands. Gatewood, whose real name is Michael Allen, comes from Newburgh, Indiana and will compete in the International Blues Competition in Memphis early next year. Other solo acts have won the big prize including Richard Johnston in 2000, Abe Reid in 1999, and Chris Cameron in1997.