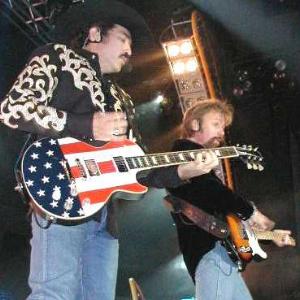 Brooks & Dunn in Louisville
Brooks & Dunn in Louisville
By Rob Greenwell
Part of the Neon Circus and Wild West Show rode into Freedom Hall on Saturday night August 17, 2002. The other acts on the bill included Neon Circus act Dwight Yoakam along with Taylorsville, Kentucky native Shannon Lawson. What a great way to fill a bill for a concert in Kentucky: having two native Kentuckians to help start the evening.
As mentioned earlier, Shannon Lawson opened the show with the distinct sound that has made him a fast-rising star on the "big circuit." Opening the show the right way, with an up-tempo tune called "Bad, Bad, Bad," he was the spark that set the match to a fantastic evening. As a fan of Lawson for a while now, I was still impressed with his performance. What impressed me even more was that he had just returned from England at midnight the night before. He was hitting high notes everywhere on the scale, which was phenomenal, since I could hear the weariness in his voice. This star in the making knew that he was on the largest stage in a town where he grew up musically; so he needed to make a huge impression. He did.
What else can you say about the middle act in this show? Dwight Yoakam is the epitome of honky-tonk, a true traditional hillbilly country singer. If you know the catalog of his music, (and if you listened to country in the Nineties, you heard a lot of his stuff) you know pretty much everything he did: "Long White Cadillac," "Fast as You," "Crazy Little Thing Called Love," and so on. It looked like Yoakam had a tele-prompter at his disposal: there was a box that looked a lot like a television monitor in between two monitors. I, for one, don't want to pay 40 to 50 bucks for a show so that the artist can essentially sing karaoke-style. It doesn't matter if the artist has new material, it shouldn't be in the show if it hasn't been properly learned.
If you read my review last month of Brooks and Dunn's show in Indianapolis, you know that Dunn didn't have it on that night and that I was coming to Louisville to see if they had straightened things out. They put on essentially the same show that they did in Indy, but they appeared to be in better shape than then: Dunn looked and sang a lot better.. When they do shows in Louisville, they seem to have a different flair than at other shows. I guess they like this place.
There was a bit of a problem with the sound. It sounded like that the production guys were mixing for an outside show. Other than that, it was a good ol' Brooks & Dunn show, kickin' country music.
Email me with your thoughts on this show at rgreenwell@louisvillemusic.net.