Cowboy Corner
Coal Miner's Daughter Prepares Yard Sale
Butcher Hollow, Ky.'s favorite "Coal Miner's Daughter," the legendary Country Music Hall of Famer Loretta Lynn, has been busy rummaging through her personal belongings as she is preparing to hold a `yard sale' which will be open to her fans. The sale will be held October 3-4 at Loretta's dude ranch in Hurricane Mills, outside of Nashville. Items up for grabs will include costumes, dishes, furniture, parts of some sets used in filming Loretta's 1980 Oscar-winning autobiographical movie, Coal Miner's Daughter, and more. All proceeds from the yard sale will be used to help restore Loretta's plantation home on the ranch which her beloved late husband, Mooney purchased for her.
Fans planning to attend the sale need to remember to stick around for Loretta's scheduled concert at her ranch on October 5.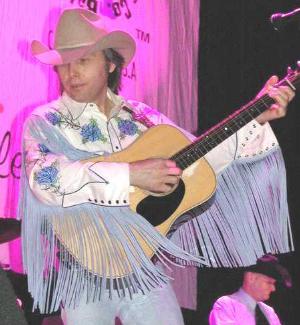 Dwight Yoakam at the Fair. Photo by Michael Stout
Colgate Country Showdown Regional Finals
The local finals of the Colgate Country Showdown were held at the Looney Tunes Theater at Six Flags Kentucky Kingdom last month and the highly enthusiastic and energetic band High Noon took top honors. They will go on to compete in the regional finals. This contemporary country band beat seven local finalists to move one step closer to fulfilling their dream of a major record label contract. Past contestants of the Colgate Country Showdown include the likes of Martina McBride and Nicholasville, Kentucky's own John Michael Montgomery.
The competition's North Central regional finals, which include Illinois, Indiana, Kentucky, Missouri, Tennessee and Wisconsin, will also be held at Six Flags Kentucky Kingdom, on September 15. High Noon had quite a faithful following at the local finals and I'm sure country fans from near and far will come out to support them later this month.
Congratulations to High Noon and best wishes in the next round of competition!
Dixie Chicks Preview New Album at Ryman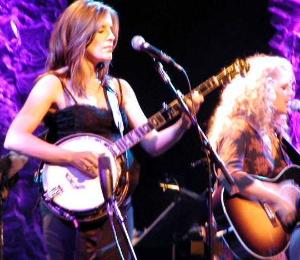 Emily Robision & Natalie Mains
Country music's hottest trio, the Dixie Chicks, previewed their brand new album, Home, before an invitation-only capacity crowd at Nashville's historic "Mother Church of Country Music" and former home of the legendary Grand Ole Opry, the Ryman Auditorium last month. Upon entering the sacred auditorium, I was expecting a typical Dixie Chicks concert, with a few new tunes thrown in for good measure, but I was pleasantly surprised when Martie, Natalie and a very pregnant Emily, along with a collection of some of the finest pickers in country and bluegrass music, casually strolled onto an intimate stage complete with a woven area rug and a classic chandelier and immediately tore into their current smash hit, "Long Time Gone." I immediately thought it strange to open a concert with your current release, but Natalie explained the purpose of the evening upon completing the rousing number. The trio wanted to take the opportunity to introduce members of the music industry, fellow singers and songwriters and a limited number of lucky fans to their brand new, self-produced music. They performed each cut on the album in the order in which they appear on the album with introductions explaining each song, the story behind the song and announcing the songwriters.
The trio's third album, the follow-up to the multi-platinum selling albums Wide Open Spaces and Fly, offers an acoustic collection of tunes written by the likes of Radney Foster ("Godspeed (Sweet Dreams)"), Patty Griffin ("Top Of The World" and "Truth No. 2"), Darrell Scott ("Long Time Gone"), Bruce Robison ("Travelin' Soldier") and a heaping portion of Chicks originals ("White Trash Wedding," the instrumental "Lil' Jack Slade," and "Tortured, Tangled Heart" and "I Believe In Love," both co-written with Marty Stuart). In these times of commercial country music, it is refreshing to hear music like Home, which finds a happy medium between pop country, traditional country and foot-stompin' bluegrass. The Chicks have done it again and sound better than ever. If you haven't already picked up your copy of Home, grab the keys to the pickup and head to your favorite record store as soon as you finish reading this month's issue of Louisville Music News.
New Hall of Fame Inductees
Following the Dixie Chicks' Grand Ole Opry debut last month, fiddler Martie Maguire had the rare opportunity to announce the next inductees into the Country Music Hall of Fame. Martie called the legendary Porter Wagoner and Bill Carlisle onto the stage to announce the honor the two will receive during the Country Music Association Awards program which will air on live television November 6. Seventy-five-year-old Wagoner was host of one of the first and most popular syndicated country music programs in the late 60's and early 70's, The Porter Wagoner Show, which introduced a young Dolly Parton to the world. Wheelchair-bound Bill Carlisle, 93, is the oldest living member of the Grand Ole Opry.
Congratulations to Porter and Bill! An honor well deserved.
CCMA Nominees
When the nominees for the 2002 Canadian Country Music Awards were announced recently, it was no surprise that the top contenders are also breakthrough artists in American country music. Paul Brandt, Terri Clark, Emerson Drive and Carolyn Dawn Johnson will each vie for five trophies when the awards are handed out September 9 at Calgary's Pengrowth Saddledome. The awards show, which will feature performances by Diamond Rio, Kenny Rogers and Keith Urban, among others, will be broadcast live on CMT here in the States.
And the nominees are: Fans' Choice Award: Paul Brandt, Terri Clark, Adam Gregory, Carolyn Dawn Johnson and Jason McCoy; Female Artist of the Year: Lisa Brokop, Terri Clark, Patricia Conroy, Carolyn Dawn Johnson and Michelle Wright; Male Artist of the Year: Paul Brandt, Adam Gregory, Jason McCoy, Duane Steele and Rick Tippe; Group or Duo of the Year: Doc Walker, Emerson Drive, Ennis Sisters, The Good Brothers and Poverty Plainsmen; Roots Artist or Group of the Year: Scotty Campbell, Great Big Sea, Natalie MacMaster, Mike Plume Band and Jimmy Rankin; and Rising Star Award: Doc Walker, Emerson Drive, Ennis Sisters, Aaron Lines and Jake Mathews.
Album of the Year: Doc Walker's Curve; Emerson Drive, Paul Brandt's Small Towns And Big Dreams, Steve Fox's Small World and Jimmy Rankin's Song Dog; Top Selling Album: Alan Jackson's Drive, Toby Keith's Pull My Chain, George Strait's Road Less Traveled, Garth Brooks' Scarecrow and Tim McGraw's Set This Circus Down; Single of the Year: Chris Cummings' "Cowboy Hats," Terri Clark's "Empty," Carolyn Dawn Johnson's "I Don't Want You To Go," Emerson Drive's "I Should Be Sleeping," and Paul Brandt's "Small Towns And Big Dreams"; SOCAN Song of the Year: Terri Clark's "Empty," Carolyn Dawn Johnson's "I Don't Want You To Go," Paul Brandt's "Small Towns And Big Dreams," Jason McCoy's "Ten Million Teardrops," and Kenny Chesney's "Young"; CMT Video of the Year: Chris Cummings' "Cowboy Hats," Terri Clark's "Empty," Carolyn Dawn Johnson's "I Don't Want You To Go," Emerson Drive's "I Should Be Sleeping," and Michelle Wright's "Shut Up And Kiss Me."
Good luck to all the nominees!
Country's Joe Allison Dies
Seventy-seven-year-old country music pioneer and executive Joe Allison, who co-founded the Country Music Association and the Country Music Foundation, died on August 2 in Nashville. He began his career in country music as a disc jockey before moving on to work with Dot, Capitol and Liberty record labels as a producer. He was inducted into the Disc Jockey Hall of Fame in 1976. Joe is probably best remembered for his songwriting abilities, having written Jim Reeves' "He'll Have To Go," Faron Young's "It's A Great Life" and "Live Fast, Love Hard, Die Young" and Tex Ritter's "When You Leave, Don't Slam The Door." He was honored with induction into the Nashville Songwriters Hall of Fame in 1978.
Joe is survived by his wife, Rita and three sons. We would like to extend our deepest sympathies to the entire Allison family.
Hot New Albums
Some of country music's hottest artists are offering new and highly anticipated albums in the very near future. Nicholasville's own John Michael Montgomery, who performed a free concert last month at the state fair, will be back with his new album, titled Pictures, on October 8, which features his current release, "Til' Nothing Comes Between Us."
One week following John Michael's release, Faith Hill's new record, Cry, will hit record stores. This first new Faith record in three years includes the country beauty's brand new title-track single. To promote this new album, Faith has just signed on as the October 12 musical guest of NBC's Saturday Night Live.
Country's hottest Canadian, Shania Twain, has been absent from the radio airwaves for quite some time now, but that's about to change. Following the great success of her Come On Over album, Shania and her producer husband, John "Mutt" Lange, moved to a castle in Switzerland and welcomed their first child into the world. Come November 12, Shania's brand new album, titled Up!, will be on store shelves. The album's first release is still yet to hit the airwaves, but keep your ears open as I'm sure you'll be hearing it any day now.
Upcoming Live Music
If you didn't get your fill of live country music during last month's Kentucky State Fair, then you're in luck. Kentucky's own Montgomery Gentry will head home on Friday, September 20 to perform at Jim Beam Distillery's "Rock The Rackhouse" party along with Hank Williams III, Nickelback and Filter. The same evening, Neal McCoy and Jamie O'Neal will headline the free Barrels of Music Country Music Concert at the Bluegrass Motor Speedway as part of the 11th Annual Kentucky Bourbon Festival in Bardstown. The Kentucky Headhunters will also perform a live concert the following evening (September 21) at 9:30 p.m. at the Spalding Hall and City Hall Lawns at 114 N. Fifth St.
On Saturday, September 28, Gary Allan, Phil Vassar and local country artist Gina Emerson will perform a free concert at Waterfront Park on the banks of the Ohio River. The following day (Sunday, September 29), the legendary "Redheaded Stranger," Willie Nelson will perform a concert at Six Flags Kentucky Kingdom.
Well, that's it for this month. As we remember the thousands of innocent lives that were lost as a result of the tragic terrorist attacks which occurred one year ago this month, let us continue to proudly wave our American flags and may God continue to bless our great Nation. Always remember: "Keep your boots shined up and your hat on straight, `cause country music is comin' your way."