Louisville Rock Lowdown
Expo Five: Louisville's Newest Rock Venue
Almost every musician in the scene at one time or another has said, "I wish there were more venues in Louisville to play at."
Now there is.
Thanks to Jake Wheat and the staff at Undergroundlou.com, Expo Five is the newest addition to the Louisville music scene. It's a gift from them to us to establish a "fair venue" that gives something back to the bands. Talk about power to the people...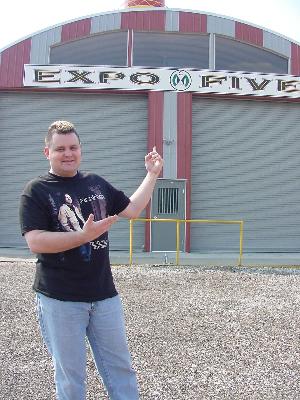 Jake & Expo 5
It is a frequent complaint in town that there are only a handful of venues to play at, especially if you play heavy music or you are in a relatively unknown band. With such a limited supply of space in the venue calendars, getting an opportunity to perform is sometimes hard to come by. In some instances, the finger is pointed at the venue owners for not returning phone calls, not giving new bands a chance, not booking certain styles of music, etc. One of the problems is pure and simple: there are not enough venues in town that will accept these types of bands. With so many talented bands in Louisville, we need more places to showcase their talent. Undergroundlou.com has stepped up to this challenge. Jake Wheat has networked with the owners of Expo Five to create another place for bands to play. This is an ALL AGES venue "for the bands." (But yes, it WILL serve beer! Don't worry... they have the concessions covered.)
Expo Five is located at 2900 S. 7th Street Rd., Louisville, KY 40216 and is part of the complex that hosts the Derby Park Flea Market. It's a large, fenced-in facility, and you can recognize it from afar by the giant colorful water tower just behind Expo Five. The building itself looks like an airplane hangar. The opening date of Expo Five (as a music venue) is on September 28, and that show will feature Incursion502, Element H, PUC and Algae. This show is the first of many that will feature both recognized talent as well as newer bands beginning their quest for gaining recognition in the scene for their talent and efforts.
The bills are said to be "healthy." This description, given by Jake, is further explained as a way to combine veterans of the scene with newer bands to provide a healthy environment that promotes networking, exposure, diversity and an opportunity to perform with experienced bands. This will give new bands a chance to see what the more renowned bands are doing and help to improve things for everyone. The "bigger" bands may also be able to pick up some pointers from the new guys as well. In the end, everyone benefits.
September 21-22 marks the dates for the Mid-South Paranormal Convention. Booths will be set up highlighting the paranormal. More importantly for bands, Jake has offered to sell (or give away) local bands' CDs at his booth for NO CHARGE to the bands. Contact him to get your band's merchandise at the convention.
The interior of Expo 5. Photo By Jason Koerner

For the first month of shows (beginning with the 9/28 show) there will be an extra perk to coming out. This perk is "Terror on 7th Street," the Halloween event that will be going on during the shows through the month of October. Haunted Houses begin September 27 at the facility, and the entire space is turned into one big playground for Halloween enthusiasts. For a gate fee of $5, you can enjoy the outdoor performances by the bands on a huge stage and peruse the attractions set up inside, such as the Haunted House, 3-D maze and other fun activities. Admission to the 5,000 square foot Haunted House featuring live action and robotic effects is only $6, while similar attractions during this time of year range in the double digits. There will also be a 3-D family attraction, "Scare Fair," available for $5. It features robotic effects, "chromodepth" 3-D images (where lighter colors are raised) and a soundtrack by Undergroundlou.com. These events will be coupled with the bands, concessions, food, beer, and more.

November 16 is the date for the first indoor show. Once the venue goes into a normal show schedule, the admission will be $5, the shows are all ages, there is beer served at the concession stand for those who are 21 and older, and the entertainment and sound will be impressive. The building is crescent-shaped and the walls and ceiling are all covered in a spray-on padding for sound insulation. Translation: no echo and quality acoustics. The ceiling is 45 feet tall, the floor plan is 8,000 square feet, and it has a seating capacity of 1000. This capacity is elevated to unbelievable amounts when standing room is increased. It is more than enough space and quality to bring in national acts and huge crowds. It currently hosts concerts and conventions. It has bay doors for easy loading, plenty of room backstage, and a HUGE stage. More than enough room for getting crazy during your performance. Lights and PA will also be provided for use by the bands.

Jake Wheat was recently nominated for vice-president of LMIA (Louisville Music Industry Alliance) and he takes a huge part in helping the local scene. This is a well-connected venue when it comes to resources. In addition to his new found responsibilities as a promoter/booking agent for Expo Five, he also runs his non-profit Internet radio station,

www.undergroundlou.com, which has over 16,000 listeners daily in 38 countries. This has come a long way from the first broadcast on December 1, 2001. It features much of the talent here in Louisville and gains international exposure for the bands. Bands can get their material played on undergroundlou.com by emailing their Mp3 URLs to jake@undergroundlou.com. You can also mail your CD or demos to:

Undergroundlou.com

1604 Greyling Drive #4

Louisville, KY 40272

Bands can also submit banners, flyers, ads, news and more for consideration to

info@undergroundlou.com to be displayed/aired on the web site. For free, I might add. They also can request an interview from the station to help promote their band. These interviews are available to listeners for purchase. The CD includes the interview with the band of choice, as well as songs by the group. It is all done with permission, and at cost. No profit is involved.

This is all done to help the scene. That is the beauty of it all. The owners of Expo Five want to help out the scene as well, Jake says.

"It would kill me to sign my name to something unfair." He said when describing his initiation of the affiliation between Undergroundlou.com and Expo Five. He is confident that the owners are sincere in their desire to support the scene. We need to come together and support this effort, as a scene, and help out Undergroundlou in their efforts to make Louisville a better, stronger, more noticed music scene.

ATTENTION ALL BANDS: for booking information at Expo Five, please contact Jake Wheat at (502) 366-6282. Get in on a great opportunity to play at a new venue that supports and respects local music like none other. Support this effort, and help get it off the ground! The monopoly is gone. How long it lasts depends on us. Don't waste a great thing...

Send me your story ideas at

JJKSLACKER@cs.com... Rock on Louisville!