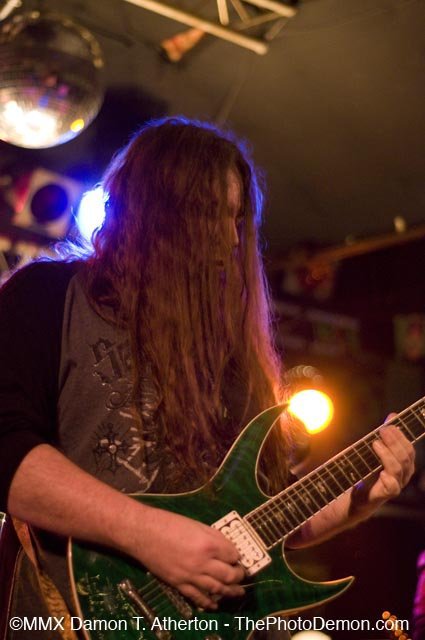 News From the Pit
What up, peeps. I'm back from my vacation to resume my usual ranting and such.
This months topic is shameless self promotion. As you all know, there are certain established people in this music scene who have business or personal ties or connections with venues, newspapers, radio stations and other media. Having such ties can be a good thing, especially if you are a musician. The problem is that some people are absolutely shameless in their self promotion. I have seen several examples of this lately and it sickens me.
Without a second thought, these people use their connections for their own needs and not the needs of the scene as a whole. Shameless self promoting comes off as close-minded and extremely arrogant. And it makes you look like a jerk.
I'm going to give you a made up example of shameless self promotion. Let's make up an individual, an aspiring musician named Larry. Let's say Larry has a job booking bands at Louisville's hottest new club, "The Cage". Larry has complete control over who gets booked and who doesn't.
So Larry books his band or his friends' bands on EVERY big show that comes through town. He also looks down and rarely to never books bands that are a bit different than the usual trendy sound.
Larry also holds grudges.
As a local music promoter, newspaper ist and musician, I would worry what people would think if I used my connections to get undeserved exposure, when there are more deserving bands waiting in the shadows.
In the years I've spent promoting this metal scene, I've learned that if a person is going to represent a venue, newspaper or radio station, it had better be for the good of the whole scene.
That person is going to have to be open-minded towards the music and eliminate all grudges and conflicts of interest from the past. They must cast aside all the petty things that cause negativity and unfairness, even though that can be very hard to do at times because of rude people.
All I know is these shameless people are NOT good for our scene. The audacity and arrogance that some people show are astounding. So I'm telling these people right now - you know who you are - use your connections to help the WHOLE scene, not just yourself, your close buddies' bands or bands you consider trendy enough. There are a lot of great bands around here! Open your eyes.
Otherwise Mr. Metal will have to get medieval on your rump.
The Metal Grapevine
Aqua Jones Reborn? There's a new band out called Sara Tonen, featuring a few former members of Aqua Jones. Let's hope they still have the same cool vibe as before. Those Aqua Jones guys could work a crowd extremely well. Their debut is on September 20 at Headliners.
Days Of The Victim? According to a reliable source, My Own Victim's vocalist Sailor is now jamming in a side project with Travis Meeks of Days Of The New. I confess, I can't imagine what those two guys are cooking up, but I'll admit it sounds like a pretty wild combo. I heard they are going for a heavy sound.
Tornacade Needs Singer: The band Tornacade is looking for a singer. If you can sing (not scream), give Terry an email at xterryharperx@aol.com.
New Venue: Expo 5, at 2900 7th Street is coming soon. Jake from undergroundlou.com has found us a new place to jam out. Good job, dude! I heard it is pretty cool, and big. I'll let you know when it's opening. (I'm betting Jake will be pretty fair about the booking.)
Upcoming Shows
Headliners Music Hall
Friday, September 20 - Element H, The Constant, Plan Of Man, Factor IX and the debut of Sara Tonen. 7 p.m.
Phoenix Hill Tavern
Shows start at 8 p.m.
Sunday, September 1 - The Constant, Cooler and Flatlyne.
The Original Rock Showcase series on the first Friday, of every month.
Friday, September 6 - Tha Joint, Screaming Through December, Puc and The Mad Taxpayers.
Friday, October4 - Element H, After The Fall, Blyss and 1080.
Tekworld
Shows generally start at 7:30 p.m.
Sunday, September 1 - Incursion 502, Factor IX and 1080.
Friday, September 6 - Blyss, Small Town Drama, Execrate, 1080 and Evil Engine #9.
Saturday, September 14 - After The Fall and Flatlyne.
Friday, September 27 - Incursion502, Kallus, Delta Nine Theory and Sealing Of The Tribes.
Others
Saturday, September 14 - at Primos in Indianapolis. Kallus, Paradox 44, Raising Able, Resurface, Onset and others.
Friday, September 27 on the Belle Of Louisville. Factor IX, The Constant and Flatlyne. No-one gave me a time, so you may want to call the Belle Of Louisville info line.
Props Of The Month
This month's props go to Julie from Vixenvideo for trying very hard to put on Korestock. I've heard some bad comments about it. but hey, I don't see anyone else out there trying to put on a killer outdoor show! The fact is: it's very hard to get the land, PA, electricity, stage, lights, etc, etc. A person needs help to do a show of that caliber. Although some soreheads have been mouthing off, we here at LMN give Julie two thumbs up just for the effort.