George Strait Ends Tour with Rousing Performance in Louisville
By Michael W. Stout
When someone mentions the name of George Strait, many words are immediately conjured up in one's mind - consistent, talented, humble, shy, genuine, honest, simple and cowboy. When one has the great privilege of experiencing a live George Strait concert, he/she witnesses proof why "The Cowboy" is one of the most successful artists in country music history. At the age of 50, George recently broke the late Conway Twitty's long-running record of the most #1 singles in music history when "She'll Leave You With A Smile" became his 50th #1 hit. These 50 hits have helped George sell a whopping 57 million records to date. Far from shabby for a singing cowboy from Poteet, Texas.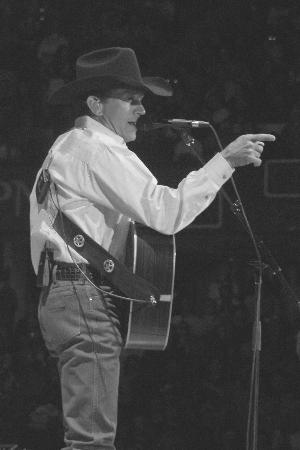 George Strait. Photo by Michael W. Stout
Strait wrapped up the winter leg of his "Road Less Traveled Tour" right here in Derby City when he played to a virtually sold-out enthusiastic crowd at Freedom Hall. Fans were treated to a greatest hits show including material from all aspects of George's more than twenty year career. The set included fan favorites such as "The Fireman," "Heartland," "Check Yes Or No," "The Best Day," "One Night At A Time," and "The Chair," as well as a swingin' rendition of Bob Wills' "Take Me Back To Tulsa" and a growling delivery of "The Man in Black's" "Folsom Prison Blues." Despite the fact the sound system was oftentimes painfully loud and George's voice sounded a hint tired, fans were quite forgiving and roared louder and louder with each tune.
"The Cowboy" is one of a mere handful of country artists who do not have to rely on lighting, fancy footwork, or theatrics to sell concert tickets - all he needs is a guitar and a microphone. Performing in the round, George strapped on his guitar and with his unwavering voice belted out two numbers to the audience angled toward one side of the stage, sauntered to the next side of the stage for two songs and worked his way around to all four sides, offering a spectacular glimpse of this country hero to each fan in attendance.
George Strait. Photo by Michael W. Stout
Despite the current trend of artists unfortunately dropping off radio airplay lists once they reach the age of 50, the highly awarded George Strait continues to forge ahead stronger than ever. Let's hope he breaks down barriers for country artists rapidly approaching their fifth decade. To what does he owe this impressive longevity? Maybe it's the mystery surrounding him: he protects his privacy so closely and seldom grants interviews, that he prevents floods of publicity. Maybe the stars are aligned in his favor. Or maybe he has discovered the secret formula to create a country megastar, that formula consisting of the right parts vocal talent, charisma, charm and genuineness. Regardless of these speculations, it was obvious that George Strait is a country music superhero as he crooned the lyrics of "The Cowboy Rides Away" before vanishing from the glow of the spotlight as he rode into the darkness of the night toward his ranch. Until our paths cross once again with George, "Happy Trails" to "The Cowboy."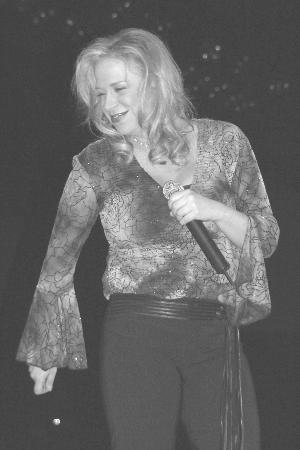 Tammy Chochran. Photo by Michael W. Stout
Hot newcomer Tammy Cochran's impressive set was the perfect appetizer for the main course. Tammy toyed with the audience as she offered hits including "I Cry," "Life Happens," her new single, "Love Won't Let Me," and her touching tribute to her brothers who passed away from cystic fibrosis, "Angels In Waiting." The highlight of her show was her spunky translation of the late "First Lady of Country Music," Tammy Wynette's "Your Good Girl's Gonna Go Bad." Tammy is a vocal powerhouse that has the talent and potential of being, as Kenny Chesney would put it, a "Big Star."