I've Got A Mind To Ramble
Sweet Loraine
It took two hours to hear Loraine Rudolph "tell it like it was" during an extended telephone interview. Thank goodness for cell phones with unlimited minutes. Like Mary Ann Fisher, Loraine Rudolph has a story to tell of her brief brush with stardom. Her story starts in Louisville, where she was born at General Hospital on March 21, 1939. Her parents separated when she was only three years old leaving her father, Alex, with custody of Loraine and her three siblings, Douglas, Barbara and Ann B. She started school in a little two-room school house near the Southwick area. Ms. Cunningham, her teacher, noticed how bright Loraine was and advanced her from the second to the fourth grade. She finished at Western Elementary School and then attended Madison Jr. High. Part of this time she lived with her aunt, Mattie Hayes.
Loraine's musical genes go back to her grandmother on her mother's side. She used to sing so loud while cooking in the kitchen that people would pull over to the side of the road in Brownsville, TN., to listen. Loraine's uncle, Isaiah, was a well-known local pianist who played blues and ragtime during the 30's and 40's. His son, Billy Rudolph (Loraine's cousin), also plays keyboards around Louisville.
Loraine got her religion and her early singing experience at the 3rd Christian Church on Chestnut St., often soloing in the choir because of her strong voice. Once, when the preacher came by the house, Loraine sang Louis Jordan's "Knock Me A Kiss" and Aunt Mattie punished her for singing a street song instead of gospel. Loraine was taken back by her mother, Glowdine, who was working as a domestic at $4 per day. Glowdine was distinctive, with fair skin, freckles and red hair. People said she could pass for a white lady.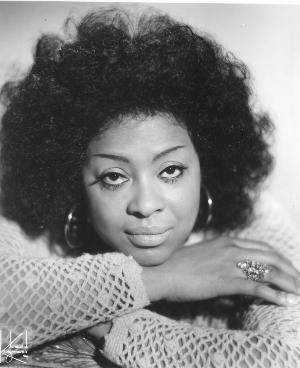 Loraine Rudolph
It was in high school that Loraine decided she wanted to be a singer. At Central, she teamed up with her two sisters for a talent show. Ed Smith, who was with the duo the Starlings, wanted to have Loraine join their group. They sang on street corners and at the Pool Park on 17th St. Loraine and her sister Barbara graduated from Central together in 1956. Ms. Douglas, the girls' counselor, wanted Loraine to go on to college and she did go to Iowa State University on a scholarship, studying architecture and aviation. That lasted only one semester, because, as Loraine said, "it was too cold up there."
Loraine was only seventeen when she returned to Louisville. She moved out of her home at eighteen and roomed in an apartment with Barbara near the Top Hat. Loraine would frequently try to sneak into the Top Hat but the owner, Frankie Maxwell, told her to get out, since she was underage. So she had to peep in at the side windows. Joe Cook, who sang with Louis Jackson and The Houserockers, heard Loraine and, since he felt the band needed a female singer, Loraine sang with this swinging band in 1957 and '58, with Ben Ingram on bass, James Ross on piano, Ducker playing sax, Little Man drumming and the front man, Louis Jackson, on trombone. They were the house band at a white club on Dixie Highway. The dance floor was on one side and the bar was on the other side. During the band's breaks, they had to sit in a separate, segregated area by the bar.
After their gigs, they would catch the late acts at the Top Hat or go to Will Laird's Tourist Home. This was the place on 15th St. where all the black performers in show business would stay during the `Fifties. There was an "after hours" joint with a bar in the back. Idle Hour on Madison St. was another spot with a bandstand behind the bar. Loraine remembered those wonderful Idle Burgers. During this time, Loraine took other gigs, singing in jazz trios with Ray Johnson, Boogie Morton, Raymond Howard and Ed Chestnut, Sr. She also sang with the Morgan Brothers, Dave and Luther. She remembered that they would take advantage of her by not paying her, since they knew how much she liked to sing.
Loraine and former Moonglow leader Harvey Fuqua go way back, as he was the paperboy in her neighborhood. When Marvin Gaye was singing with the later edition of the Moonglows in the late Fifties, Fuqua introduced Marvin to Loraine and wanted them to go to Detroit to cut some records. Harvey and his wife, Gwen, who was a sister of Motown's Berry Gordy, formed Tri-Phi Records, a subsidiary of Motown. Gwen had Loraine change her professional name to Lauri.
Loraine recorded four sides in 1962 on Tri-Phi: "Don't Let Them Tell Me," "Grieving About A Love," "That's What I Am Without You" and "Little Ole Boy, Little Ole Girl." The last two were duets with Joe Charles, a singer Fuqua brought to the studio from Chicago. Tammi Terrelle also recorded "Little Ole Boy" later.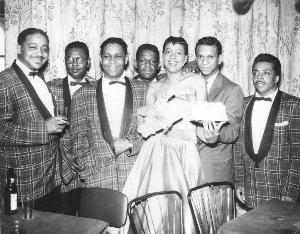 Joe Cook and the House Rockers celebrating Rudolph's 19th birthday. L to r, Louis Jackson, sax; James Ross, piano, Ducker, sax; Ben Ingram, bass; Rudolph; Joe Cook, vocals; Little Man, drums
Other groups that recorded with Tri-Phi at the time were Jr. Walker and The All Stars, the Spinners, Johnny Bristol and Gaye. Marvin married Ann Gordy, another of Gordy's sisters, and he switched over to Motown where, Loraine said, "he was primed to be a black Frank Sinatra."
Loraine got to know the Gordy family, who were all a part of the Motown recording business and stuck close together. Gordy's parents had a mom-and-pop grocery store which was converted into a rehearsal hall for Tri-Phi and they lived upstairs.
Loraine said, "when you signed a contract with Motown, they became your agent, manager, publisher, producer and co-writer." Loraine felt they tried to control her life. There was a fictional novel written based on the Gordy family titled "Number One With A Bullet." When the Gordys recognized themselves in it they tried to stop distribution of the book.
Tri-Phi needed to get another big hit after the Spinners' "That's What Girls Are Made For," and didn't and was eventually swallowed up by Motown Records.
Loraine moved to Maryland near Washington, D.C. where she formed her own group, The Night Shift Band. Pver the years, she opened for B. B. King, Bobby Bland, Johnny Taylor, toured with the Spinners and performed at Washington's annual River Fest by the Potomac. She sang at the Midnight Ramble series at the Center in 1997 and hosted a party at Willie Bright's Velvet Rose the following year, honoring Ed Hamilton's "Spirit of Freedom" sculpture in Washington, D.C.
Loraine still maintains a residence in Louisville and will return in late April. Several auto accidents have slowed her down to where she schedules only two or three gigs a year, performing while sitting on a stool. Based on listening to some of Loraine's recent tapes, she needs to be recorded with some of her old friends.
Time to Get On Board
The big yellow school buses will be departing again on Saturday, May 17th, for the umteenth annual blues cruise. We will be leaving on the Baxter Ave. side of Mid City Mall promptly at 5:30 p.m. to go to Stevie Ray's. The King Bees will be buzzing on the bandstand with barbeque served out in the Voodoo Garden. The Black Cat will be our next venue and Billy's (new) Place on Broadway will close out the evening. The cost for the three covers, food and transportation is $25 for KBS members and $30 for nonmembers. Get your reservations to Bob Cox by May 7 by calling 893-0173. There will be a group photo in the parking lot before we leave.