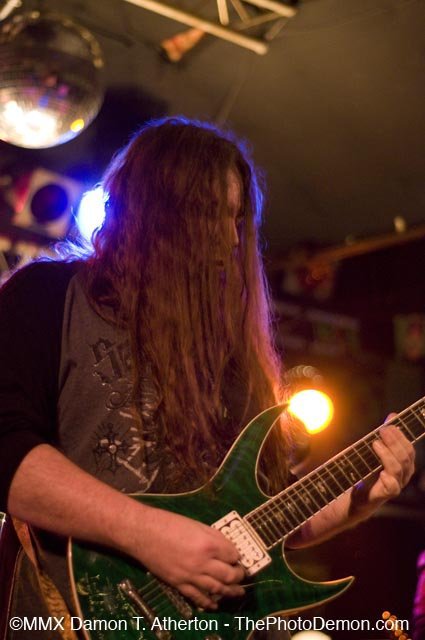 News From the Pit
How's it going, rednecks?
I've recently returned from my trip out West and I must say that it was just what the doctor ordered. There's nothing quite as peaceful as chillin' at the top of a 2,500 foot cliff atop a 13,000 foot mountain. Man, what a rush!
I don't know about you people, but sometimes I just got to get the hell out of this state before I go crazy and start cappin mofo's!
Speaking of `cappin' some mofos,' I've been patient and courteous to a certain organization for as long as I can. Until these people acknowledge that there is a thing called the Louisville metal scene, I simply cannot support them any longer.
I've had them tell me "yeah, we'll work out something" when I complained (often), but no metal bands ever get booked on their shows. I have patiently waited for a change but none has come.
So I do what I do now for the sake of all us freaky people who like the hard-hitting music and don't appreciate being left out. To L.M.I.A, also known as Louisville Music Industry Association:
When you first contacted me you said your organization was for all musicians in this scene. You told me the $35 dollar member fee was non-profit and designed to help out fellow musicians all in all. You told me L.M.I.A was going to be a big part of the Louisville music scene in years to come.
Sorry, but all I've seen is musical bias. I think if you don't start supporting the heavier, more modern-sounding bands, you will just be an irrelevant group that the young people will resent or not give a damn about. If you want to put on shows and do some good for this scene, that's great. Blues, light rock or acoustic rock is cool and all, but don't treat us metal musicians (yeah that's right, musicians!) like we are not worthy of playing one of your shows. And to ignore this particular metal scene is not very smart.
So the question is: are you really going to do some good and include the heavier stuff as well, or are you going to be irrelevant to a huge portion of this music scene, all the while cutting your own throat?
The Metal Grapevine
Sayonara, Tekworld: I cannot get any confirmation on the fate of Tekworld, but since I don't see many dates for August, I am left to conclude that this, my metal loving friends, is the end of the Tekworld era. Special thanks to Jennifer and Percy (my M.F) for all they've done for the scene. Good luck. I will miss how Jennifer said our band name "Ter Teenff Revel"!
Thanks, Headliners! I have noticed that Headliners is starting to widen their horizons, bookingwise. So thank you to whoever is responsible for making the owners see the light. That place could be really awesome. Don't be scared. Book all kinds of music!
Element H Changes Name To Breckinridge: The official new name of Element H now Breckinridge.
Odesa Releases CD: Southside Hellride is now available. Pick it up at any of Odesa's shows. See Pappy's dates below.
It' s A False Incursion! False has acquired a new bassist in Van Avery of Incursion502. They all seem to dig it, so I think everyone will be happy.
Point Of Anger Needs Skinsman: Any drummer interested in auditioning for Point Of Anger should contact Mike at pointofanger@msn.com, or call 643 - 5116.
Krosmember Reunion! The metal/hardcore guys from Rineyville KY are back to do a reunion show on Saturday, August 9 at Expo 5. I always liked those guys. Super heavy riffs with actual singing. My kind of stuff.
Covers To Originals! A few cover bands have decided they really want to rock. They get bored with playing the Top 40 radio music, so they created their own original heavy music as a separate project.
Members of the cover bands 99 M.P.H and Mouth Of Madness ( now Blackhorse) will be performing some of their original music. These guys are excellent musicians. I'm thinking this will be a show not to miss. See Phoenix Hill dates below.
New Band Alert: Hushroom: Everyone knows Kevin Hart: he's the laidback dude who played guitar with Louisville rockers Creed (no, not the gay radio band!) And he formed the popular acoustic rock act The Constant. Well he has a new band out and I'm sure they will be good. Kevin is a guitarist who plays with soul and feeling. And wouldn't have it any other way. Hushroom will be ready to play out within a month, according to Kev.
See Phoenix Hill dates below.
Sara Tonen Calls It Quits: The band Sara Tonen is no more.
Kallus Seeks Vocalist: Anyone interested in trying out should contact white75@webtv.net Must be able to screech like a dying cat and growl like a bear. Puking on command is a big plus.
LRS Band Battle!:Every Thursday from now till the end of August at O'Malleys Corner there will be two bands competing with each other to win Studio time. No one sent me the info on the bands playing, so call LRS for all the information you need.
Upcoming Shows
Expo 5
August 8 and 9 - The 502 CD release party. Friday, August 8 - The show starts at 6:30 P.M and this is the order as goes: V Alive II Dead, Ketchup Stigmata, East146, One With Misery, Artificial Zero, Silent Q, Doubting The Obvious, False, Blyss, Execrate, The Exhaustion Method and Kallus.
Saturday, August 9 - The show starts at 5 P.M and this is the order: Evil Engine # 9, Puc, 12V Negative Earth, Wasted Dayz, Krosmember (reunion), Tornacade, Nemesis, Element H, After The Fall, My Own Victim, Hallowtide, Silent Agony, Gasket and Incursion502.
Thursday, August 14 - Namaste recording artists Fatal Smile with Voodoo Doll and High Output.
Saturday, August 23 - Namaste recording artists Ugly Machine, two local bands T.B.A.
Main Street Lounge
Thursday, August 7 - Doubting The Obvious with Sony Records recording artists Green Lizzard.
O'Malley's Corner
Thursday, August 21 - LRS Band Battle
Pappy's
Pappy's is located at 8807 South Third street.
Saturday, August 2 - Nemesis, Odesa, Puc and Solvi (Nashville).
Tuesday, August 5 - The Dave Brockie Experience (three ex members of GWAR), Urinal Mints, The Ghostbusters, Luther and Gasket. 7 p.m.
Saturday, August 23 - Beautiful, Fear of Silence, Fear of Silence and the 13th Level.
Saturday, August 30 - Odesa, Vieaggressiff, Shotgun 12 (central Kentucky) and Arch.
Phoenix Hill Tavern
The Original Rock Showcase Series.
Friday, August 1 Evil Engine # 9, Eclectic, Month Of Sundaze, High Road Crown.
Friday, September 5 Blackhorse ( featuring ex-members of Mouth of Madness), Hushroom (featuring ex-members of The Constant), 99 M.P.H (their original music, not covers!) and Intheclear ( featuring ex-Factor 9 vocalist).
Rudyard Kipling
Sunday, August 3 - Scissorfight, Odesa and The Glasspack.
Sunday, September 7 - My Own Victim, Odesa and Leadfoot (Ex-members of C.O.C.) .
Tekworld
Friday, August 1 - Incursion502, One With Misery, Shuv, Bloodshed and Starekase.
Saturday, August 2 - After The Fall, Blyss, Hallowtide and Execrate.
Saturday, August 9 - Summer Dying, False, Assisting Sorrow, Gaebalein and Severed Soul.
Saturday, August 16 - The Revenants.
Outtatownerz or Otherz
"The Derby City Rocks Show" at the Derby City Tattoo Expo, Saturday, August 9 Hotel in the Devonshire Room at The Executive West. Scheduled are Zampeg Moltar, Hikru, American Motherload, Magnetic Flux and Odesa. 9 p.m.
Props Of The Month
This month's props goes out to Julie of Vixenvideo for putting on Korestock. I was only there for a short time but I had fun the time I was there. Frisbees, beer, cowpiles and live music. You can't beat it!
There was a good deal of work involved in this year's Korestock. That was easy to see. Julie spent some serious time planning this event. There were a few glitches, but you cannot take away from Julie's ambition.
A bummer was the P.A. system was set up wrong. Always put your main speakers in front or off to the side of your singer. Never ever should your main speakers be put directly behind the vocalist! If you do, more than likely the singer will sound distorted and you will have considerable feedback. And furthermore I seriously could have done without stepping in that big cowpile. And I was wearing flip flops! It's a fargin miracle nothing got on me! Thank goodness everyone was watching the bands when it happened. Lesson learned: never play Frisbee in a cow pasture! But other than that, total props to Julie. She doesn't BS around. The scene thanks you for your time and effort.
We need more cool people like her in the scene. Hint, hint.
Final Note
I know sometimes I complain a lot. And I know sometimes I p**s people off.
But everything I write is true. And I have found that you can affect things by public complaining. I get paid to inform you people, so I'm gonna inform you to the best of my ability. And if it means giving a few individuals, or organizations a serious wake-up call, then so be it. Thank you to all of you who support and appreciate the integrity and honesty of Louisville Music News. I've gotten overwhelming support from you freaks.
Keep it up!