Happy MERFDay
Happy MERFDay!!
That expression was re-introduced into Louisville's lexicon on November 16 after an absence of ten years, as the newly reorganized, renamed and reenergized Musician Emergency Resource Foundation staged its initial Twenty-first Century fund- and image-raising event, a ten-club, seventy-band affair. Ranging even more widely - both geographically and stylistically - than the events MERF held in the early Nineties, the MERF crew put it all together in a relatively short time, according to MERF President Wayne Young. Having the planning documentation from the earlier event was a significant aid, he said, allowing the organizers to focus on organizing music and staffing each club while avoiding the sort of glitches and oversight that frequently plague similar start-up events.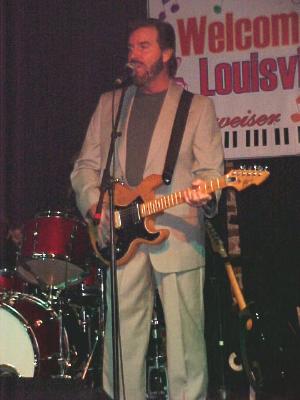 Wayne Young at Stevie Ray's
Young and his band, the Youngsters, kicked off the blues genre at Stevie Ray's Blues Bar at 6 a.m. and then spent the evening traveling from club to club, checking up with the coordinators at each venue, chatting with the venue owners and generally "showing the flag." The night wound up at the packed Blue Martini on Baxter Avenue for an after-show party and initial wrap-up of the night. While the overall revenue was considerably less than in previous years, Young announced that he was pleased with the results.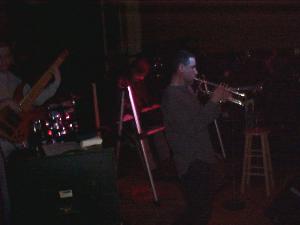 The problem, he said, was with radio, noting that the acquisition of radio stations by just a few highly centralized corporations has greatly reduced or eliminated outright the local control of content and decision-making that previously had been the case. Without strong radio support for the event, getting the message out to music fans and energizing them is much more difficult for a small not-for-profit organization such as MERF.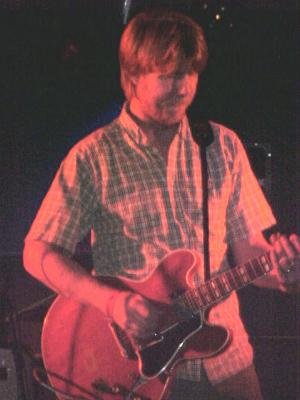 Greg Foresman at Uncle Pleasant's
The decades-long decline in attendance at live music events, which was temporarily halted during the years of the baby boomers' youth, has been accelerated and exacerbated by the enormous increase in available entertainment choices, particularly those at home, he explained. The new version of MERF, renamed from the Musicians Emergency Relief Fund, will focus on educating musicians in the business aspects of the industry as well as assisting them when they get into rough spots. Cooperation and coordination with other groups working to improve the situation of Louisville musicians is also in the plan.
The crowd at the Blue Martini seemed to belie, at least temporarily, the rather downbeat assessment as they scurried to find seats on the floor for the evening's closing act, Travis Meeks, songwriter and leader of the band Days of the New. For that moment, there was still the sense that the glamour, fame and adulation that drives many musicians was still attainable and that, finally, was enough for MERFday.