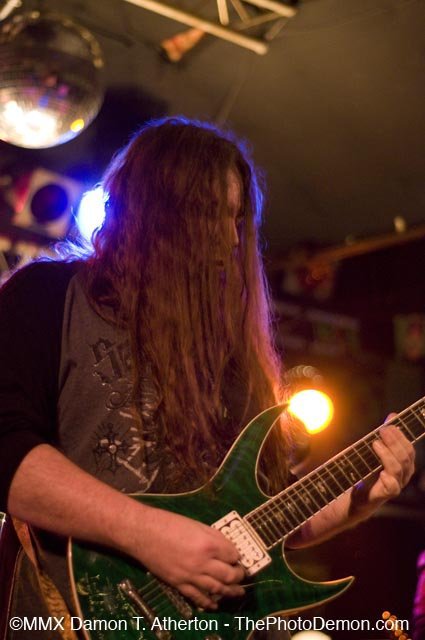 News From the Pit
I like to call it "The Gunfighter Theory." Back in the old West, it was when some unknown person attempted to take someone down who has made a name for himself. I guess it's still true today, unfortunately.
I was at one of the shows I promote, a metal show and it was a great metal show, everyone got along exceptionally, that is.....until a longtime bully of this music scene decided to try to destroy me, along with my relationship with the venue. This character apparently had the intent to come to my show and start as much trouble as he could. I know this person and he is a bully of the worst kind who takes pleasure in punking people out or humiliating people he don't like.
He approached me and accused me of not giving his band a show because he said I dislike him. First of all, I have given his band a show before and the reason why I am hesitant to book them is that they took entirely too long to set up and tear down, chatting with friends and whatnot and when I asked the guy to speed things up a bit, I was told "F*** You"!
Behaving that way is not the way to get invited back for future shows.
If any band can't follow my simple rules for an organized show, then I don't want anything to do with them. So I told him to his face, politely, that that was the problem and I was working my way to telling him I would forgive him if I got an apology and was promised that they would follow the teardown/setup rules, that I might forgive him and give them a second chance.
But before I could get to that part, this person started insulting me, putting his face to mine and causing a scene by his loud ranting. I immediately went to security to eject the troublemaker. The Security guy said that since there was no fighting, no-neck could stay, but he had to stay away from me.
He then ran his mouth off loudly to the whole bar how I was dissing his band and how much of a coward I am. I ignored him and continued on with my show. I would let nothing jeopardize my shows at that venue, a I have been there too long and worked too hard to let some drunk ruin it.
Later that night, I was walking alone through a part of the bar toward the exit. I was tired and was heading home when I saw the guy, plus a few friends, between me and the exit. I attempted to walk right past and out the door, but he saw that there were no security in sight, so he snatched me up, grabbing me by the shirt with both hands and pushing them into my throat, all the while pushing me back towards the wall, saying "I was going to get it," or something to that effect.
I could see that I was going to be in a fight whether I wanted to or not.
I had been insulted and humiliated and now this guy wanted to throw me around. However, I had had enough of this braggart. Seeing that I was all, I hit him with a right hand to the mouth, extremely hard, just to get him off of me. Apparently my aim was good and my anger had added strength: I sent him to the ground on hands and knees.
I could have inflicted serious damage, even sent him to the hospital, had I wanted to, but seeing ol' loudmouth sprawled on the ground was good enough for me.
Then security arrived and the guy slowly got up and said - in a most pathetic and innocent-sounding manner - "Eddy Metal sucker punched me in the mouth"!
His desperate attempt to make me lose my venue was in vain though, because the venue management knows me very well, knows that I am a laid-back and friendly person who doesn't start trouble. And besides, there were witnesses who saw everything. All he achieved was to be banned from the club and for everybody to see how he really is and see him suffer the worst fate of all bullies: to get stopped by someone whom he had tormented.
Of course, he has sworn revenge, even calling me, saying "watch your back."
I am in no way scared of this guy - I've already proved that - but I don't intend to fight him every time I go out to review, or to play a show, until while he tries to redeem himself with the "Bully Community," so I've filed a complaint to the police. If he comes at me again, I'll defend myself, again. Except next time, he'll go to jail afterward.
The Metal Grapevine
Got Attitude? All you freaks need to get down to Headliners on December 5 and 6 to see some really heavy music from this area. Black Frank from 100.5 the Fox's "Attitude Network" is hosting this one, so get down there and support the brutal stuff!

And tune in to his show, he plays some heavy tunes that no one else plays.

It's on Saturdays at midnight.

Factor 9 Reunited? Rumors abound. I ain't saying zilch, except that it isn't confirmed yet. I miss the Factor guys, so I'm hoping. When I know for sure, I'll let you know.

Engrind's New Vocalist: Louisville music scene veterans Engrind have found a new vocalist. Donnie Hardin (ex-Point of Anger, ex-Rampant, ex-1080) has taken over duties on vocals. A new CD which includes eight tracks is in the finishing stages to soon be released. The return show of Engrind will be day two of "The Attitude Fest" at Headliners Music Hall on Saturday December 6 at 7 p.m..

Blyss CD Coming! Local rockers Blyss have been hard at it, recording over 18 songs with Paul Hart at DemoKing for their much-anticipated upcoming release, due out after the first of the year. Keep your eyes and ears open for more Blyss info very soon.

Snapdragon Expressway: Indiana pop/punk band Snapdragon Expressway recently finished recording a demo with Louisville's DemoKing.

New Band Alert, 7 Day Sun: 7 Day Sun, featuring ex-members of Execrate. www.7daySundaynet. See them at Tailgaters on December 20.

Pro Drummer Needed! Drummer needed for touring with a signed major label rock act. Professionals only apply. Great opportunity. Must be able to play to production track, samples or click track. Must have own equipment and vehicle. Must be able to travel and be away from home for large amounts of time. Please email resume, personal info and phone number to bands manager at michael.baker@detourmusicnews.net.

No Place Like Home: I understand a lot of bands are needing a practice place and it's starting to kill some bands drive. It must suck to play in an unsecured garage or something. I am blessed with having a basement to jam in, now I appreciate it even more. Good luck in your search and don't give up.

Upcoming Shows

Air Devils Inn

Friday December 5 Multiple Personalities, The Unheard, Boney-b and ET & Triple Crown.

Headliners

Tuesday December 2 Hot Action Cop with T.B.A.

Friday December 5 Attitude Fest with 100.5 the Fox, featuring Bloodshed, Nemesis, Caustic, Lust4hate, My Own Victim, Beautiful, Filth porn, Flatlyne & DeadSunday

Saturday December 6 Attitude Fest Day Two, with Violenze, Engrind, Kallus, False. MSD, Coldshovel, Jefferson County Drunktank, Incursion502 & Maltese Cross.

Both shows start at 6 P.M.

Kelly's Lounge

Saturday December 6 Sow The Seed, Fail To Falter, Chase Dabney & High Road Crown.

Phoenix Hill Tavern

Friday December 5 Original Rock Showcase with Pilot Fish, Garden Of Stone & After The Fall & Luther (unconfirmed).

Saturday December 20 End Of Me CD Release with Turn 3 & Eclectic.

Friday January 2 Original Rock Showcase with Flatlyne, Silent Q, Voodoo Machine & Never.

Rudyard Kipling

Friday December 12 High Road Crown.

Tailgaters

Saturday December 20 Doubting The Obvious CD Release Party with Evil Engine # 9, DTO & 7 Day Sunday

Uncle Pleasants

Louisville Music News Music Showcase.

Friday December 19 My Own Victim, Luther & T.B.A.

Saturday December 20 After The Fall, Fail To Falter, Month Of Sundaze & Silent Q.

Props of the Month

This month's props go out to the Phoenix Hill for booking so many local shows here lately. The Hill and 100.5 the Fox get props for bringing in a kickass weird band like Lacuna Coil. They blew everyone away. The jam session done by Lacuna Coil live on the air was great, too. Excellent idea and sound quality.

Props to Black Frank and Scott Clark for hooking us up with something different and non-trendy.