I've Got A Mind To Ramble
So Long Fred
It's not an easy task to relay the passing of a bluesman who has been playing his music in Louisville for 60 years. Fred Murphy died peacefully on November 8 at Jewish Hospital. He was 84 years old and had been performing with the 10th Street Blues Band as recently as September 27 at the Kentucky Folklife Festival in Frankfort. Visitation was at Perryman's Mortuary at 34th and Broadway, a small funeral home filled with sentimental nostalgia and memorabilia. Fred was laid out in his finest black suit with his harmonica cradled in his hands. Pen and Brenda Bogert had prepared some display boards of photographs showing some of Fred's recent performances. The funeral service was on November 15 at Oak Grove Baptist Church. Where there was a wonderful tribute to Fred, with personal testimonies from several friends and relatives. As one of his granddaughters said "he didn't leave much money but he left lots of memories."
Pen Bogert played a recording of Fred singing and playing his harp on "This Little Light of Mine." Fred loved to sing gospel as much as the blues. Anyone who has heard Fred sing can sense his distinct, sanctified sound. He can take you to church as easily as to the brink of despair or joy. When Reverend Thomas French did his impassioned eulogy about the love in Fred's heart, he was right on target. He said "no need to be ashamed of the blues because everyone has the blues. The President has the blues because he got us into a war he should never have. Amen. The Democrats have the blues because they are losing their grip on the South. Amen." Now these are strong words from a Baptist minister. Reverend French did his homework with references to the Rolling Stones taking their name from a song by Muddy Waters. He made the wonderful biblical analogy of David playing his harp to soothe King Saul. Fred's harp has soothed many a soul over the years. Fred's service was a joyful experience, just the way he would have wanted it. The interment was at Green Meadows Memorial Cemetery. I hope money can be raised in the future for a headstone on his grave.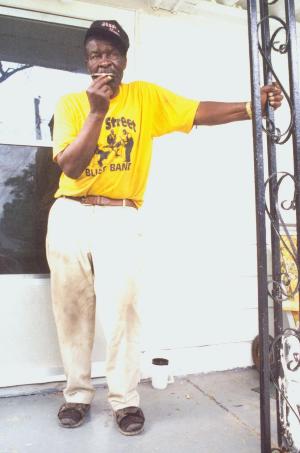 Fred Murphy.Photo by Keith Clements
In the June 2001 issue of Louisville Music News, I wrote about Fred's Tennessee roots and musical associations in Louisville based on a delightful interview we did on his front porch. Fred enjoyed sitting on his front porch acknowledging the neighborhood he loved and growing greens in his tidy backyard garden. Rather than rehash Fred's 84 years again, the following are a few special personal memories.
The first time I saw Fred was a concert at the Water Tower in the early `80s. Winston Hardy had just assembled his first Original Blues Band with Foree Wells, Smoketown Red, Annie Ophelia, Marshall Anderson and Fred. Little did I realize the significance of assembling so many of these entertainers together for this gig. There was Fred exalting and prophesying the blues like no one I had ever heard.
Occasional visits in the late `80s and early `90s to that smoky cinderblock back room of the 26th Street Tavern where Fred - and later Joe Wells - held reign were revelations. This was the real thing, down-home blues in an authentic context. Fred would stand on his chair or lie on his back blowing those long repetitive notes on his harp.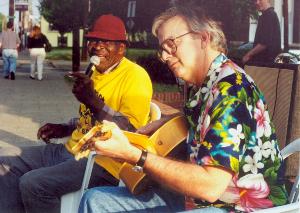 Fred Murphy & Pen Bogert busking at the Mid City Mall. Photo by Keith Clements
The thrill and joy of presenting Fred with the Sylvester Weaver Award in 1995 at the Garvin Gate Blues Festival was my most memorable moment. He was so proud that night and showed that plaque to everyone.
The various buskings on Bardstown Road were informal events Pen Bogert organized each Derby Eve for the past three years. The first two years, it was just Pen and Fred performing to the exciting mix of revelers by Mid-City Mall. This year they were backed up by the 10th Street Blues Band, which included Sonny Sitgraves, James Watkins and Billy Bird. Fred would get up out of his chair to stomp and gesture at anyone who would listen. (I hope this sidewalk gig will become an annual event in honor of Fred.) Finally, Fred's House Party at Stevie Ray's on July 14, 2002 was a fitting tribute by several bands and fans to the blues legacy that Fred has left in Louisville.
I have but two wishes. First, I wish I could have seen Fred and Henry Woodruff when they performed together as the Sunset Royals at the Sunset Bar located at 8th St. and Liberty during the `50s. Besides Fred and Henry singing and playing harp and guitar, there was Thomas (Bodie) Bridgefoe on piano, Bill Everett and later Paige on drums, and Duke playing guitar or piano. They used to pack the place when they weren't booked out of town. Second, I wish I could have seen Fred and the 10th Street Blues Band at this summer's Folklife Festival in Frankfort. I'm told Fred summoned all his energy to put on one of his best shows ever. Maybe he knew his time was near and rose to the challenge. KET taped this performance but unfortunately it was inadvertently taped over.
Fred's musical career was long and colorful starting as a young boy in the fife and drum tradition in the farming country east of Memphis and busking on Beale St. before he came to Louisville. He has bounded back from many personal, financial and health problems. Under the previous management of Gilbert Jennings and the devotion and accompaniment of Pen and Brenda Bogert plus the care and concern of his neighbor Gloria Gibson, Fred's golden years have been very satisfying. His passing marks an end of the era of the older generation of bluesmen who took their country blues to the city, only, fortunately, Fred never got the country out of his music.
Post Biscuit Blues
The Sunday following the King Biscuit Festival we went to Clarksdale, MS, to visit the Delta Blues Museum, which permanently houses Muddy Water's log cabin. Earlier that morning there was a mass photo shoot in Tutwiler, MS, for all the musicians and dignitaries who had performed at the Festival. This picture will be published in Blues Review magazine. Tutwiler is where, 100 years ago, W.C. Handy first heard a musician in the train station run a slide over the guitar strings, creating this strange music soon to be called the blues. A few blocks away from the Museum Big George Brock was performing in front of the Cat Head. This curious store and cultural center is full of primitive folk art and blues items. George blew his Mississippi saxophone and sang "Let Me Put the Tackle On Anything." W and J Smoke House was serving barbecue next to the band. Their big ornate red and black cooker had the words "Man does not live by bread alone" on the front. We also checked out Dela's Stackhouse, the old steamboat style structure that Jim O'Neil had used as his base of operations when he lived in Clarksdale. It is now run by Nancy Kossman who sells blues records and sponsors the Sunflower St. Festival there in October. The word was out that over at Hopson's Plantation just outside of Clarksdale on Hwy. 49 there was the 3rd Annual Homecoming Celebration for Pinetop Perkins. Musicians and festival fans were assembling in the old commissary building, which is like an enlarged juke joint. The interior is filled with relics from the plantation, a bar in the back, and a small kitchen that was dispensing more barbecue. Pinetop was enjoying all the attention and played briefly with Bob Margolin's Band. Charlie Musselwhite, Little Arthur Duncan, Bob Corritore, plus several local musicians were there to enjoy the ambiance and jam. We hung around as long as we could until it was time to hit the road and head back up to Memphis and do Beale St.