I've Got A Mind To Ramble
Butch's Dream
Last month when I wrote about Mary Ann Fisher's new CD, Songbird of the South, I briefly mentioned Rob "Butch" Williams. Butch was the one who provided tapes of Mary Ann when she recorded two 45's in 1959 on the New York-based Seg-Way label. I just had to see these records, so I made a visit to Butch's apartment to see his collection. Butch is a serious collector, with shelves in his living room overloaded with LPs categorized into sections for Motown, Doo Wop, Soul, Jazz and R&B, plus more shelves in his bedroom. Butch pulled out a box of 45's that were all locally produced records. Many were on the Fran (later Frantic) label.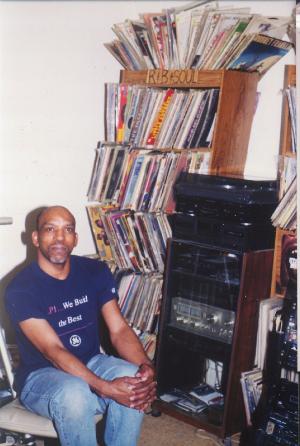 Rob Williams and part of his collection
One record that caught my eye was Preacher Stevens with the Foree Wells combo, recorded in 1958. Butch put the A-side, "Unemployment Blues," on the turntable and out of the speakers came this rough, shouting style of blues from a local musician that I never heard before. Butch had several recordings of the smooth vocals of Cliff Butler, including two versions of "Love from the Heart." He also had Cliff's first record, "When You Love," on red vinyl, that was recorded in Chicago in 1953 on the States label. There were the two records of Mary Ann in pristine condition. For the record, they are Seg-Way 1001 "Forever More"/"I Can't Take It" and Seg-Way 1007 "Give your Love to Me" (written by Don Covey)/"I Can't Take the Heartbreaks." Butch has a compilation LP titled "Rock and Roll Dance Party" he picked up in Pop's Record Shop in Lexington with another song by Mary Ann called "Wild As You Can Be," which was distributed in England on the Fire label. We wondered what was on the B-side. Mary Ann doesn't remember. There is also another single on the Imperial label he is trying to find. Butch scours the thrift stores and flea markets for these treasures and sometimes travels out of state to swap with other collectors.
Butch has donated some of his classic blues 78s to Shirley Dixon at the Blues Foundation in Chicago, including Jimmy Rogers' first hit "Ludella." He showed me another 78 on Okeh which he plans to give to her, titled "Violent Love" and "Lonesome" by Shirley's father, Willie Dixon, when he played bass in the Big Three Trio.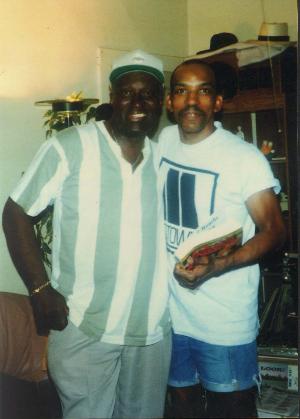 Harvey Fuqua and Williams
Butch has a display of his records planned for the African American Heritage Center when it opens on Muhammad Ali Blvd. He even has all the records ever issued by Muhammad Ali, including a 45 on Columbia done in 1963, with "Stand by Me" on one side and "I Am The Greatest" on the other. Ali's Columbia albums have him rapping live in a Louisville nightclub, singing for kids about Mr. Toothdecay and more rapping and singing. These items are destined for the future Muhammad Ali Center.
Harvey Fuqua, the Louisville singer who formed the Moonglows, has kept in touch with Butch. Harvey is still in music production and they rerecorded "Sincerely," the Moonglows' biggest hit, at Butch's apartment with Harvey on keyboards, drums and bass and Butch playing guitar and doing the vocals. Butch has also produced his own CD, called "Blues for My Father," with a little instrumental help from Benny Higgins and Rick Debow on alto sax and Joe Debow playing harp. In addition to collecting records and recording, Butch formed the vocal group Enterprise in 1969 which toured regionally through 1971. In the late 70s, Butch sang with the jazz fusion band Crisis and in the mid-80s with Area Code 502, which were the house bands at Joe's Palm Room. Last year Butch performed with The Revenue Band in addition to his day job at G.E.
One of Butch's most interesting ventures was producing Stargazer from 1993 to 1995. This local cable TV show showcased all types of local talent, past, present and future, including R&B, rap, country, gospel, blues and jazz with Marjorie Marshall as host. Mary Ann Fisher was featured on two shows from 1995, performing with the jazz duo Walker and Kays. Butch showed me his scrapbook, which bulged with clippings and photos of local musicians and musical events, plus a closet filled with guitars that he occasionally plays. Three guitars are classic Epiphones and the other is a solid body guitar, handmade by New Albanian Ken Dooley. Some of the chrome pieces were made from a car bumper. Butch's dream is to have his own radio show, where he could talk about and spin some of the music from his vast collection.
Blues Bits
Bit #1 "Blues Night at the Filson" is scheduled for February 21 at 7:30 p.m. The Filson Club is located at 1310 S. 3rd St. where blues musician and historian Pen Bogert works. The 10th Street Blues Band will be the entertainment with Bogert, Billy Bird, James Watkins and Sonny Sitgraves. Billy has taken Fred Murphy's place on harp and vocals. There will be exhibits of Louisville's blues heritage with drinks and light refreshments served in the main parlor. The cover ($25 non-members and $18 members) goes to raise funds for the Lewis and Clark expedition exhibit that is planned for Main Street later this year. Reservations can be made by calling 635-5083.
Bit #2 The bank account of the Kentuckiana Blues Society has been shrinking due to continuing newsletter costs and smaller membership. To fill our coffers, a KBS House Party will be held on March 2 at Stevie Ray's, starting at 5 p.m. There will be a modest $5 cover, whether you are a member or not, with food provided by Champions. The tentative line up includes the Mudcats, the Saints, Lamont Gillespie and 100 Proof Blues and, maybe, Tanita Gaines. Please come out to keep the KBS out of the red and in the blues.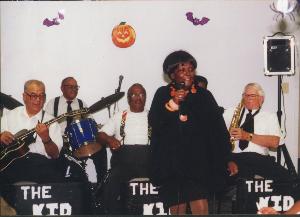 Mary Ann Fisher with the Kid Pete Band. L to r, Ed Chestnut Sr., guitar; Kid Pete, drums; Kenneth Tyler, trumpet; Fisher; Billy Rudolph, keys; Ernie Threlkeld, sax.
Bit #3 Earlwin "Kid Pete" Thompson passed away on Saturday, January 11, 2003. He was 69 and was the leader of the "Kid Pete Band" who provided the steady drumbeat and was a master of the brushes. I first heard Kid Pete at a concert which also featured Mary Ann Fisher and Boogie Morton, organized by Pen Bogert at the Western Branch of the Free Public Library ten years ago. His sensitive touch on the skins was a lesson that all drummers could learn from.