Name: Chris Shewmaker
Age: 31
Instrument: Vocals/guitar/keys
Band/Former Bands: Currently in Flatlyne, formerly of 13th Level, Killcycle, Unrule, Engrind and several lesser-known cover bands.
How Long On Instrument: Vocals for 18 years, guitar for 9 years and keyboards for 20 years.
Equipment: "Tried but true" Shure SM-58 mic, Alesis Midiverb effect unit with an Art foot controller.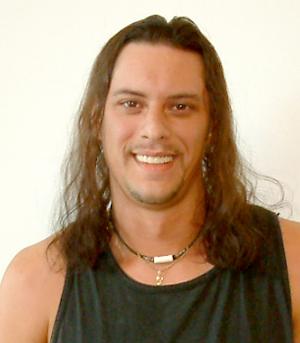 Chris Shewmaker
Influences: Lajon Witherspoon, Mike Patton, Kings x, Scott Weiland, Josie Scott, Jonathan Davis and Dallas Smith.
Hobbies: Fitness, movies, video games, reading and spending time with those I love.
Favorite Movies: Star Wars movies, James Bond. I love action movies!
Favorite Food: Anything Chinese!
What I'm Listening to Nowadays: Saliva, Kings X, Creed, Default, 311, Korn and various Louisville bands.
Coolest Thing I've Done: One of the coolest things I've done was playing the first Crusade For Children concert with Flaw, Faceplant and Shapeless Matrix at the Brewery Thunderdome. Also the Belle of Louisville show last summer was really cool, too.
Most Embarrassing Moment: Probably now...because I can't think of a "most embarrassing moment"!