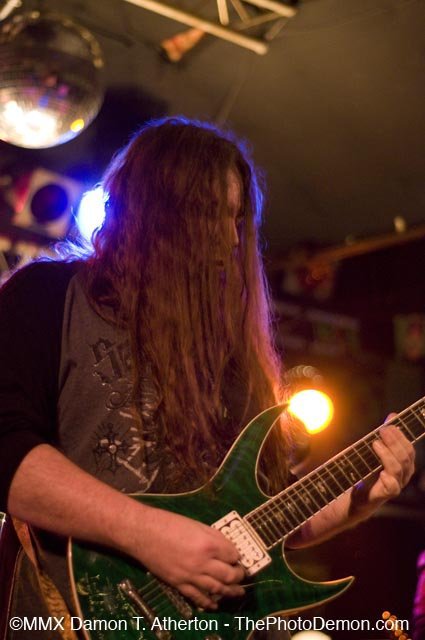 News From the Pit
Greetings demented ones.
I'm back again with another session of whining, bitching and delivering the truth about what really goes on in this scene, like it or not!
I've noticed I seem to have a knack for pissing people off because I expose the truth. But you people make it worthwhile for me by showing your appreciation and support once the truth does come out.
For example, after last months issue, bands and promoters came out of the woodwork to tell how they have been told to "pick a side." That is exactly what I wanted.
For you people to not take that BS anymore, thanks.
This month's topic is about the senseless violence that occurs at metal shows and how it is giving us heavier bands a bad name and is probably keeping some of us from playing decent shows. Recently, I saw on a popular local music website how some guy was saying that all we do is fight in our so-called popular music scene.
Well, I kinda agree with the cat on the fighting issue. Here is a quite recent example of what I'm talking about: I was out partying one night and I ran into a guy I know who was sporting a bloody face and was visibly upset. This guy looked like he was ready to kill someone!
He told me he was at a big metal show at a new venue when some girl came up to him and said that a band member who was playing that night thought it was a good idea that he didn't stick around much longer because the band member did not like him.
The guy did exactly what I would have done. He told her to "get lost." lol.
This band member then proceeded to get a rather large friend of his to go over and sucker punch the guy in the face. The guy who got punched is a person who paid to get in to see this band and other bands play, someone who came to hang out with friends and see a good local music show. Of course, a melee broke out and it was a mess, which definitely made the band who put on the show look bad, even though they had nothing to do with it.
I don't know what was the deal between them, maybe the guy deserved it, maybe he didn't, but from what I know of him he's never started a fight in the eight years I've known him. There are a few reasons why this incident angered me.
1. This is a new venue and I don't think that is the way to earn trust and respect amongst the club owners/managers towards Louisville's METAL bands.
The club is wanting to promote local talent and we should help them as much as we can. This retarded nonsense does nothing but make us all look bad.
2. If the band member had that bad of a problem with the guy then why couldn't he have confronted him himself and asked him to go outside in the parking lot, just the two of them, as to avoid trouble in a nice new venue, rather than possibly ruin it for everybody? (The word "wussy" comes to mind.) Instead he sends someone much larger to do his dirty work and deliberately starts a bunch of trouble right in the bar! If I was the bar owner I would have banned him for life!
In actuality I probably saved the band member a trip to the hospital, because after being attacked in such a way, the guy I know was ready to get a gun or baseball bat and return to do some serious damage to wussboy. I talked him out of it.
As a promoter, I admit there are a few bands that I'm worried about booking because trouble and fighting seems to follow them around. I wish that would change, because I would love to book such bands since I like their music, but I don't want to risk losing my venue because of some idiotic drunk fan or band member starts fights or messes something up. I love the Louisville music scene, but this moronic fighting has to stop!
As my Tae Kwon Do teacher Master Suh used to say in his Mr. Miyagi -sounding accent, "only fight to defend self"!
`Nuff said.
The Metal Grapevine
Outspoken CD Release: Outspoken's new CD, Bitter Shovel, will be available Tuesday, February 18. Wow, such a great accomplishment for one of our own! If I was able to release MY music on that level, I think it would be better than sex! These guys will be hitting the road real soon. There will be an album release party and show at Ear X-tacy on February 18 at 7 P.M.
Factor 9 Member Changes: Once upon a time back in '97, when I was playing Louisville music on the Attitude Network, I received a CD from a band from the sticks called Krosmember. I was very impressed, so I started playing them regularly and they did well, but eventually broke up. I liked the voice of the singer, Randy McCamish, a lot, as he has quite a range and sings as well as throwing down on some brutal growls. McCamish is now the vocalist for one of Louisville's top metal bands, Factor 9. I saw them for the first time the other night and I think I like Factor 9 with the new singer better. What trips me out is how fast he learned the songs. They also have a new guitar player, Dave Crabtree, formerly of Inmate 42.
Andy Paul and Andrew McAllister have left the group for unspecified reasons.
News From The Pit on WLRS
105.1:

As of February, I will be assisting Mudd from WLRS' "Kentucky Fried Radio Hour." I will be doing a small segment on Louisville music news and upcoming shows. I also get to choose three bands to play every week.

Those of you who remember when I was on the radio before know that I play some cool and crazy stuff, both super heavy and commercial, so send me your band's CD as soon as possible, because as of now I hardly have any!

Louisville Music News and WLRS will make this a big thing, so hurry up and get those CDs to me Or you could be left out in the cold.

Send all showdates, requests and general info you want announced on the air to me at Damienkross@aol.com.

The show airs on Sundays at 11 P.M.

Send CDs to:

EddyMetal/WLRS

4006 South 5th Street

Louisville, KY 40219.

Club News

Tailgaters, Nice Venue! Well, I finally got my big rear up to Tailgaters and played a show there. Nice venue! I found the management to be cool and the venue extremely promising. My band had a great time playing there. I recommend you people to go check it out, it's pretty big! Bigger than Tekworld. And long. (heh heh... I said Long).

It's located directly across from Cardinal Stadium on Floyd Street.

More Possible New Venues? Get up, dawgz! You peeps have actually listened to me and gotten off your rumps and gone out there and gotten some new venues kicking!

The Zodiac club is about to open and Pappy's bar has just had a phat Louisville music show or two here recently and Tailgaters is starting to bump!

See? You can do it!

Dungeon Closes, Zodiac Opens: Some thieving dillhole broke into the Dungeon and stole a bunch of stuff, which made it close down. In its place comes the Zodiac club, a place with video games, pool tables, a full kitchen as well as good sound and lighting. It's also in Radcliff, a short distance away from where the Dungeon was.

Most of the February and March shows booked at the Dungeon have been moved to the Zodiac. Check out Zodiacshows.da.ru.

Tornacade CD Coming! Their CD, The Way We Mourn, will be available on February 21. CDs will be sold on Tornacade.com and at CD warehouse at Tekworld.

Mo Drummers Needed! The bands Flatlyne, 1080 and Another Realm all need drummers. If you're interested, contact 1080 at mmurphy@teleplan-us.com, Another Realm at Judejeffery@excite.com or Flatlyne at Chrisflatlyne@yahoo.com.

Got Garageband? Garageband.com is something you should to check out, if you never have. It's a website where you download your band's music and get reviewed by people from all over the world. The better the review, the better your band gets rated, with the ultimate goal to get rated as low as possible.

A lot of Louisville bands are on there and doing well. Reading the reviews of unbiased fellow musicians from elsewhere is interesting.

Upcoming Shows

Pappy's

Saturday, February 1...Odesa, Incursion502, 86 and Shuv.

Phoenix Hill Tavern

The Original Rock Showcase Series, on the first Friday, of every month.

Friday, February 7 - the "new" Factor 9, Plan Of Man, Month Of Sundays, Caustic and Gasket. 7:30 P.M.

Friday, March 7 - The Constant, Tha Joint, Puc, Flatlyne and Noise Bucket. 7:30 P.M.

Tailgaters

Friday, February 28 - After The Fall, Element H, Sara Tonen, Tornacade and 13th LeVeL.

Tekworld

Tekworld shows generally start at 7 P.M.

Saturday, February 1 - Lollipop lust Kill, The Kodan Armada, Harbinger, Delta Nine Theory and Hymn to Aton.

Friday, February 7 - Battle Of The Bands.

Saturday, February 8 - Battle Of The Bands.

Friday, February 14 - Incursion502, Hot Action Cop, After the Fall, Sara Tonen and Born Yesterday.

Saturday, February 15 - Battle Of The Bands awards show winners with MSD, the Revenants and My Own Victim.

Friday, February 21 - Mindless Self Indulgence, Tub Ring and Tornacade CD release party.

Saturday, February 22 - Hallowtide CD release with Factor 9 and Arch.

Friday, February 28 - False, After The Rain (Vermont), One With Misery and Caustic.

Zodiac

Saturday, February 15 - Tornacade and H8(Sen reunited).

Outtatownerz and Otherz

Saturday, February 1 - at MF Hooligans in Richmond, Pownd, Superfuzz and Devil Stomp.

Tuesday, February 18 - at the Rockzone at Varsity Blue in Lexington, Devil Stomp ,Medusa Diesel and Wisdom.

Props Of The Month

Props of the Month go out to three people this month.

1. Jason Ashcraft of LMIA has done well recently. His show at Coyote's was killer. To be honest, I was going to write about LMIA's lack of helping the heavier bands, but since Jason has joined LMIA, he has assured me he will try to change that. Therefore I shall chill on that subject for the moment.

2. 100.5 the Fox's Attitude Network has a relatively new guy called Louie doing the "Unsigned Xtreme" segment, who seems to be a decent sort. He gets props for attending a WLRS local metal show, something I thought a Fox DJ would never do! Thanks for breaking the chain.

Oh and show some love to the show's creator and host Black Frank, who hasn't been feeling so well as of late. Get better, dude.

3. Wayne Dennon is a guy from Cincinnati who has fallen in love with our music scene. Wayne is a great photographer and has been driving down and taking pics for many Louisville bands recently. And on top of that he's a super cool dude that the scene seems to have taken a real liking to. So if you see a tall long-haired guy nearing the big 4-0 and holding a badass camera, introduce yourself, because the guy might hook you up with some cool pictures.

Remember people. I cannot print what I don't know. It's your job to get the info to me. That goes out to you venues, bands and promoters.

Send info you want printed in LMN to Eddymetal1@aol.com.

Oh and hot women are more than welcome to write me also. LOL.