The Black Cat: Open To Stay
The newest club occupying the building at Pope St. and Frankfort Ave. is the Black Cat, a musician's bar with a Parisian theme. On Saturday, January 25, it was filled to capacity with people coming both to hear the Lindys and to provide support for owners Mike and Mary Williams, whose house, located just down the block on Pope Street, was destroyed by a fire early on the morning of Friday, January 24.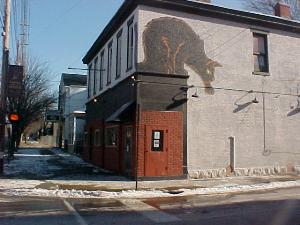 The Black Cat
The couple where still at work at the bar when the fire began, so it was well-advanced by the time it was discovered and fire crews summoned. The blaze consumed most of their property, including recording equipment and instruments, treasured family memorabilia and four pets. Despite that, the Williamses have vowed to move ahead with making the bar a success, in part out of necessity, as a large part of their available resources were invested in the bar.
The Black Cat opened quietly in mid-December, following considerable renovation, which included a complete cleaning and repainting, relocating the stage to the far end of one room and away from the street and revamping of the exterior to make it friendlier and more accessible. The previous stage now sports tables, while the tables that are attached to the wall in the main room benefited from the application of considerable elbow grease and polyethylene coating, giving them a highly polished, natural wood look. The club also has a kitchen and food is projected to be a large part of the business.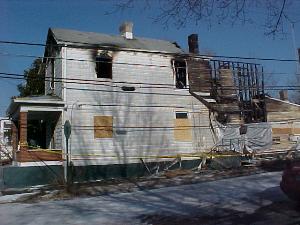 The Burned House
Mike Williams plays with the Tanita Gaines on a regular basis as well as running the club. He intends to book other than blues into the room, however, though the Gaines band might work there once in a while. The current schedule includes a Chickpea and Friends on Wednesdays, Janis Pruitt and band (including Williams) on Thursdays and various acts on Fridays and Saturdays
The January 25 crowd was roughly equal parts friends, music fans and musicians not otherwise playing that night. The performers included openers Janis Pruitt, backed by Ken Lucchese on guitar, Mike Alger on drums and Mike Williams on bass. The Lindys are Joey Spampinato of NRBQ, Tom Hambridge, Jack Irwin, Tim Krekel, and special guest singer-songwriter Kami Lyle, who married Spampinato in 2000. Krekel also plays at the Black Cat on Sundays.< /SPAN>