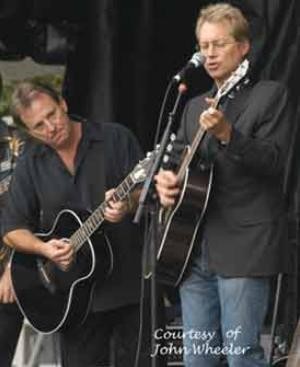 America w/Louisville Orchestra The Palace Theatre January 11
moe.Headliners
January 28
Upcoming Live Music
By Paul Moffett
Acoustic / AAA
· Tim Krekel will host a songwriters show at Barretones on January 11, featuring Marshall Chapman and Kami Lyle, plus Tim. Chapman and Krekel share a connection through Jimmy Buffett, both having toured and played back-up in Buffett's band. Chapman's songs have been cut by Buffett, Emmylou Harris, John Hiatt, Wynonna Judd and Olivia Newton-John, so her cred is well-established. Lyle's tunes have been covered by Patty Griffin, Victor Mecyssne, NRBQ and Ron Sexsmith, so she gets her points, too. All in all, the night should be a whopper for lovers of original material performed by the writer.
Tix and info: 458-0925
· America will perform with the Louisville Orchestra at the Palace Theater as part of the Louisville Pops series. The group started as a light folk-rock act in the early 70s, with "A Horse With No Name" and "Sister Golden Hair" making the climb all the way to the top of the charts. While their last top ten hit was in 1983, they've been making records all along the way, at about one every two or three years. They are a duo now, as Dan Peek left to do Christian music. In any case, this is a boomer show for sure, so best get your tickets early.
Tix and info: 583-4555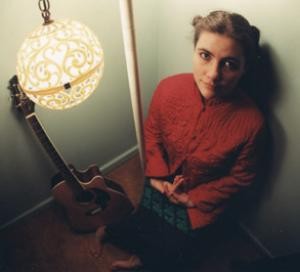 Maery Lanahan
· Heidi Howe's Clifton's gig is still the best ongoing event for fans of songwriters. The guest for January 14 is Maery Lanahan, which is the correct person this time around. (A previous blurb misidentified Sarah Guthrie as Arlo's kid.) Lanahan is a Columbus native who is building her AAA career the usual hard work: work, gig, work, gig.
Folkie mag Sing Out! says this of Bruce Piephoff, Heidi's January 21 guest: "Prolific North Carolina singer-songwriter and poet Piephoff.. [is] ..known for his warm, soft-spoken voice, front-porch acoustic arrangements, and finely wrought lyrics." On the increasingly busy triple-A songwriter circuit, Piephoff stays very busy.
Tix and info: 893-3730
· Native American flutist and champion dancer Robert Tree Cody Red Cedar Whistle will be holding a concert at Bellarmine college on January 15 in the Amy Cralle Theater. Cody has danced for kings and queens as well as ordinary folk across the planet, so if you have ever had any interest in the practices of Native Americans, here's a splendid opportunity.
Tix and info: 452-8000
Ballet
· The Louisville Ballet's January presentations are under the title A Difference Of Opinion. A cutting-edge work, Beyond, by Adam Hougland with music by Ralph Vaughan Williams, gets its Louisville premiere. Also presented will be Napoli Variations by Auguste Bournonville, with music by Edvard Helsted. This piece was originally based on an Italian fairy tale called The Fishman and His Wife. The works are scheduled for January 24 and 25 at the Kentucky Center for the Arts.
Tix and info:583-2623
Bluegrass
· Bluegrass fans, listen up: it's time for the Shepherdsville Country Music Place winter bluegrass shows to get geared up and the big kickoff will be Dr. Ralph Stanley on January 10. As you know, Stanley and company in the "Down From the Mountain" tour were pulling down $50 tickets but around here, we see him either for free or for a more normal ticket price. It's worth the short drive down I-65 to see a legend, even if you've seen him innumerable times.
· For those of you who didn't get down to the Brown Theatre to see Rhonda Vincent and the Rage, here's another chance that's shown up at the last minute: up in Scottsburg, the Scottsburg Jamboree has snagged Vincent in route to Nashville. She and the band will be there on Sunday, January 12 for a 3 p.m. show. I could go on at some length about Vincent's credentials but that's probably not necessary if you know anything at all about bluegrass. (The rest of you don't care, anyway.) The Scottsburg Jamboree is at 31 E. Wardell In the Square in the old theater there. The Sampson Family Band will open.
Tix and info: 812-896-1952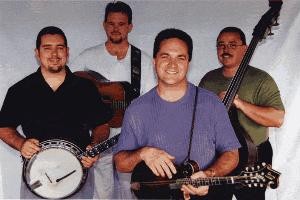 Larry Stephenson Band
The superb bluegrass tenor Larry Stephenson will bring his mandolin and band into the Shepherdsville Country Music Place on January 24. Stephenson has been rising steadily through the ranks of bluegrass musicians, scoring nominations in the IBMA awards, an area where the old-timers tend to dominate. Pinecastle Records loves him, as he sells more records than everybody else. This indicates that this show is likely to draw a good crowd, so if you are interested, best get your tickets early.
Tix and info: -968-6358
Blues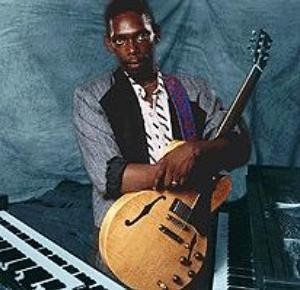 Lucky Peterson
· Lucky Peterson played his first gig at age three and by five, he had already recorded his first single, produced by none other than the legendary Willie Dixon. Before Lucky turned six, his career had entered the national spotlight with television appearances on The Ed Sullivan Show, The Tonight Show with Johnny Carson and even What's My Line? Don't hold that against him, though, as he has developed into a right fine guitar slinger. He'll show off his chops at Stevie Ray's on January 6.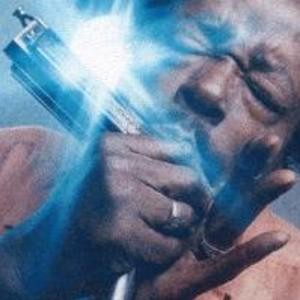 Cary Bell
· Carey Bell learned to play harmonica the hard way: from the old guys. Alligator Records says this: "Little Walter, he showed me a lot of things," says Bell, "but Big Walter, he was crazy. He did all kinds of s**t other harp players couldn't do." And like his teachers Big Walter Horton, Little Walter Jacobs and Sonny Boy Williamson II -- each with a sound of his own -- Bell was inspired to forge his own style. It didn't take long for Bell to develop his signature "chopped" harmonica phrasing and deep-blues vocal attack. A veteran of both Muddy Waters' and Willie Dixon's bands as well as a searing solo artist with chops to burn, Bell's classic yet contemporary, funky yet subtle and deeply soulful blues place him firmly on the short list of blues harmonica superstars." Bell will be at Stevie Ray's for a concert on January 13.
· Louisville blues singer Mary Ann Fisher is close to 80 but she can still wail, just as she did when she sang with Ray Charles. She's just finished up a CD project, produced by Peter Rhee and Keith Clements (among others), called Songbird of the South. The CD release party will be held at Stevie Ray's Blues Bar on Sunday, January 19 and it's an early show, starting at 7 p.m.
Popa Chubby
· We've seen Popa (sic) Chubby once or twice before at Stevie Ray's. The New York native, born Ted Horowitz in the Bronx, set out to make his blues bones by touring, touring, touring, playing in excess of 200 dates a year. He's now up to eight recordings, the most current being 2001's The Good, The Bad and The Chubby on Blind Pig Records. His show must have worked here, too, or he wouldn't be back, this time on January 20.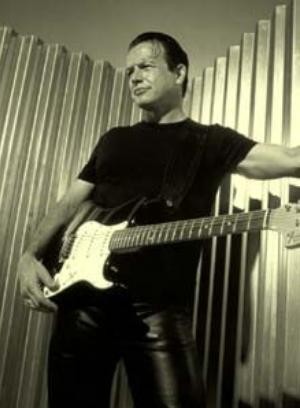 Tommy Castro
· The Bay Area blues guitarist Tommy Castro has been at the receiving end of much press, most of which has touted him as "the next big blues star," a label that is as often as not a kiss of death or at least of wasting away. After releasing four albums on Blind Pig records, he was booted from that label in 2001 and released his most recent project, Guilty of Love, on a minor label. His stint as the house band on NBC's Comedy Showcase hasn't hurt, though. He'll be at Stevie Ray's on January 23 to demonstrate his chops for Louisville's discerning blues fans.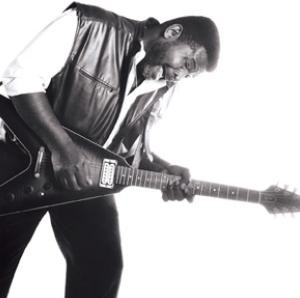 Michael Burks
· Michael Burks came from a musical family - his father played bass with Sonny Boy Williamson II and his grandfather was Delta-style bluesman from Arkansas. He started on the guitar very early and made his stage debut as a child. In 1997, he produced his own first album, which generated enough raves that Alligator Records picked him up and released Make It Rain, which was even co-produced by Alligator owner Bruce Iglauer. Burks will be at Stevie Ray's on January 27 for an early-week concert.
Tix and info: 582-9945
Chamber Music
· The Ahn Trio, an innovative three-sister chamber music group, will be at the Brown Theater with the Parsons Dance Company on January 25 as this months "New Directions in Dance" series. Choreographer David Parsons has developed dances to match the virtuosity of the Ahns, so both modern dance fans and chamber music fans are in for a rare treat.
Tix and info: 584-7777
· Sunday, January 26 will be a red-letter day for chamber music fans, as there will be two chamber groups offering concerts at the Comstock Recital Hall at U of L. At 3 p.m., the Kentucky Center Chamber Players will perform works by Dring, Canteloube and Ravel. Then at 7:30, the Ceruti Chamber Players will present works by Archduke Rudolph, Zalmont and Herzogenber. The first concert has an $8/6/1 ticket spread, while the later show is free.
Tix and info: 852-6907
Classical
· The Louisville Orchestra's January program will feature the LO premiere of Aaron Copland's "Suite from Billy the Kid," with the "First Lady of the Flute," Paula Robinson, as featured soloist and Uriel Segal conducting. Also featured will be Frazelle's "Blue Ridge Airs II" and Schumann's "Symphony No. 3 (Rhenish Symphone)." The USBank Coffee Concert will be on January 16 and the Hilliard Lyons MasterWorks Concert will be held on January 18, both in Whitney Hall at the Kentucky Center for the Arts.
Tix and info: 584-7777
Country
· The country music scene in January is a bit thin but there is one show of some interest: on January 24, the Scottsburg Jamboree will present Exile as part of the Scottsburg We Care Concert series. Of course, Exile hasn't had a hit in years, in spite of the fact that they were one of the first rock/country/rock hybrid bands, back even before Brooks and Dunn began to dominate the charts. None of which means they can't still deliver and very likely will. C. T. Robinson will open.
Tix and info: 812-896-1952
Jazz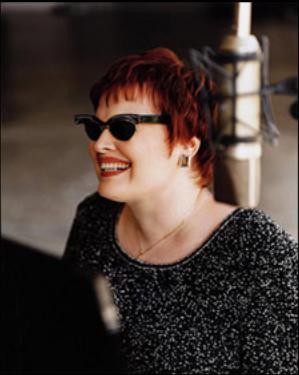 Diane Schuur
· Diane Schuur has the potential to be an important jazz singer although she still includes a large dose of pop tunes in her repertoire. Blinded at birth due to a hospital accident, Schuur (nicknamed "Deedles") had her first gig at a Holiday Inn at ten, sing country music. The turning point in her career occurred when she sang "Amazing Grace" at the 1979 Monterey Jazz Festival, greatly impressing Stan Getz. She subsequently developed into a noted jazz vocalist, picking up two Grammy awards. She'll be in the Bomhard at the KCA on January 24 as the Bank One Lonesome Pine Special Presentation for January.
Tix and info: 584-7777
Musical
· The winner of the 2000 Tony Award for Best New Musical, Contact is a full-of-life celebration of how people come together. In the first story, "Swinging," an 18th century master woos a young lady with the help of his servant. "Did you Move?" explores the relationship between a 1950's housewife and her husband, as she dreams of a life of dance and music. In the last story, "Contact," a depressed advertising executive finds inspiration and new life in the vision of a beautiful girl. And you thought it was a musical version of the movie about extraterrestrials. At the KCA through January 5.
Tix and info: 584-7777
· Jesus Christ Superstar, the Andrew Lloyd Webber/Tim Rice musical from your childhood, has been refurbished, recast and will open at the Palace Theatre on January 21. In this version, Skid Row's Sebastian Bach will portray Jesus, while Carl Anderson reprises his film role as Judas. Jam-packed with now-familiar songs, the musical is generally regarded as the first great hit from Lloyd Webber and Rice and certainly must have earned both of them enormous sums.
Bach has been getting excellent reviews for his portrayal, despite the surprise and comments that have greeted the news that he was in this part. The carpenter from Nazareth likely would not have been disturbed, given his documented penchant from hanging out with the lowlifes of his time. The musical will run through January 26.
Tix and info: 583-4555
R&B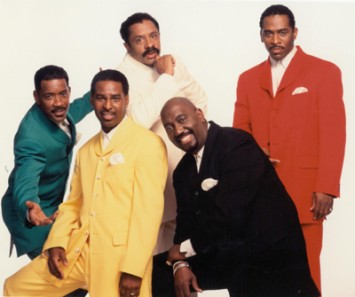 The Temptations
· The Temptations will give a concert a Caesar's Indiana on January 16. The Tempts, of course, are the essential purveyors of silky smooth R&B and soul and their string of hits is the strongest testimonial to that: "The Way You Do The Things You Do," "My Girl," "Get Ready," "Ain't Too Proud to Beg," "Just My Imagination" and "Papa Was A Rolling Stone" being only a few of them. Of course, the current touring group isn't the group that recorded those hits: Eddie Kendricks, David Ruffin and Melvin Franklin have all died. Nevertheless, this group will do a fine job anyway and it will be an excellent concert.
Tix and info: 1-888-766-2648
Rock
· Eddy Metal's Original Rock Showcase happens on January 3 at the Phoenix Hill Tavern. This is the show for those of you who want original rock, who are tired of hearing cover bands, who pray daily for new music. It's also a great place to cruise for members of the opposite sex, but that's just the main reason for the bar. Scheduled to play are Silent Q, Shuv, Odesa, Sara Tonen and Arch.
Tix and info: -589-4957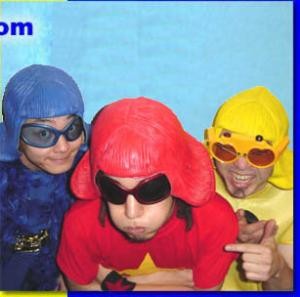 Peelander Z
· Have you been yearning endlessly for some disco-influenced Japanese punk rock? Well, bucky, pine no more; instead, get thee down to the Rudyard Kipling on January 2 for a show featuring Peelander Z plus Louisville's Dead City Rejects. The music is as described.
Tix and info: 363-1311
· Gotta an Elvis jones? The Palace Theatre will be staging a cure just for you: an Elvis Birthday Salute on January 12, with a number of Elvis impersonators for you to choose from. I can't say much more than that about this show, mostly because I can't rave about all the Elvi-related stuff that will be going on (not a fan). Go have a melancholy time of it.
Tix and info: 583-4555
· Coyote's will bring the rock 'n' roll review group The Van-dells into the big room on January 18. The Van-dells recreate the '50s and '60s look and feel as well as the sound of the rock of that era, from "Sh-boom" to "The Duke Of Earl" to "This Magic Moment." Most of their material is pre-Beatles and their look is definitely Leslie Gore and Bobby Darin rather than Lennon/McCartney and Jagger/Richards. Get out your letter sweaters and penny loafers and head on down to dive into a little nostalgia.
Tix and info: 589-3866
Kittie
· If head smashing is more to your style, check into the show that Tek World has lined up for January 19: Kittie and Biohazard plus the Revenants, 18 Visions and Brand New Sin, all for $15. Kittie is your fundamental all-girl heavy metal band with a Sony Records deal and a new CD, Oracle, to promote. Biohazard was one of earliest bands to mix hip-hop and rock together and they did so well enough that they've been making records for ten years.
Tix and info: 962-5440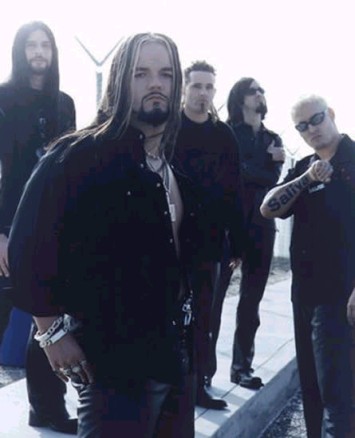 Saliva
· Oh, spit. Well, Saliva, really, one of those bad-attitude modern rock bands where the players are all striving to outdo each other in negativity and testosterone overdosing, while waving their hands around making gang signs swiped from African-American rappers. Still, they sell records and draw big crowds (The LRS Fest of a couple of years back was a clear example.) They'll be at Jillian's on January 21. Breaking Benjamin will open.
Tix and info: -589-9090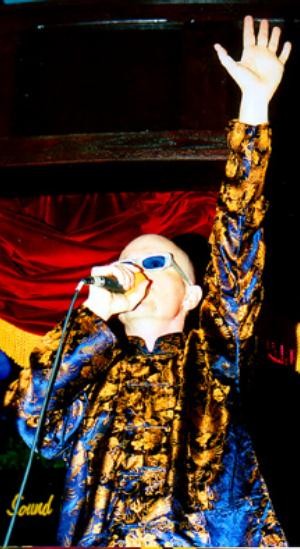 Sizzling Happy Family
· I keep hearing from folks that the Sizzling Happy Family just plain puts on a fun show. This Nashville-based group certainly is energetic in their marketing; they have a cable video show they promote and managed to get an interview on WFPK. Their front man gets labeled as "a psychotic ninja gymnast," so you can safely assume that these guys are goofs first and foremost, while still playing good music. Having taken their name from a Chinese dish, it's only appropriate that the label they give their music is neo-new wave-ska-punk-alterna-fusion-metal pop. Whatever. They'll be at Gerstle's on January 25.
Tix and info: 899-3609
· Louisville has a considerable appetite for jam bands, which has spawned a number of them right here in Derby City and which means that touring jam bands find their way here regularly. The next one on the list is moe., scheduled for January 28 at Headliners. This Warner Bros. band is described as playing in a "bluegrass-tinged, funk, reggae, jazz jam style, with a cartoonishly offbeat sound, a slaphappy mix of Primus-like dementia and more focused rhythms," which really is reminiscent of String Cheese Incident. In any case, they're likely to sell out the room, so get your tickets early.
Tix and info: 584-8088+