I've Got A Mind To Ramble
Songbird of the South
The moment has finally arrived for the first release of recordings by Mary Ann Fisher, whose musical career has spanned 65 years. Mary Ann turned 80 this year based on a date she selected when she got her Social Security number, as the courthouse in her hometown of Henderson, KY had no records of her birth. She started singing in Louisville clubs and talent shows at fifteen. There is an historic photograph in the liner notes of Mary Ann singing at the Belgian taken then. When she won a talent show at the Lyric Theater in 1941, singing Billy Eckstine's "Jelly, Jelly," her local reputation was secured. The MC for the shows, Bill Summers, who later became owner of WLOU, and Frank Stanley, the publisher of the Louisville Defender, gave her the title "Songbird of the South."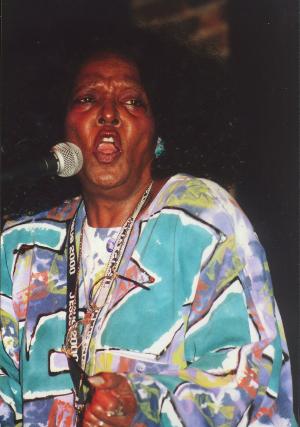 Mary Ann Fisher
The story of her first encounter with Ray Charles at Fort Knox in 1955 and how she "hit the road" with Ray three months later for a three-and-a-half-year stint is legendary and retold in the album. During her solo career in New York, when Joe Louis was her manager she toured in shows with most of the current R&B stars. Unfortunately, her discography to date has been sparse. According to Rob "Butch" Williams, a local musician who has a vast record collection of Motown and Doo Wop music, the only previous recordings Mary Ann had done are two 45's on the Segue label. These songs include "Give Your Love to Me," "Can't Take the Heartbreak Any More," "Forever More" and "Nobody Without You." The last two cuts have been included as bonus tracks to her new CD. They could have been R&B hits in their day with better promotion. (Thanks to Butch, who had the tapes of these rare records.) They can now be passed on to another generation. There were two other songs Mary Ann recorded, "Wild As You Can Be," that was released in England, and "What Kind of Man Are You." This was her only song that was released (on the Atlantic album What I Say) when she was with Ray Charles
Mary Ann has gotten her share of accolades over the years, including a cover story in LMN in 1993, receiving the Sylvester Weaver Award from the Kentuckiana Blues Society in 1996 and when Mayor Jerry Abramson proclaimed Mary Ann Fisher Day in 1997, but no CD until now.
Peter Rhee
Songbird of the South would not have been possible without the conscientious effort of Peter Rhee. Rhee has backed Mary Ann on violin in the band Blue Swing Shooz and several other groups. He assembled an outstanding backup band, which included Rod Wurtele on piano and organ and Ed Chestnut, Jr. on guitar. Walnut Street Blues Band drummer Jerry Harshaw and bassist Jim Baugher were the rhythm section. The versatile honker, Michael Murphy, is on a few cuts and Rhee accompanies Mary Ann on a beautiful rendition of Billie Holliday's "God Bless the Child." All of the first nine songs are blues standards, with a "Fish Twist." Mary Ann's years of performing have given her a mature vocal poise that only she can pull off. Her timing and inflections come from a lifetime of singing the blues and ballads.
Mary Ann pays homage to B.B. King with "Thrill is Gone," "Please Send Me Someone to Love" and "Rock Me." Brother Ray is acknowledged with "I Got A Lover," wherein Rod tears loose on the piano. The other classics include "Stormy Monday," "Everyday I Have The Blues," and "Downhouse Blues." A lesser known Johnny Taylor song, "Two Dollars (Lady at the Casino)," is a slow, moody ballad that I never heard Mary Ann sing before and it quickly became my favorite. She should get a gig at Caesar's Casino singing this song, with her references to Caesar's 50-cent machine. Ed Chestnut's tasteful guitar work and Rod's keyboards provide the musical backing to make this one of the best locally released records in a long time. When you compare Mary Ann's vocals on the early Segue cuts to what she can do now, you know she's still got it 43 years later.
You can join in the celebration of Mary Ann's new record by coming to her CD release party at Stevie Ray's on Sunday, January 19. Music will begin at 7 p.m. with a $5 cover to hear the Songbird strut her stuff.
Beginner Blues
A friend of my wife has a son who is just getting interested in the blues and she wanted some suggestions of CDs to get him started. A request like this is not so simple, considering the vast selection of blues recordings available. Since so many of my records are LPs dating back to when I first started collecting in the `60s, I had to make sure that these picks are all available on CDs. I narrowed it down to six and divided these into three general categories.
The Mississippi Originators
Robert Johnson - King of the Delta Blues Singers - Columbia.
This was the very first record I bought when I walked into a record store in Cleveland and asked a knowledgeable staff person what blues record he could recommend to start my collection.
Masters of the Delta Blues: The Friends of Charlie Patton-Yazoo.
This compilation is a `must-have' because of the early Son House Paramount recordings from the `30s. His twelve cuts - two versions of each song - plus "Walking Blues" still bring chills up my spine.
The Masters Live
B.B. King - Live at the Regal - ABC(MCA)
Considered by many to be the best live blues album ever. You can feel the rapture B.B. has with his ecstatic audience and his extended guitar solos are great.
Muddy Waters at Newport - Chess(MCA)
Another ground-breaking live performance. When Muddy brought his rough and tumble Southside Chicago band to Newport, which included James Cotton and Otis Spann, the amplified sound shocked all the folkies.
The Chicago Contemporaries
Magic Sam - West Side Soul - Delmark
The heart and soul of Chicago's West Side sound is captured on this powerful recording of Sam Maghett at the height of his too-brief career. Sam's falsetto vocals and bell-like fingerpicking provided an unusual sound that could have made him a cross over artist.
Hound Dog Taylor & The Houserockers - Alligator
This is the record that started Bruce Iglauer's Alligator label. Hound Dog's raucous, slashing slide guitar provided the inspiration for him to boast "When I die, people's gonna say, he couldn't play s_ _ _ , but he sure made it sound good." Amen.
I could continue with several dozen more suggestions but it would break the pocketbook of this generous mother. Let me know what your basic blues picks are.