Louisville Rock Lowdown
"Tapeworm, make me perfect from the inside outward." (Quote form Algae's Mp3.com web site)
Growth towards perfection seems to be the internal motives behind the music of Louisville's own Algae. A growth that feeds off a love of music; it is like a parasite.
Meet Algae: On bass and vocals, we have Todd Coffey; on guitars, we have one Dean Jones and last but not least, Troy Edlin completes the trio on drums.
The band can trace some form of a history together back to 1992, when Troy and Todd began the pilot project for their musical endeavors, Gordon's Iguana. After the end of the band's three-year run due to "chasing the dream" in Los Angeles and its perils, some regrouping took place. With Todd's project, Ugly Stick, in the past, the guys were open to new options. One child was born in this new beginning - Algae.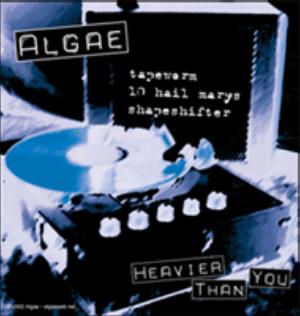 Heavier Than You - Algae
It happened over a very "King of the Hill" setting. July 4, 2000: BBQ: Reminiscing. Yes, it has happened to all of us "old timer" musicians (anyone who has been with more than one band) at some point or another. You start hanging out with your ex-band mates and you bring back all the painful feelings of musical divorce. All of a sudden, you start talking reunion business.
Troy and Todd needed a guitarist and luckily, they found Dean. Without the big puffy "wanna-be-famous clouds" obstructing their view of music, things came together for the fledgling band. Practice at Dean's house turned into what we know today as the trio Algae.
As a bonus, Dean has his own studio, Jonestown Studio. Yet another bonus, Troy has his own graphic design business, Design by T. Must be nice! Now all they need is for Todd to open his own brewery.
Needless to say, the band is self-sufficient when it comes to making a good demo or flyer. The band carries on as equals with an interesting philosophy, "No one brings a song to practice, we are all in this equally." (If this were my band's motto, we better have some of those foam baseball bats at practice!) Seriously, it's a very good attitude to have, showing their experience as seasoned musicians. No gimmicks, no egos, no drama... just music.
By the time this piece is in print, the band will have recently performed at Headliner's Music Hall. The show (Saturday, December 21, 2002) will feature/featured Project Improv (comedy improv group), Common Ground, Dhablo, HiKru, the Ville Billies and Plan of Man. Should be/have been a good show... if I was not going out of town, I would be there for sure. My apologies to the guys for missing it... The reason I bring this up to you is to show the diverse bill at hand. Algae fits in just about anywhere, which is a benefit that most bands do not have in the scene. This is a mark of their versatility and does wonders for the band, I am sure.
In more up-to-date news, the band will be recording their full-length CD after the first of the year. The "live recording" album is expected to be complete early in the year, so keep your eyes open around March or so. Until then, send in your ideas for an album title to algaeweb@hotmail.com. They are open to suggestions on this one. You'll get a free copy of the CD and some credit in the inlay.
If you want to take a piece of Algae home with you now (sorry, had to play on the name eventually) you can head down to Better Days Records or Ear X-tacy on Bardstown Rd. And pick yourself up a copy of the Live. Loud. Local. compilation disc that features "Dust and Sparks," the band's first released single. The disc features twelve tracks that were all donated by bands that gave their music to charity. The proceeds benefit the WHAS Crusade for Children. The CD costs five dollars.
If one song is not enough, the band also has a 3-song debut, Heavier Than You. The songs "Tapeworm," "10 Hail Marys," and "Shapeshifter" can all be found on this CD. The cost is only four dollars for this one, same bat-places. Better yet, pick it up at a show and support a little bit of local music while you're at it. You will be rewarded $1 for your efforts, in the form of a three dollar CD.
Wanna' learn more about the band? Visit www.algaeweb.net. It's an interesting site that (not surprisingly) offers an array of eye candy, a la T. The current version of the site was born on October 23, 2002. If you remember, this was during the same time period as Shock Fest at Expo Five, in which Algae was the first band to ever grace the stage.
The group will also be included on the soundtrack to the upcoming James Spaulding movie next year. Visit www.icemanpro.da.ru for more information about it. The track is called "Laugh Track." The band quotes this as "one of our oldest and most powerful songs."
In the midst of everything that is going on, the band is also interested in holding auditions for a lead singer. If you are interested, learn the songs (www.mp3.com/AlgaeWeb) and contact the one of the guys about it. Here are their email addresses: Algae- algaeweb@hotmail.com, Todd Coffey- jtoddcoffey@hotmail.com, Troy Edlin- designbyt@mac.com and Dean Jones- djonestown@cs.com. The band says everything will be running as usual with or without a new member, but it appears to be an interest of the group to expand.
Check out the band as soon as possible, as they have a rock sound worth coming back to.
Keep sending me your submissions to JJKSLACKER@cs.com. We have a busy few months ahead of us in the Louisville Rock Lowdown.
Rock on Louisville!