I've Got A Mind To Ramble
Chicago Blues Fest - 20 years
The Chicago Blues Festival celebrated twenty years this year and I've been to eighteen of them. It has come a long way from two days of evening shows in the Petrillo Band Shell to four days on five stages in Grant Park starting at noon. Before the festival started, I made my regular visit to the Jazz Record Mart on Thursday, May 30, to find some offbeat blues recordings. Liz Mandville Greeson and her band, the Blues Points, had set up between the CD racks for an in-store performance. Greeson is a Chicago singer who did a nice set of sweet ballads and screeching blues accompanying herself on rhythm guitar. Her persona reminded me of ex-Louisvillian singer Vicki True.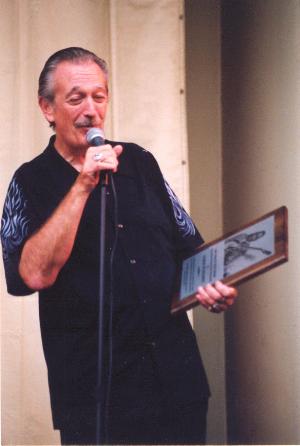 Charlie Musselwhite accepts the Howling Wolf Award. Photo by Keith Clements
Thursday is usually warm up day for the festival, because most of the out-of-town fans haven't arrived yet and the crowds are smaller. Lil' Ed turned up the heat with his raucous, raw brand of infectious blues. He soloed at the Juke Joint Stage with just his slide guitar and tramps on a huge bass drum that had in bold red letters "LIL' ED + PAM'S BASEMENT BLUES" on the front. Pam is Lil' Ed's devoted wife. He was joined later on the Crossroads Stage by his band, the Blues Imperials, where they pulled out all the stops.
Otis Taylor was back again this year with his deep, brooding blues that takes you back to its roots. He moves from guitar to banjo, mandolin and harmonica, then throws in a simple a cappella song slapping the rhythm on his legs. When he develops his repetitive single chord rhythms that contrast with the soaring distorted sounds of his guitarist, Eddie Taylor, a powerful energy develops. His performances are a release of spirits both good and evil that are saturated in a swirl of cutting social commentary. I didn't spend much time at the Best Buy stage this year, which books mostly younger rock-oriented bands. The loud amplification from that stage bleeds over to the nearby stages and the Route 66 Tent where there are the panel discussions. Dave Specter was an exception at the Best Buy with his jazzy guitar licks. He was accompanied by Rob Waters on the Hammond organ. When the two of them got into a Jimmy McGriff groove, everyone by the stage was rocking their heads to the beat of what I called "Bobble Head Blues."
The most interesting Route 66 discussion on Thursday was "Chicago Blues Today" where the evolution of Chicago's blues clubs was discussed. Beverly Zeldin-Palmer made the point that the original clubs were neighborhood bars where black people came to get away from the tedium of life and have a good time. The music and booze was the diversion. These South and West side clubs were often named after their owners, e.g., Peppers' Lounge, Sylvio's and Theresa's Tavern. The clubs on the North side grew out of the folk boom of the late Sixties in the Old Town district. The moderator, David White, added that the tourists who later come to the gentrified north side clubs expected to hear the basic 12-bar blues bands while the black patrons liked the soul side of the blues. Saturday night, I had a chance to experience both types of clubs, which I will tell you about next month.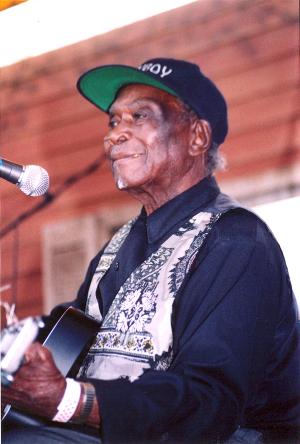 David 'Honeyboy' Edwards. Photo by Keith Clemets
Friday afternoon brought out the legends with Honeyboy Edwards, Homesick James and Henry Townsend. Townsend, who is the oldest of the three at 93 going on 94, scoots around on a motorized wheel chair. He played both guitar and piano. Considering his 88 years, Honeyboy's mastery of his guitar is extraordinary, especially when he combines his single-string plucking and his rhythm chording. I hope they bring Edwards back every year.
The Barry Goldberg Reunion brought together several veteran musicians who came to Chicago in the Sixties to learn from the masters. They later went on to form other bands with their blues influence. Besides Barry Goldberg on piano, there was Nick Graventes singing "Born in Chicago" and "Muddy's Lyin Dead in Chicago (His Mojo Ain't workin' No More)." Tracy Nelson bellowed out "Mother Earth." Harvey Mandel fused his blues guitar with jazz and rock. Corky Siegal and Charlie Musselwhite blew their harps. Marcy Levi shrieked and moaned with "Feel Like Cryin." Sam Lay and Bob Stroger, both Chicago stalwarts, provided the shuffle and backbeat. Musselwhite recalled how he and Mandel used to go to Curly's Twist City in the Sixties to hear Sonny Boy Williamson play "Help Me." I sensed the spirits of Mike Bloomfield and Paul Butterfield were also on that stage. Following the set there was a party backstage, for many of these people hadn't seen each other in 30 years.
Friday night separated the hardcore blues fans from the marginal fans. Bassist Willie Kent and The Gents, featuring vocalist Bonnie Lee, opened. They usually perform together at Chicago Blues on the North side. Charlie Musselwhite was presented the Howling Wolf Award before his set. Musselwhite's shrill harp pierced the air and the rain started midway in his performance and gradually got heavier. The sky glowed with lightning and one of the big banners blew down on the side of the stage, but the show went on with the remaining crowd huddled under umbrellas and makeshift ponchos to see Otis Rush. He did not disappoint, using a full horn section. Rush reached back, doing many of his early songs from his Cobra sessions. He closed, appropriately, with "Stormy Night in Georgia."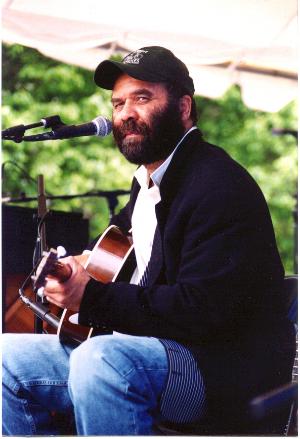 Otis Taylor. Photo by Keith Clements
Saturday was the toughest day to make choices for being at the right stage at the right time. Fortunately, most of the musicians made multiple appearances on different stages. A pleasant surprise was the teaming of Phil Guy with Cookie McGee. McGee is a Texas guitarist with strong Freddie King influences. She seemed to challenge Guy and the two of them just clicked together for some inspired guitar jams.
Jimmy Johnson showed a hidden talent on the Juke Joint stage by playing the piano in addition to his searing soulful guitar. Johnny Rawls had a coming out party for his daughter, Destini, who blended Johnny's `grits and greens' guitar with her gospel-tinged vocals. On Rawl's red Fender, there is the round "Illegal" warning symbol over "Mustang Sally." Saturday evening's highlight was a gathering of Chicago's contemporary generation of musicians by Shirli Dixon. She gathered Billy Branch and Matthew Skollar on harps, Carl Weathersby and Melvin Taylor on guitars and her brother Butch and Barrelhouse Chuck on piano. As a finale Shirli, Shirley King (B.B.'s daughter) and KoKo Taylor came out to throw a `Wang Dang Doodle.'
There had been so much hype for the headliner, Bonnie Raitt, that it was anticlimactic when she came on. The press was limited to taking pictures just during her first three songs and could not use flash. So much for superstardom. She is still a powerful slide guitarist but her set had little blues content, although she has been a strong advocate of the blues throughout her career. John Cleary, a Britisher who is based in New Orleans, was her keyboard player and she brought out one of the Staple singers later in her set.
Sunday we went to church on the Front Porch Stage with the Campbell Brothers. This group is rapidly spreading the word of sacred steel music around the world. They have taken this powerful gospel music, driven by the lap and pedal steel guitars, from the obscure House of God Keith Dominion Church sanctuary to festivals and concert halls. Chuck, Darick, Phil and his son, Carlton, were assisted by Katie Jackson and Denise Brown on vocals. This high energy praise music is guaranteed to inject you with the holy spirit as they had everyone on their feet with "Jump for Joy."
Nora Jean Bruso (Wallace) has sung with Jimmy Dawkins for 20 years and she invited her musician friends including Jimmy to her first CD release party on the Crossroads Stage. What a group of all stars it was with Eddie Shaw, James Wheeler, Willie Kent and Billy Flynn. Bruso showed a lot of poise as she mixed it up with heartbreak and outrage. Lurrie Bell is back on track as one of Chicago's premier guitarists. He has chased away the demons that have haunted him in years past with a solid set of blues standards. Bell comes from a family of talented musicians including his dad, Carey and granddad Lovie Lee.
These recollections are just the tip of the iceberg of what was the coldest but one of the best of the Chicago Blues Festivals. When we left Chicago on Monday, the Chicago Blues Exchange, at 72 E. Randolph, had just been opened by the Chicago Tourism Center. This free exhibition of photographs and posters traces the history of the blues. There is a large map on the floor running the length of the space. You can walk up Highway 61 from southern Mississippi to Chicago with historical sites noted along the way.
Concerts are performed on Mondays at noon and Fridays at 5:30 p.m. by some of the city's great performers. John Primer was setting up as we were leaving to catch our plane.