I've Got A Mind To Ramble
B.B. Taylor at Ballatore's
Looking for a way to spend a laid back Sunday evening and not stay up too late? Try Ballatore's (formerly O'Shea's), located at 5000 Poplar Level Rd. Jennings Gilbert has booked some great bands there each Sunday evening. Project performs on the first and third Sundays. Joe Wells Blues Band is on the second Sunday and B. B. Taylor Blues Review plays each fourth Sunday. This sprawling venue features a large room with a "u" shaped bar. The bandstand is a spacious area by the D. J. booth with a checkerboard tile dance floor separated from the seating area by a low wall. Silver tinsel embellishes the bandstand. Dark wood paneling surrounds the walls and your basic batt insulation is packed between the joists in the ceiling. In the adjacent room a serious pool tournament was underway and beyond was a large outdoor deck with a couple of volleyball courts. Slick, the owner, says he took the name from the sweet sparkling California wine. The middle-aged crowd from the Newburg area were enjoying themselves when I arrived. The music starts promptly at 8 p.m. and goes to 11. B. B., the veteran guitarist who I interviewed in the May 2000 issue of LMN, called me about this gig. Because it had been several years since our interview, I was anxious to see his new band.
There were a few familiar faces with B. B. including Don Harris at the keyboards and James Warfield on bass. Bobby McMillian was drumming and a musician by the name of Easy played both sax and flute. Johnny Milan got up to sing a few soul numbers. Johnny, Easy and B. B. did a three-part harmony on "How Do You Mend This Broken Heart" and "My Gal" getting into a Dell's groove. I've always enjoyed B. B.'s version of "Stormy Night in Georgia." When the D.J. cranked up between sets you can still see the grinding two-step where the feet don't move much, but the bellies do. The B. B. Taylor Blues Review has become a very professional show band. They will also be regularly performing at Zena's each Friday starting May 23 continuing through the month of June.
Curtis at Stevie Ray's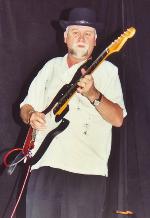 Curtis Marlatt
Curtis Marlatt brought his "Bourbon Smooth Sounds of the Blues" back to Stevie Ray's on May 1, 2003 the eve of Derby Eve. He was reunited with his original back-up band, The Kicks. Paul Bennett, who also plays bass with George Brackens, and Darnell Douglas, the drummer for Rock Bottom and Prince Phillip, didn't need any rehearsing before the show. Curtis said, "these guys are the tightest rhythm section I have ever played with. They have great retention from when I played here and the Slippery Noodle three years ago. They are able to communicate, lock in and go with the flow. They're both like jazz musicians being open to variations." When Curtis left Louisville nine years ago, he didn't find the streets in California paved in gold. Through a friend he found out about an opening for an audio manager at a new Guitar Center store in Minneapolis and relocated there in 1998. He met his second wife, Christina, there and they have been married for 1 ½ years. She is a real blues fan and is very supportive. The blues scene is active in Minneapolis, according to Curtis. This is where Johnny Lang first got started and Lamont Cranston has a big following. Whiskey Junction, Blues Alley and Marrows are some of the better blues venues Curtis has played. There is the four-day Bayfront Blues Festival in Duluth, Christina's home town, that is the second weekend in August. When the West Coast pianist Mitch Woods and His Rocket 88's play the Midwest, he uses Curtis on guitar. Curtis has also backed Howlin' Wolf's guitarist, Hubert Sumlin and Muddy Waters harpman, Mojo Buford.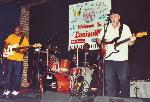 Marlatt & Band
Below Curtis' name on his business card is the title "Music Dictator." When I asked him about what that meant he said, "It's been my contention that someone has to give directions to the band members and recognize the direction your music is going." Listening to Curtis's recent show his music has become more sophisticated and complex with lots of jazz influences but still emotionally based in the blues. Curtis mentioned both Stevie Ray Vaughn and Jimmy Hendricks were inspired by Kenny Burrell and Wes Montgomery. Curtis paid tribute to Hendricks with a powerful version of "The Watch Tower." It's not that easy to dance to Curtis' music, but when he did a request for Kansas City that segued into Sweet Home Chicago people got out on the floor.
When he was living in San Diego, Curtis recorded two CDs, Hard Way To Go, and Live at the Metafore, which will be released again. He is also on a live CD, Delta and The Rhythm Kings, which will be available later this summer. It is straight-ahead Chicago blues featuring Curtis Blake on harp. We may be able to hear Curtis again when he returns to Louisville in August to play for his brother's wedding reception.
Fred Murphy on Bardstown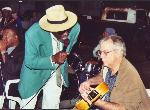 Fred Murphy and Pen Bogert busking on Bardstown Road
Busking on Bardstown Road on Derby Eve has become a tradition these past three years for Louisville's oldest active blues man, Fred Murphy and scholar/musician, Pen Bogert. This year they added Fred's band, The 10th Street Blues Band, and performed in front of the Tobacco Outlet near Mid City Mall. Fred is 85 years old and was recently in a hospital and recuperating in a nursing home. He has come a long way from when he had to be restrained from getting out of his wheel chair the night of his house party at Stevie Ray's last July. Fred looked years younger in his bright green jacket, white slacks, chapeau and shades. Since he doesn't have quite the wind to blow those long notes on his harp, Billy Bird was there to help. The rhythm section included veterans Sonny Sitgraves on drums and James Watkins on bass. The transient Derby onlookers were both amused and amazed throughout the evening, gradually filling the tip jar. I hope this tradition continues, as this is a living legacy of Louisville's blues history.