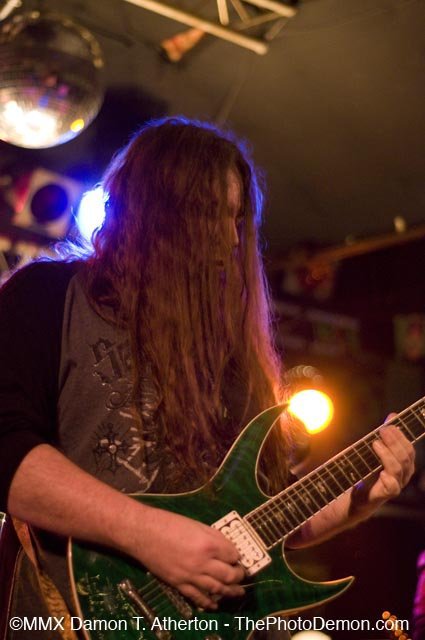 News From the Pit
What up, peeps. Man, I had a killer Derby!
There were all kinds of wild stuff and drama going down. And a bunch of shows to boot!
I had a helluva time! I got blown away by a hurricane at the Festival in the Field (see review in this issue), caught a cold in the rain and moshed in the pit during Strapping Young Lad (also reviewed). It was an interesting Derby this year. But you know there are always going to be some drunk *holes itching to start a fight.
I was at an upscale college bar a few weeks ago when I saw some huge guy punch a smaller guy in the face. Then he punched the guy's girlfriend in the face a la Mike Tyson, which enraged me so bad I had to unleash a kick into the guys ribs. What a total wuss! A huge monster of a guy hitting a woman? I tell you - he hit her very hard! Sorry, call me unprofessional or a redneck if you will, but I figure I had to make the big lug pay for what he did. And I don't regret it either.
Then the other night some troublemaking clown came up to a friend of mine at a nightclub and tried to start a fight with him, for absolutely nothing. I swear this place is a haven for troublemaking idiots. You couldn't throw a handful of beans in the air and not hit a drunken troublemaker on a weekend night! lol. Which is why I recommend taking a self defense class if at all possible, so you won't end up a victim like the poor couple who got beat up.
I know learning some Tae Kwon Do helped me out of several predicaments that could have been ugly. Thank god my dad made me go. Lol.
Speaking of getting wronged, I'd like to take a minute to discuss a certain local show at a certain venue here of late. My band recently played a somewhat new venue that changed the bands time spots around six times or something. It was ridiculous.
There were musicians strolling in late who were supposed to be there an hour earlier. There was no organization - none whatsoever. And to top that, the owners were complaining about how they weren't sure if they should play real heavy music in their venue at all! Needless to say, whoever organized this show needs to keeps some basic chops together.
And the venue acted less than hospitable and appreciative. So to all you potential promoters out there. A little advice: "Ya gotta have rulez foolz!"
Otherwise we lazy musicians will stroll in 10 minutes before the set with sleep crust still in our eyes. Lay down the rules and don't change them for anyone!
And to the venue that I thought had so much promise. supporting only lighter types of Louisville rock is lame, dudes! That is a surefire way to alienate yourself from this city's music scene. And worry about it like frightened children only makes yourself look bad.
After all. The metal scene is Louisville's biggest original music attraction.
The Metal Grapevine
Flaw Gearing Up To Record: Louisville rockers gone big Flaw are leaving for Atlanta in early July for pre-production of their second offering on Universal Records.
After that, they head to Los Angeles to record.
Luther To Record New CD: Glasgow, Kentucky doom-rock band Luther is going to record the second offering in July at Canyonstudios, so look for a release in August or so.
Eddy: can't wait to hear this!
Mom's Music Festival at Six Flags: On July 26 and 27 at Kentucky Kingdom, Mom's Music will be having a huge concert featuring about a hundred original bands. This is a great event for this city's music scene - if you play commercial radio-friendly, rock that is. As much as they have done for this scene in the past, I would still say they have pretty much ignored the heavier acts in town in all these years of the Mom's showcases. Which I have never agreed with.
However, there will be other types of rock music other than metal there.
So support the Louisville lighter rock music cause and try to make it out to one of the many stages at Kentucky Kingdom for this big event.
The Help Louie Fund! Louie Ludasaw has spent the last year or so promoting this music scene's bands, putting on shows and helping the local music DJ's promote bands on 100.5 the fox. Unfortunately Louie was involved in a car mishap and has received very bad burns and a huge doctor bill to boot. So one of Louie's fans has set up a Benefit Fund in his name.
Please help out a fellow scenester financially. Call 552-2326 for more information.
His friend has also set up Benefit concert at Tek World on June 22, so you bands might want to inquire about that, too. Get well soon, Louie! We need you back in action bro!
District Down's In Town! New band, new sound, not the same ole story.
This is a band that really impressed me! And drew a phat crowd to the first big show as well. Former Tha Ruckus vocalist is back with an even better band this time. The rappier vocals have subsided a bit, replaced by melodies, which kinda shocked me in a good way. A very tight band with good hooks. Look out for these guys. They'll do well.
Local Musician On Van Halen Tribute CD: Corey Craven, a local rock musician has been chosen to appear on the first-ever Van Halen tribute set to be released on May 27, 2003 on New York indie label Versailles Records. Other artists who will be on the CD playing VH covers are Aerosmith, Dokken, Kix, Enuff Znuff, TNT, Rough Cutt, Dangerous Toys and others. Check out Corey's stuff at coreycraven.iuma.com.
1080 Demo Out: The band 1080 has a new demo out. Check out www.garageband.com/artist/1080 to hear the song "Silver."
Upcoming Shows
The Lighthouse
Thursday, June 19 - Month Of Sundaze, 13th Level, 2 Pump Chump.
Pappys
Friday, June 13 - Fear Of Silence (Glasgow KY).
Saturday, June 28 - Low Twelve (Illinois heavycore).
Phoenix Hill Tavern
The PHT Shows Start at 8 p.m.
Friday, June 6 - Plan Of Man CD Release, The Constant and Phearus.
Saturday, June 7 - After The Fall, Factor 9, Voodoomachine and Silent Q.
Friday, July 4 - My Own Victim, Beautiful, District Down and Luther.
Tekworld
Tekworld shows generally start at 7 p.m.
Friday, June 6 - False, Incursion502, Gasket and Shuv.
Saturday, June 7 -.Universal Recording Artists Flaw, Blyss, Severed Soul, Cell 13, Ketchup Stigmata and Apogee.
Friday, June 13 - Boba Flex, My Own Victim, The Revenants, Nemesis and Exhaustion Method.
Saturday, June 14 - Puc (CD release) with Element H, Sex Tractor and Engrind.
Friday, June 20 District Down, 13th Level, Jefferson County Drunktank and Maltese Cross.
Saturday, June 21 - After The Fall, Doubting The Obvious and In The Clear.
Friday, June 27 - The Revenants, Caustic, Dizeazed and Versyte.
Saturday, June 28 - (Lava Recording Artists) Hot Action Cop and Outspoken, with special guests Evil Engine # 9 and Puc.
Sunday, June 29 - Darkest Hour (Victory Records), Curl Up And Die (Revelation Records), Taken (Goodfellow Records), Minus (Victory Records) and Cosmonaut.
Props Of The Month
This month's props go out to newer local music promoters such as Charlie the Painter (Month Of Sundaze), Shaun and Justin (502 compilation/shows), Billy (Puc) and Andy Fox (Pappys). You all are doing a great job, keep up the good work, grasshoppers!
Eddy: Damn! this kinda makes me feel like I'm an old kung fu master sending in the new guard! Now I just need the Fu Manchu mustache!
Remember, mofo's, I cannot print what I don't fargin know. So get off your lazy rumps and send me the info I need to make myself and yourself look good. No later than the 15th of every month. eddymetal1@aol.com.