I've Got A Mind To Ramble
Eyesight to the Blind
Frequently I like to follow up with the past winners of the Kentuckiana Blues Society Unsigned Blues Competition to hear about their experiences competing at the International Blues Competition. Blind Dog Gatewood was our KBS winner last August and earned the right to represent us in Memphis on January 30. His real name is Michael but he got the nickname "Blind Dog" based on a character named Blind Dog Fuller in the movie, Crossroads. Reggie Helm, who manages a stagehand and security guard service called Rent-A-Bum, gave Michael his name ten years ago at a bluegrass show in Owensboro. `Blind Dog' has stuck ever since and he feels honored to be known by it.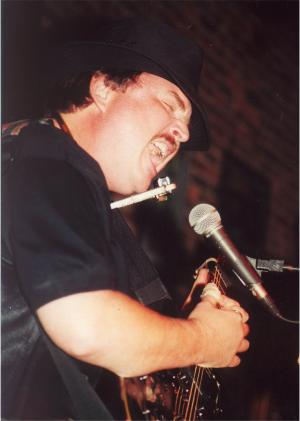 Blind Dog Gatewood
Gatewood started out in music thirty years ago as a lounge musician in Detroit, playing all kinds of music and instruments, including an accordion. When he settled in Owensboro, he was into bluegrass, doing songwriting, managing a music shop and producing records. It was not until 1990 when Blind Dog heard a live recording by John Hammond that he got turned on to the blues and started getting serious about the music. He bought a 1990 pre-Gibson Dobro guitar, started woodshedding and won our contest on the third try. Blind Dog also entered the Crossroads competition in Indianapolis and was the first solo act to ever compete there. He won the Telluride Blues and Brews Festival contest for acoustic blues last September.
"There was very little acoustic blues at Telluride, it was more like Colorado folk music," he said. He did get to meet the Piedmont blues duo of John Cephas and Phil Wiggins, plus Richard Johnston, a past International Blues Contest winner, who were also performing.
The Memphis scene was a negative experience for Blind Dog. His van broke down on the way from Newburgh, Indiana. During the orientation session, B.B. King's Blues Club dropped out at the last minute as a venue for the competition. Blind Dog got his twenty minutes of performing glory at the W.C. Handy Blues Room, which was an extension of the Rum Boogie Café, where he was competing against nine other solo artists. About halfway into the competition, the sound system went from bad to worse. When Blind Dog came on - last - there was no sound at all. Consequently, he didn't even make the first cut for the top three contestants, where the winner in the solo category was a woman from Melbourne, Australia named Fiona Boyes. The winning band from Atlanta, Delta Moon, beat out forty-nine other groups. Blind Dog and his wife Eleanor (Mrs. El) didn't hang around too long after that disappointment, but he did run into the Deacon of Beale Street. He is a regular street busker who stands across from B. B. King's club, singing and playing his trumpet in the tradition of Louis Armstrong. Both Richard Johnston and Eric Hughes frequently stake out their turf at each end of Beale Street and perform like the musicians used to do in Handy Park.
Blind Dog noticed other soloists were using the diddly bow or diddle stick like he frequently uses, even though he competed with just his Dobro, harmonica and foot tambourine. Blind Dog uses a special Leo Kottke slide that is a tapered brass tube. He had it chromed by a friend who owns Hauser Hard Chrome. The chrome was a test batch that was being developed for the space shuttle. Only two of these slides exist and Blind Dog has both.
Blind Dog did get a chance to hand out several demo copies of his latest CD, Alfresco Place, which was recorded at Jeff Carpenter's studio last November. Jeff has graciously provided free recording time to the winners of the KBS competition for the past several years. Five of Blind Dog's seven cuts are originals, including a haunting, powerful song titled "River of Blood." He composed it in 1986 and said "it is prophetic for these current times."
When Blind Dog was into bluegrass, he got to know that system of promoting music, but now that he is into blues, he feels he is on the fringe. He has to send his CDs to A&R representatives like Southern Records Group - who are the middlemen - to get to the major record companies. While Gatewood is waiting for his `big break,' he plays occasional private parties and can be found bartending three nights a week and performing solo once a month at J.J. Sports Bar in Newburgh, IN. For this act, he uses his mini-composer with keyboards, horns and drum pads, along with his guitar. You can check out Blind Dog's web site at BDgatewood@hotmail.com.
Déjà Vu Mary Ann
For those of you who missed the CD Release Party for Mary Ann Fisher at Stevie Rays on January 19, you have a second chance. Syl's Lounge at 2403 W. Broadway will host the second event on Friday, March 7 at 9 p.m. This time it will be a triple whammy, as she will be celebrating her eightieth birthday her and dynamite CD Songbird of the South. Her birthday was actually February 23, which was proclaimed `Mary Ann Fisher Day' by Mayor Jerry Abramson six years ago and All the musicians who recorded with her will be back except for the keyboard player, Rod Wurtele.