The Lexington School for the Recording Arts
Story and Photos By Paul Moffett
Jamie Whitehead, longtime bass player with My Life Denial, drives to Lexington twice a week but not to play music. Likewise, longtime Louisville rocker Nick Reifsteck makes the run down I-64 to the home of U of K but he's not gigging or going to sports events, either, so what's the deal here?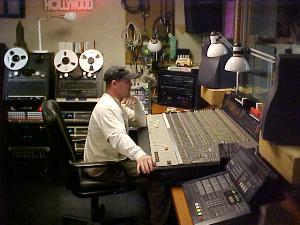 Jamie Whitehead Doing Some Mixing
The answer is to be found in an otherwise undistinguished suburban strip mall just south of New Circle Road - it's the Long Island Recording Company, dba as The Lexington School for Recording & Broadcasting Engineers, Kentucky's only AES (Audio Engineer Society) and SBE (Society of Broadcast Engineers) certified training facility.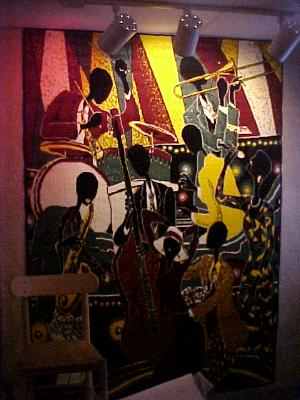 The Mural on the Wall
Reifsteck enrolled in the full 48-week Audio Engineering course in November. His reason for taking the course, he said, was one familiar to many musicians: after twenty years of playing rock, being "onstage slinging an electric guitar around with a thinning hairline" made him feel "kind of foolish." In addition, he had developed an interest in television engineering after having gotten a television job. He noticed the LIRCO ad in this paper and soon was signed up and taking the course.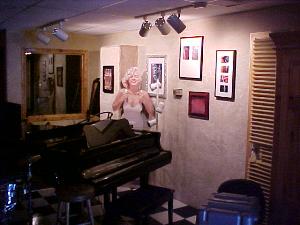 It's not a nightclub, it's the studio
Whitehead's interest in audio engineering developed around his musical career as well, though he had the added component of having been involved in the start-up and operation of undergroundlou.com, the web radio station now operated primarily by Jake Wheat, who also was involved in the launch of the Expo 5 venue. Whitehead helped out with undergroundlou.com for fun, he said, not to make money. "Not that there was any money to make," he laughed. He has been in the course since mid-August, he said.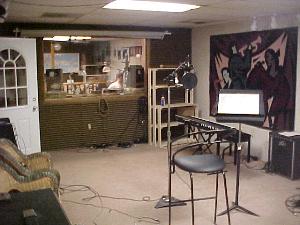 The analog studio
Although the school offers an accelerated ten-week course, the two-days-a-week schedule, which amounted to about ten hours a week, more attractive for the two, allowing them to manage the rest of their schedule. Reifsteck works for Channel 21 as well as performing while Whitehead is employed as a construction worker.
Both musicians focused on the audio mixing and remixing training that they are getting at LIRCO as being of considerable interest. Whitehead noted that it the "best part was that they left you along" to do the mixing and then commented later. Reifsteck likened the mixing process to painting. He also said that he really preferred the analog or recording to tape process over the digital method, simply because he liked the sound better.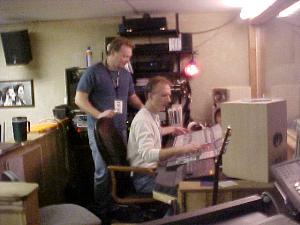 Nick Reifsteck mixing in the main studio
LIRCO's two recording studios double as working facilities for recording and for teaching, allowing students the opportunity to see real recording being down, although, as Reifsteck and Whitehead both noted, sessions are often done at night, when they have returned to Louisville. A dedicated computer was recently added to run the most current version of ProTools® as well.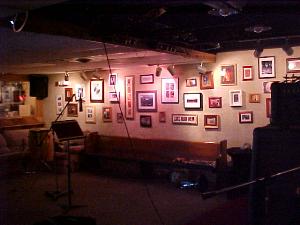 Everybody has a wall of photos
As for the post-training, both men said they were aware of the job placement available through LIRCO but were also aware that for the audio recording business at least that "regular" jobs were difficult to find. Whitehead though that he would use his skills in a basement studio situation while Reifsteck was somewhat more interested in the television broadcast engineering opportunities that were more available, particularly in out-of-state circumstances.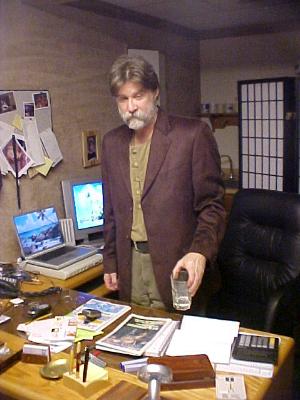 Wil Freebody, CEO and janitor
LIRCO, founded by former Long Island resident and musician Wil Freebody, grew from a straight-up audio recording studio with associated record labels into its current status as a music industry "complex" as Freebody coped with the ups and downs of the music industry during the 1990s. Freebody, who on his first record thirty-nine years ago; has a history that followed a somewhat erratic path, mostly leading him up and down the East Coast, from New York to Florida, where he built his first studio in Orlando, to Lexington, where he founded the Long Island Recording Studio in 1988. Around 1995, the University of Kentucky contacted him about sending him interns from their television engineering program. Soon, there were more interns arriving than he could accommodate and it became clear that there was considerable interest in what he could teach. At the suggestion of the University, he put together first the Recording School, adding a Performance School component later. With guidance from the University, he got accreditation from the Audio Engineering Society, in large part so that U of K could send him students and the school could likewise be eligible for various educational funding sources.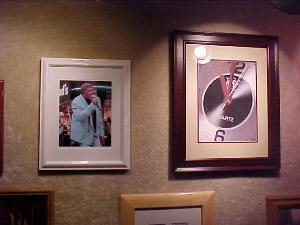 Sir Mack Rice
Meanwhile, he continued promoting the artists on his labels and recording acts from the Central Kentucky area. Currently, LIRCO has two record labels, Infi Records and Tranquillity Records. Infi Records is the imprint for performer and songwriter Sir Mack Rice, whose biggest hit is "Mustang Sally"; Tranquillity is a label that specializes in Christian music.
"I've been recording Christian music for years," Freebody remarked. The label is managed by Michael Thomas, who also performs.
Kevin Moyland recently joined LIRCO as a partner and is currently listed as the President of LIRCO. He came to the business from a career as a television direct sales manager for a company that had grown from three stations to sixty-some in a very short time. While he liked the business when it was smaller, he began to feel unhappy with where the company was going and where he would wind up. He had met Freebody some years earlier and, when it became clear that LIRCO needed to either grow or shrink, joined him what is fundamentally a marketing role.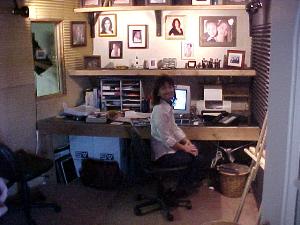 Carolyn, a.k.a. Mia Rae, runs the photography and graphic arts deparment
The relentlessly upbeat and persistent Freebody was also quick to point out that, with a management company, SDR Management, and a graphics artist and photographer company, Mia Rae Media Arts, both on site, LIRCO "has it all" with respect to the record business and can equip an act with the audio recording and artwork for a CD as well as polish up their stage chops, plus, under the right circumstances, release their product on a label.
"I'm just trying to do what I can for the musicians and the music scene," he shrugged.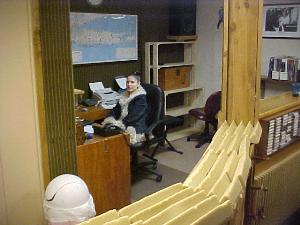 Erin Cheeks
He currently employs a total of eight people, including Steve Nall, the studio manager, and Erin Cheeks, who doubles as Performance instructor. If more students from the Louisville area take the course as he hopes, Freebody said, he might even be able to hire a janitor.
As for Reifsteck and Whitehead, both are happy with their experience at LIRCO and not concerned with the commute. "I'd recommend it to anybody," Reifsteck said. "I just tune in NPR, drink a cup of coffee and eat a couple of doughnuts and I'm there."
"Just be careful driving back to Louisville in the afternoon," he said. "They're crazy out there then, trying to get home."