Cowboy Corner
Country Artists Support the Troops and Their Families
Unlike the Texas trio of Texas gals whose lead singer made a disparaging remark about President George W. Bush, several country artists are showing their support for the President, the troops and their families during these times of war in Iraq. Toby Keith's "Courtesy of the Red, White and Blue (The Angry American)" and Darryl Worley's "Have You Forgotten?" sparked the singers' invitations to perform for family members of troops based at Tampa, Fla.'s MacDill Air Force Base on March 26. The President was also on hand to offer his words of encouragement to the military families. Worley's performance obviously wowed the crowd as he was invited to perform at the Pentagon Center Courtyard on April 16 to pay tribute to those serving in the Armed Forces around the world.
Although the members of Lonestar are used to headlining concerts these days, they had quite an opening act gig at Camp Lejeune, N.C. on April 3.They performed the national anthem and a mini-concert for 20,000 soldiers prior to President Bush's address to the troops. The boys will also perform for troops at Ariz.'s Fort Huachuca on May 17 and at Norfolk Naval Base in Va. On May 30.
On April 12, "Where The Stars & Stripes and the Eagle Fly" singer Aaron Tippin headed to our nation's capitol to participate in the "Rally for the Troops, Rally for America" campaign. Tippin joined a number of celebrities to help gather supplies such as lip balm, sunscreen and dental floss for our troops abroad.
Kix Brooks and Ronnie Dunn, better known as Brooks & Dunn, showed their appreciation for those fighting in Iraq during a dress rehearsal for their "Neon Circus & Wild West Show" in Nashville on April 17. The duo invited family members of Fort Campbell soldiers, members of the military reserves, firefighters and policemen to enjoy this special show one week before their tour kicked off in Green Bay, Wis.
Hats off to these artists, as well as each American supporting President Bush and the American Armed Forces during these difficult times.
Toby Keith Heats Up CMT Flameworthy Awards
When Country Music Television's 2003 Flameworthy Video Awards were handed out last month, the show's co-host, Toby Keith seemed to be the hottest thing going in country music. Keith accepted three trophies, including the coveted Video of the Year, Male Video of the Year and Cocky Video of the Year, all for "Courtesy of the Red, White and Blue (The Angry American)." The entire awards program had a very patriotic tone, ending on a high note with Keith's rousing rendition of Merle Haggard's "The Fightin' Side of Me" and his award-winning patriotic anthem.
Tim McGraw followed closely behind Keith with two trophies: Hottest Male Video of the Year and Fashion Plate Video of the Year, both for "She's My Kind of Rain." Martina McBride's "Concrete Angel" video garnered two trophies: Female Video of the Year for McBride and Video Director of the Year for Deaton Flanigen.
Rascal Flatts' "These Days" was named Group/Duo Video of the Year. Hot newcomer Joe Nichols received his first country music award when his "Brokenheartsville" was dubbed Breakthrough Video of the Year. Shania Twain's futuristic sci-fi video for "I'm Gonna Getcha Good!" was named Concept Video of the Year. And since her hubby was honored with the Hottest Male Video of the Year trophy, it was only fitting that Faith Hill be awarded the Hottest Female Video of the Year trophy for "When The Lights Go Down." It is now official: Tim McGraw and Faith Hill are the hottest couple in country music.
The legendary "Man in Black," Johnny Cash, received the Flameworthy Special Achievement Award. Crooner Vince Gill presented the award to Cash's wife, June Carter Cash, in his absence, as he has been suffering from poor health in recent years. Cash could not have paid better tribute to her husband than the words she spoke as she accepted the award: "I accept this for [Johnny] in all humility. He's one of the most humble guys I know. He's one of the best husbands that's ever been and he's just one of the best country music entertainers I've ever known."
Congratulations to all the winners!
ACM Awards to be Handed Out This Month
There is quite a hype surrounding the 38th Annual Academy of Country Music Awards, which will be handed out at the Mandalay Bay Resort and Casino in Las Vegas on May 21. Singer/actress Reba McEntire will host the ceremony, which will be broadcast live on CBS-Television. Artists scheduled to perform during the program include Alabama, Brooks & Dunn (who were nominated in three categories), Kenny Chesney (five nominations), Toby Keith (eight nods), Martina McBride (one nomination), Willie Nelson (two nods) and George Strait (two nominations).
Besides performing "Tennessee River," 1980s Artists of the Decade, the soon-to-retire supergroup Alabama, will receive the ACM Pioneer Award for their "outstanding achievements in country music." "The Cowboy," George Strait will become only the fourth-ever recipient of the ACM's Special Achievement Award for his recent milestone of scoring his 50th #1 hit. This special award "acknowledges unprecedented, unique and outstanding individual achievement in country music."
As I reported last month, fans have the opportunity to vote for the 2nd Annual Home Depot Humanitarian Award. This year's contenders are Brooks & Dunn, Lonestar and Ashland, Ky. native Wynonna. Fans can cast their votes for this award by logging on to Home Depot's website at www.homedepot.com/acm. Voting continues until the third hour of the May 21st awards program.
Congratulations and best of luck to all the nominees!
Dolly Parton Kicks Off Another Season at Her Theme Park
International superstar Dolly Parton headed back to her Smoky Mountain home last month to kick off another season of her popular theme park, Pigeon Forge, Tennessee's Dollywood. Parton joined performers from around the world for the 3rd Annual Festival of Nations, which runs throughout this month. Musicians, dancers and special performers from 14 countries around the globe, including China, Germany, Ireland, Mexico, Russia, Turkey and Ukraine, will perform daily in the park. In addition to entertainment from various cultures, Dollywood is offering international cuisine to its visitors. Opening weekend, Parton sampled some of this extraordinary food and even donned a kimono as she and her international friends paraded through the park.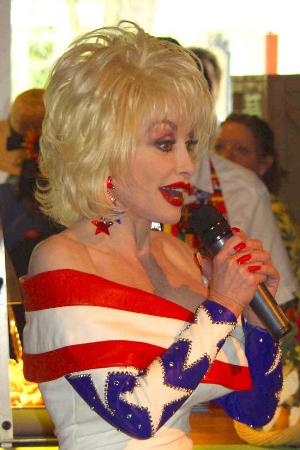 Dolly Parton
Music has taken Dolly Parton around the world, so what better idea than to bring the world to her country through this uncommon festival. Parton says, "Music is a universal language. In my travels around the world, I have found that people are drawn to music. Whether or not you understand the words, music touches the heart in a way that unites us all. It is the ambassador of our world and the most beautiful language ever spoken."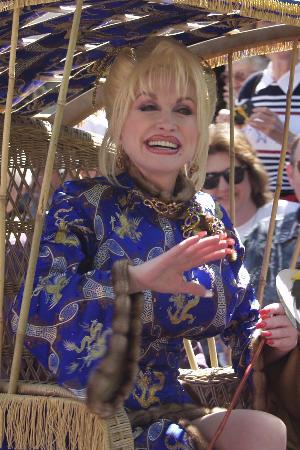 Dolly Parton in the parade
Next month, Dollywood will introduce a brand new national children's festival called "KidsFest," featuring VeggieTales® characters Bob the Tomato and Larry the Cucumber, as well as America's favorite cat, Garfield®. "KidsFest" will run June 20-August 10. Throughout the season, country fans will be in hog heaven as the park's popular namesake's very own brother, Randy Parton, will perform daily in his very own show, "Randy Parton: Country State of Mind," along with special guest stars straight from the stage of the legendary Grand Ole Opry.
State Fair Shaping Up To Be Another Country Fest
Although it's three-and-a-half months away, it's never too early to start thinking about the Kentucky State Fair. Artists are already being confirmed to perform at this year's fair and it looks like country fans will once again have quite a selection of fine country concerts to choose from. Long-legged Newnan, Ga. native Alan Jackson will open the fair on Thursday, August 14 along with newcomer Joe Nichols. Nicholasville, Kentucky's own rowdy boys Eddie Montgomery and Troy Gentry, better known as Montgomery Gentry, are sure to throw a huge party when these homeboys perform in Freedom Hall on Saturday, August 16. The Oak Ridge Boys will perform their annual free concert in Cardinal Stadium on Sunday, August 17. Trick Pony will hit the outdoor stage in the stadium on Tuesday, August 19, followed by country funny-man Cledus T. Judd on Thursday, August 21. The Charlie Daniels Band will roll into the fair on Saturday, August 23. There's been no word yet on who will perform the fair's closing night concert, but let's hope it will hold true to tradition and be one of country's hottest acts.
Country Baby Boom
The singer/songwriter husband and wife team of Bruce Robison and Kelly Willis welcomed their second and third bundles of joy into the world on March 24 in Austin, Tex. Two-year-old big brother Deral Otis was joined by Benjamin James, who weighed in at 6 lbs., 14 oz. and Abigail Esme, who weighed 5 lbs., 8 oz. Robison, who just so happens to be the brother-in-law of Dixie Chick Emily Robison, is best known for writing the Chicks' "Travelin' Soldier" and Tim McGraw's "Angry All The Time."
"Time Marches On" singer Tracy Lawrence and wife Becca became parents for the second time on April 15 in Nashville. Daughter Mary Keagan weighed in at 6 lbs., 11 oz. and joins big sister Skylar JoAnn, who will turn two years old in June.
Congratulations to the Robisons and the Lawrences!
Country Codas
Singer/songwriter Rusty Draper died March 28 at a Seattle, Wa. area hospital following a lengthy battle with strokes, throat cancer and heart disease. He began his music career as a Los Angeles and San Francisco radio show host in the 1940's. Draper is best known for his 1953 Top 10 hit "Gambler's Guitar."
Former Oak Ridge Boy Noel Fox, 63, died April 10 at Nashville's Vanderbilt Medical Center from complications suffered following a recent stroke. Fox sang bass for the Oak Ridge Boys while they were still a gospel quartet, before becoming a mainstay in country music in the late `70s. Following his stint with the Oaks, Fox went on to run country group Alabama's music publishing company, Maypop Music, and even acted as manager for Bluegrass artist Rhonda Vincent.
Well, that's it for this month. Always remember: "Keep your boots shined up and your hat on straight, `cause country music is comin' your way."